Public health professionals have another source to turn to when looking for data, information and motivational materials that will help them promote and protect the health of the public.
Once the domain of games and social media, smartphone and tablet applications, or apps for short, have come a long way in recent years, particularly in the field of public health.
There are apps for an array of public health issues and audiences, and the value of apps has been recognized by authorities such as the Centers for Disease Control and Prevention and the United Nations.
"Increasingly, public health organizations are putting out their own apps and their apps are getting better," said Lorien Abroms, ScD, an assistant professor at the School of Public Health and Health Services at George Washington University in Washington, D.C.
Abroms, who studies health technology as well as smoking cessation, has found in her research that although public health apps abound, some are better than others.
Apps, which can be purchased and downloaded, often for free, by those with smartphones and tablet devices, allow users to access information and personalized data without searching for information on the Internet. They can serve as a direct window into a company or organization's product that users can reach quickly and with a minimum of clicking and searching.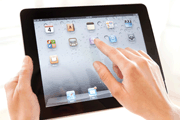 "It's about reaching people where they are," Abroms told The Nation's Health. "People carry devices all the time. We can reach them 24/7."
A survey by the Pew Internet Project in May found that 35 percent of adults in the U.S. have a smartphone, a number that will, in all likelihood, continue to grow. Furthermore, fully 25 percent of smartphone owners say they mostly go online using their phones. The number of tablet devices such as the iPad is expected to grow as well.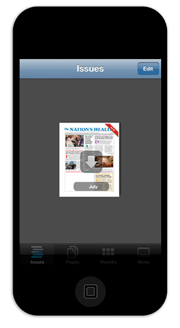 Public health organizations and agencies are catching on, developing apps aimed at helping people live safer, healthier lives.
The American Cancer Society, for instance, has sponsored the development of a number of apps designed to help prevent cancer, including the Exercise Counts Calculator, Target Heart Rate Calculator, Calorie Counter, Cigarette Calculator, Smoking Cost Calculator and Mammogram Reminder.
There are as many reasons to create apps as there are data with which to create them. Researchers at the Massachusetts Institute of Technology collaborated with Children's Hospital of Boston to create Outbreaks Near Me, which provides users with updates about infectious diseases around the world. Users can set up alerts for diseases tracked by the app, which can be emailed to them.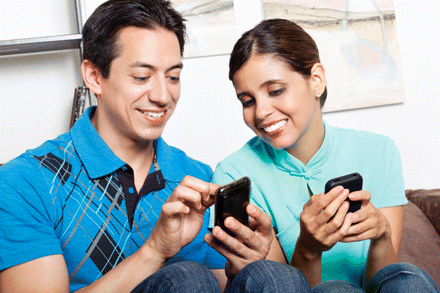 Others choose to present their apps in the form of a game with an educational message. The California Poison Control System, which runs that state's poison control call centers, launched Choose Your Poison in May.
The app, which has been downloaded more than 3,000 times and played more than 100,000 times, is a game that asks players to choose which of two pictured pill-like items is actually a drug, and which is a lookalike candy.
The app is based on the system's online game, which had become popular with parents and teachers, who played it with children, said Iana Simeonov, director of consumer communications at the Poison Control System.
Simeonov, an APHA member, said the Poison Control System developed the app at the request of users, but that it makes sense to take the game from the computer to the smartphone. Most poison exposures happen to children younger than age 5, she said, and parents of children that age are generally young enough to have grown up surrounded by technology.
"For them this is a part of life," she told The Nation's Health.
The game concludes with a message that provides phone numbers for the California Poison Help Line.
And the game has drawn the attention of a group Simeonov and her colleagues would never have expected: pharmacy students, who play competitively to see if they can tell the differences between the pills and the candy.
Simeonov said the Poison Control System is working on the second phase of the project, which will add more pill and candy lookalikes to the game, which Simeonov will discuss at a session at the APHA Annual Meeting this month.
App development has also become a hot topic in government agencies. The Environmental Protection Agency and the Department of Health and Human Services have made data available to app developers, and in June EPA Administrator Lisa Jackson announced the launch of Apps for the Environment, a challenge to present EPA data in new and innovative ways.
EPA officials will judge the submitted apps, which were due Sept. 16, and prizes include a trip to Washington, D.C., to demonstrate the app and a featured spot on EPA's website. CDC also announced the winners of its flu app competition this summer, choosing two Facebook apps — another app option that is growing in popularity —as its top winners.
At the Joint United Nations Program on HIV/AIDS, one app in particular is being used to keep HIV researchers and educators up to date on data and other information.
The goal of the UNAIDS AIDSinfo app is to better understand why and how HIV infection is spread and where treatment, care and support programs are needed, according to UN officials. The app, which is available for iPad, provides detailed country by country data at the touch of a button.
"If we look into the past and how the global AIDS reporting has been done, every two years we have provided countries with information," said Taavi Erkkola, a senior advisor with UNAIDS. "Then they could track back the progress and do comparisons. It's not very dynamic to do that on paper and not have access to electronic files."
So the agency created a database, which is now accessible through the app. The key feature of the app is that it connects epidemiology data on AIDS deaths and information about the number of people taking antiretroviral drugs. That graph can, in turn, be crossed with another graph that shows funding for HIV/AIDS prevention. It allows a snapshot of a country's support for its programs, the level of external support, and the level of return on investment, Erkkola said.
"The connection of different data sets enables people to assess the effects," he said. "We haven't been able to do that before."
The app is particularly useful for people in HIV/AIDS research and funding because they can access the data without needing to be at a computer, Erkkola said.
"They can be anywhere and access the information, visualize it and use it to help assess the decisions to be made," Erkkola told The Nation's Health.
While apps can and often are used to present data, others are being used to gather them. The full extent of the role of apps in clinical trials is not yet clear, but several efforts are underway.
Researchers at the University Health Network of Toronto said in May that they are seeing encouraging results from an iPhone app that includes a glucometer so teens with diabetes can be remotely monitored.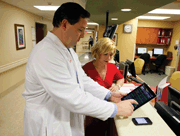 "We are very encouraged that the next generation of remote patient monitoring systems will be mobile-phone based, because we need to address a huge number of people with chronic conditions in the millions and tens of millions, and many of the current technologies can only deal with the hundreds of thousands," said Joseph Cafazzo, PhD, PEng, senior director of eHealth Innovation at the University Health Network.
The trial of the app targets teens because the transition from childhood to adolescence can be especially challenging for diabetics trying to maintain good glycemic control, researchers said.
And yet for all of the progress and the possibilities for public health apps, Abroms said developers should take care when creating an app. In a study published in the March American Journal of Preventive Medicine, Abroms and her colleagues studied 47 iPhone applications for smoking cessation. The researchers found that most did not comply with the U.S. Public Health Service's 2008 Clinical Practice Guidelines for Treating Tobacco Use and Dependence.
"In many ways they were very lacking," she said.
The apps generally failed to recommend that people consider pharmacotherapy and did not refer people to quit lines or make good use of social support. The most downloaded smoking cessation app was a hypnosis app, despite the fact that hypnosis is not proven effective for smoking cessation, Abroms said.
Making sure the apps they create are useful and science-based is one of the most important things an organization can do, said Jermaine McMillan, project director of MD Anderson Cancer Center's eHealth Technology Program.
"There are very few apps in the commercial market that have a strong basis in science," he said. "A good app is one driven by science, not just one that is fun or cheap or easy to download."
Public health apps of interest: Tools for phones, tablets
Apps listed are available for iPhone, iPad and Android devices unless otherwise noted. Inclusion does not imply endorsement.
BMI Calculator
From: National Heart, Lung and Blood Institute
Allows quick assessment of body mass index
CDC Vaccine Schedule
From: Austin Physician Productivity
Provides the full updated 2011 CDC Recommended Adult Immunization Schedule (iPhone only)
Choose Your Poison
From: California Poison Control System
Game that asks players to tell the difference between pills and candy. Available in English and Spanish
CSPI Chemical Cuisine
From: Center for Science in the Public Interest
Lists information about commonly used food additives
Consumer Product Safety Commission
From: Consumer Product Safety Commission
Provides product warnings and podcasts about products
Life360
From: Life360
Tracking application that can help people reconnect after a disaster
OSHA Heat Safety Tool
From: Department of Labor
Provides the heat index for work sites and precautions to prevent heat illness (Android only)
Walking Paths AHA
From: American Heart Association
Find walking paths near you and map your walk
Outbreaks Near Me
From: Children's Hospital Boston/MIT
Notifies users of outbreaks of infectious diseases worldwide
Control of Communicable Diseases Manual for Mobile + Web
From: APHA and Unbound Medicine
Provides information for identifying, managing and preventing infectious diseases
The Nation's Health
From: APHA
Provides access to issues of The Nation's Health, APHA's newspaper
Public Health News
From: Harvard University School of Public Health
Includes top news stories, press releases and Harvard Public Health Review articles
SleepBot
From: Insomniapps
Graphs and analyzes sleep patterns (Android only)
This is Public Health
From: Association of Schools of Public Health
Allows users to add a graphic to public health-related photos and add them to This is Public Health photo pool
Copyright The Nation's Health, American Public Health Association