When the Affordable Care Act passed in 2010, provisions set to go in effect four years later seemed far off. But with 2014 not so far off — and the law now seemingly here to stay — Americans are wondering how reforms will affect them.
Growing interest in the health reform law is an opportunity for public health workers, especially as public opinion shifts in favor of the historic law and its benefits. For much of last year, polls showed that many Americans were opposed to the law, with opposition reaching a high in June 2012, when 46 percent of people said they wanted it repealed. But after the Nov. 6 presidential election, only about a third of Americans wanted the Affordable Care Act overturned, a record low since January 2011, according to a Kaiser Health Tracking Poll.
Among the reasons for the turnaround may be that Americans are benefiting from the provisions already in effect. Millions of young adults now have health coverage, children with pre-existing conditions cannot be barred from coverage and many insured women do not have copays for prescription birth control.
Despite the new enthusiasm for the law, raising awareness of its benefits is a big task, said Jennifer Tolbert, MPH, MSW, director of state health reform at the Henry J. Kaiser Family Foundation. As of 2011, there were 48.6 million Americans without health insurance, according to U.S. Census data, meaning there is a large audience for reforms — and multiple approaches.
"There are quite a number of minorities, a relatively high proportion of people who are non-English speakers," Tolbert told The Nation's Health. "It's going to be important to reach people where they are and in languages they understand and to give them information. It's going to require multiple strategies to reach out to people in different states."
States planning their health exchanges
One of the new Affordable Care Act components that Americans may need advice on is health insurance exchanges. The exchanges will be similar to virtual grocery stores offering health insurance plans that Americans without employer-based or public insurance will be able to shop from to find a plan that fits their needs. The exchanges are required under the health reform law to begin enrollment by Oct. 1, with coverage effective Jan. 1, 2014.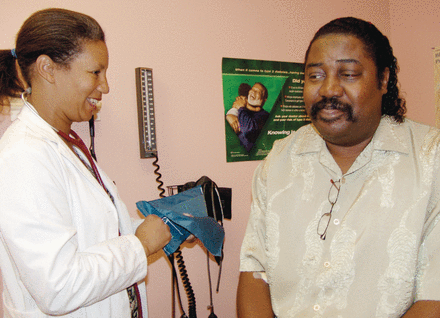 State governments had the choice to create their own exchanges, have the federal government run one for them or split responsibilities with the federal government in a "partnership exchange." As of early January, 18 states and the District of Columbia had opted for state-based exchanges, 25 states chose federal exchanges and seven picked a partnership exchange, according to the Kaiser Family Foundation.
The types of exchanges — and their benefits — may vary widely depending on what state a person lives in. By the year 2020, 25 million Americans will have health insurance via an exchange, according to the Congressional Budget Office.
Vanessa Forsberg, a public health policy analyst with APHA's Center for Public Health Policy, said it remains to be seen which type of exchange will be best for consumers.
Some state governments made their exchange choices based on what they saw as the needs of their residents. Among the states that opted for a state-based exchange was Utah. Its government chose a state exchange to continue giving residents unique plans such as "defined contribution health benefits," said Norman Thurston, health reform implementation coordinator for the office of Utah Gov. Gary Herbert.
Under such benefits, employees of smaller companies have multiple options for health insurance instead of agreeing to one health care plan.
"It gives them choice, and relief to a small employer that they can provide a specific amount of money to let them shop without having to commit to cost increases," Thurston told The Nation's Health.
Officials in Michigan chose to go another route, opting for a partnership exchange. Linda VanGills, MA, a health officer for Michigan's District Health Office, said it is important that the exchange be "consumer-oriented" with a "friendly navigation system." Because public health workers are used to doing outreach in communities in need, she said she thinks public health department officials would serve well as educators on the exchange.
"It's going to be a very complicated process for individuals to try to filter through and look at what their options are," VanGills said.
"Navigator" programs, which are built into the Affordable Care Act, may help to spread consumer awareness. Health exchange leaders will use such programs to conduct outreach and give presentations on what health insurance options residents have and assist in the application process. Exchanges will award grants to organizations that want to become navigators and provide community outreach.
Health insurance benefits to expand
Another key measure on the horizon will be guaranteed health benefits for many beneficiaries, thanks to provisions in the Affordable Care Act set to go into effect next year.
As of Jan. 1, 2014, most health insurance policies will be required to offer a minimum of 10 "essential health benefits." The benefits, which will apply to people who enroll in individual or small group plans, will cover services such as maternity and newborn care, prevention, wellness and mental health and substance abuse treatment. Such services are usually found in large employer-based insurance plans, Forsberg said, but will now be available to millions more Americans.
In addition to essential health benefits, a series of market reforms will roll out in 2014, including one that prevents insurance companies from charging higher costs based on gender, type of employment and pre-existing conditions such as diabetes. Under the law, the only criteria insurance companies will be able to use to determine a rate will be age, family size, geography and tobacco use.
"This will help protect people's rights to choose insurance and keep it," Forsberg said. "It will help protect affordability, that prices are fair and all of this is putting a focus on prevention and wellness."
Forsberg said it is important to note future access to another essential health benefit: habilitative services.
While many plans already cover rehabilitative services — those that can help someone recover functions lost due to injury or illness — most plans do not cover habilitative services intended to help people gain functions they never had. Such services include health care and amenities for people who are not covered because of lifelong health conditions.
"It could be a big deal in the disability community," Forsberg said.
Medicaid expansions on state agendas
States also have the option to widen the net for Medicaid coverage for Americans, but millions of the nation's uninsured and underinsured have yet to find out exactly what their options will be when January 2014 arrives.
Under the Affordable Care Act, a state can choose to expand its Medicaid programs to cover nearly all residents with incomes up to 133 percent of the federal poverty level. The expansion could fill the gaps in coverage for low-income adults and make Medicaid available to Americans regardless of demographics or health conditions.
While Medicaid and the Children's Health Insurance Program provide coverage for certain low- income people — particularly children, pregnant women and people with disabilities — adult Medicaid eligibility remains low, said Samantha Artiga, associate director for the Kaiser Commission on Medicaid and the Uninsured during a Nov. 28 Families USA teleconference.
As of Jan. 10, 17 states and the District of Columbia had agreed to a Medicaid expansion and another four were leaning toward expanding. However, 15 have said they will not expand or were leaning against expansion, while 14 had not made a decision, according to the Advisory Board Company. There is no deadline for when states need to make a decision on expanding their Medicaid programs, Forsberg said.
Whether a state expands will have a direct impact on some of its residents. For example, if a state decides against expanding, low-income people who make too much for Medicaid could also be denied exchange subsidies, Forsberg said.
"In a state that doesn't expand Medicaid, you're going to get this gap," Forsberg said. "This is one of the unknowns."
For more information on the Affordable Care Act, visit www.healthcare.gov.
Copyright The Nation's Health, American Public Health Association