The doctor traveled from village to village in Pakistan, part of a group of health workers providing vaccinations to prevent disease.
But this doctor was employed not by a local nonprofit group or nongovernmental organization, but by the U.S. Central Intelligence Agency. And in addition to working with a vaccine program, he was trying to collect DNA specimens as part of a U.S. attempt to locate Osama bin Laden.
The U.S. government has not denied its participation in the fake vaccination program, which came to light in 2011, but news reports indicate that the Pakistani government has jailed the doctor, whose efforts reportedly did not contribute to finding bin Laden. What the work did do is increase already prevalent concerns among Pakistanis and others suspicious of the vaccination program, said Robert Lawrence, MD, professor at the Johns Hopkins Bloomberg School of Public Health and an APHA member. And it may have contributed to ongoing violence against health workers that has included the murder of nearly 20 health workers participating in polio vaccination work in the past year.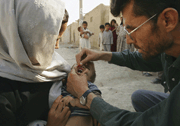 Violence against health workers is not new, nor is there data suggesting that recent years have been more violent than the past — in part because such data is scant.
But that has begun to change recently as health and human rights professionals seek ways to document and prevent further violence against health workers.
In January, the deans of 12 schools of public health in the U.S. wrote a letter to President Barack Obama decrying the use of the sham vaccination program in Pakistan. They said that it would endanger other health workers — several polio vaccination workers had already been killed in Pakistan — as well as the fight to end polio.
"There was no question in our minds that these polio vaccinators were direct victims of the fallout from the use of the sham vaccinator," said Lawrence, who marshaled the efforts to send the deans' letter to Obama. "There should be no confusion about what role a health worker is going to be playing."
The Obama administration has not responded to the letter, he said.
Health workers are protected under the Fourth Geneva Convention and later amendments, which note that medical units should be protected and "Under no circumstances shall medical units be used in an attempt to shield military objectives from attack."
But violation of the conventions is rampant, and not only by armed groups or terrorists.
In Syria, for example, the government, not the rebels, has been responsible for virtually all of the brutal attacks against health workers and facilities that have occurred since violence flared in recent years, said Leonard Rubenstein, JD, LLM, MA, former executive director of Physicians for Human Rights and an APHA member. The Sri Lankan government bombed and shelled medical facilities during that country's decades-long civil war, and in Bahrain, the government targeted health workers who aided injured protesters in 2011, he said. Rubenstein is now on the faculty at Johns Hopkins University and is co-founder of Safeguarding Health in Conflict, a coalition promoting respect for human rights laws.
The coalition, which includes humanitarian groups, health provider groups and human rights organizations, is working to reduce attacks on health workers and increase accountability. It works with groups including the International Committee of the Red Cross to increase documentation of evidence of attacks and develop strategies for prevention.
In 2012, the World Health Assembly adopted a resolution calling on the World Health Organization to provide leadership on collecting data on attacks on health workers.
"This is an issue that has been ignored too long," Rubenstein told The Nation's Health. "It's really up to the public health community to join with colleagues around the world to makes its voice heard."
Violence against health workers has both an immediate effect — the injury or death of a health professional — and a longer-term effect — driving away medical professionals who would be able to help.
In southern Jonglei in South Sudan, international nonprofit Doctors Without Borders had to suspend its work at a hospital in Pibor after it was looted by soldiers, said Jason Cone, the group's communications director.
Recent escalations in conflict between tribes and clans in South Sudan have put hospitals and workers in the middle.
"We provide medical assistance to those two (warring) tribes," Cone told The Nation's Health. "We've had our hospitals destroyed in a series of revenge attacks. They're not targeting Doctors Without Borders, but they see the provision of health care as a resource that they're trying to take away from each other…There's a lack of respect for the idea that hospitals should be a safe place."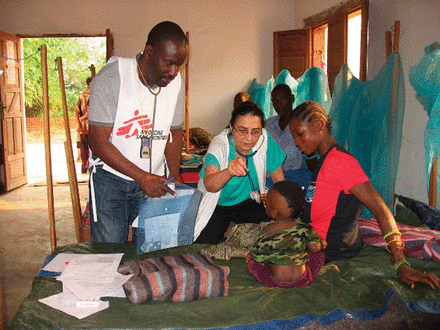 Seham El-Diwany, MD, a Kaiser Permanente pediatrician in San Jose, Calif., said she joined Doctors Without Borders because she liked the group's principles and that its mission was based on neutrality. She was stationed for five weeks in June and July 2012 in Wamaza in the Democratic Republic of the Congo. Children there were dying of malaria at an especially high rate and the doctors were overwhelmed.
El-Diwany said that working through Doctors Without Borders she always felt safe. The group is vigilant by necessity, she said, and her work was saving children's lives.
"Yes, there is a risk, but the stakes are so high on the other end," she told The Nation's Health."These people really need help and they're in a place where there is no access to care."
The lack of access to medical care is also what drove Deane Marchbein, MD, to want to go to Syria in recent years.
Marchbein, an anesthesiologist and the president of Doctors Without Borders, said she encountered some mistrust of medical workers from Syrians. She tied that mistrust to both rumors related to the sham vaccination program in Pakistan and the trauma the country has withstood for the past two years.
"I trust (Doctors Without Borders) to take my safety very seriously," she told The Nation's Health. "That said, when you go to a war zone, you're never entirely safe."
Though she has come to expect it, the targeting of health workers is not just another mundane risk, Marchbein said. Last year, she was in Lebanon working on a supply project for Syria. Her job was to talk to Syrian doctors to find out what kinds of illnesses and injuries they were treating so she could send them the necessary supplies.
But the doctors were targeted by the Syrian government, and if they were found to possess information that could be used to help the Syrian rebels, they would be presumed enemies of the state and could be arrested or killed, she said. Many Syrian health workers had fled, and those who remained were physically and psychologically exhausted.
"I feel personally offended," she said. "These are colleagues. I may not know them, but we are colleagues and they could be me. The impact of their death is not only to remove an important and limited resource from the community, it instills fear so that others are unwilling to take up their work. But it makes me more angry than scared."
For more information, visit www.doctorswithoutborders.org and www.safeguardinghealth.org.
Copyright The Nation's Health, American Public Health Association