Kaiser Permanente's employee workplace wellness activities have only been operating since 2010, but the effort is already returning real health gains.
From 2009 to 2012 among its estimated 200,000 employees, the health care company documented a 5 percent overall improvement in blood pressure levels, a 7 percent improvement in cholesterol levels, a 12 percent decrease in smoking, and a constant body mass index average even while the rest of the nation was getting heavier. Kathy Gerwig, MBA, vice president of employee safety, health and wellness at Kaiser Permanente, said the company's ultimate goal is to have the "healthiest workforce in health care."
"It's about engaging with employees to learn more about what they want, what they think is critical," Gerwig told The Nation's Health. "It's about taking a strategic approach that isn't just about one particular element, but about looking at health holistically."
The company is taking a unique approach to workplace wellness, diverging from the common design that rewards individual achievement and instead measuring health improvement at a population level. While details were still being finalized as of August, the goal is to financially reward health gains based on overall population health outcomes within the wellness program's eight regions. In other words, financial payouts will be rewarded based on regional achievements, not on individual gains. Gerwig said the approach "doesn't come across at all in a punitive way, but is more about a shared interest."
"We wanted to focus on changing the culture and encouraging collaborations to create healthier environments and to support one another," she said.
Kaiser Permanente is hardly alone in leveraging the workplace as a setting for improving people's health — about half of U.S. employers offer some type of wellness promotion initiative. And that number could increase even further when new Affordable Care Act rules go into effect in January 2014. In May, the U.S. Departments of Health and Human Services, Labor and the Treasury issued final workplace wellness program rules based on new provisions, which build on and codify pre-existing standards in the Health Insurance Portability and Accountability Act, also known as HIPAA.
The new rules outline standards for wellness programs, which reward workers for meeting health goals. Among the rules, workplace wellness programs must be reasonably designed and not overly burdensome, reasonable alternatives for receiving a reward must be offered to employees with a medical condition that makes it difficult to reach the common standard, and the availability of an alternative must be disclosed in wellness materials in easy-to-understand language.
In addition, the total of all incentives offered via a wellness program has been increased from 20 percent — the level allowed under the portability law — to 30 percent of the cost of health coverage. Under the program, employers could reduce the amount they charge individuals for coverage who participate in workplace wellness. The maximum reward level can then increase by an additional 20 percent for initiatives aimed at preventing and reducing tobacco use.
The Affordable Care Act workplace wellness provisions have sparked new research into the effectiveness of such programs as well as concern that financial rewards and penalties may shift health care costs from healthy employees to sick employees. In a 2013 report, "Workplace Wellness Programs Study," sponsored by HHS and conducted by Rand Corporation, researchers found that uptake remains limited, with fewer than half of employees undergoing clinical screenings or completing a health risk assessment. However, the report found "meaningful improvements" in exercise rates, smoking and weight control, though not in cholesterol levels. Also, most employers said wellness programs reduce medical costs, though only about half had formally evaluated their wellness efforts.
Steve Wojcik, MA, vice president for public policy at the National Business Group on Health, said that while the Affordable Care Act "acknowledges the importance of workplace wellness programs," there is concern that the new regulations may actually inhibit efforts, as the law adds a new layer of rules and costs.
"It's a wait-and-see situation," he told The Nation's Health. "We thought the (previous) rules were working just fine so we don't know how this will play out with employers."
In regard to financial rewards, Wojcik said the average wellness incentive offered to employees by insurers is nowhere near 20 percent of coverage — in fact, the average incentive hovers around $600 a year. But he noted that raising the reward limit is a "small attempt at rebalancing the field."
"Critics may say it's a way to get overweight people or smokers to pay more, but in reality they're forgetting the larger picture, which is that employers are paying a lot for these employees and subsidizing them quite heavily," he said.
However, a study published in March in Health Affairs found little evidence that workplace wellness programs can easily save money due to health gains without being discriminatory. Instead the study, which focuses solely on financial incentives, found that savings may be materializing via cost shifting, with workers at lower socioeconomic levels likely bearing a disproportionate burden. Study co-author Jill Horwitz, PhD, JD, MPP, said that while there is an underlying assumption that people with certain biomedical markers spend more on health care than others, research on the working-age population is actually "pretty mixed on whether that is true across the board."
"Before we embrace these programs as a solution to health spending, we need to know exactly how they work and we don't really know that yet," said Horwitz, a law professor at the University of California-Los Angeles.
Fortunately, a new effort at the Centers for Disease Control and Prevention may help fill that evidence gap. Along with new workplace wellness rules, the Affordable Care Act's Prevention and Public Health Fund is supporting a $9 million initiative known as the National Healthy Worksite Program. Administered via CDC, the year-long program has already engaged more than 100 businesses and organizations across the country and will culminate in a series of case studies, best practices, tools and survey instruments for implementing effective workplace wellness efforts.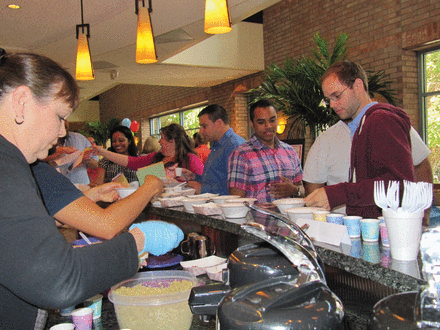 "We're looking at strategies that address individual behavior change but also look to change the broader environment," said Jason Lang, MPH, MS, team lead for Worksite Health Programs at CDC and coordinator of the new program. "We do want to change and improve individual health, but we also want to change the organization as a whole."
The CDC program is centered in eight communities from California to Maine with high rates of chronic disease and health risk behaviors, such as tobacco use. Lang noted that about double the number of employers applied to participate than slots available. The program has four main phases — assessment, planning, active implementation and evaluation — with the whole process built around the slow transfer and hand off of operational responsibility so that employers can sustain efforts in the long term. Participating workplaces work with a regional coordinator, who provides training, recommendations and hands-on help in creating worksite interventions.
Lang said that the National Health Worksite Program does not include or emphasize financial incentives — "we want to see what kinds of outcomes we can get without a heavy reliance on incentives."
In Houston, home builder David Weekley Homes has been offering wellness activities, such as health screenings and fitness classes, for a few years now. In fact, even though the company's workforce grew last year, its health care costs stayed flat despite expected increases, said Robert Hefner, vice president of human resources at David Weekley Homes, one of 13 Harris County employers participating in the CDC program. Hefner said the company is especially interested in the on-site health coaching aspect of the CDC program and being able to compare the effectiveness of in-person versus phone coaching.
"We're always looking for new and innovative ways to everything we do and we thought the (CDC) program was a way to reach out and learn how we can augment the activities we've already started," he told The Nation's Health. "We're just ecstatic to learn from them."
For more information on the CDC Healthy Worksite Program, visit www.cdc.gov/nationalhealthyworksite. For more on Affordable Care Act workplace wellness measures, visit www.dol.gov.
Copyright The Nation's Health, American Public Health Association