Before there was Terrie Hall, there was Debi Austin. Just as Hall, a former smoker, was seen on television in recent years talking from an artificial voice box, Austin hit the California airwaves in 1996 speaking from such a box, publicizing the dangers of smoking for the California Tobacco Control Program.
"I had a daughter in fourth grade, I was carting kids around to soccer games, and those kids were constantly talking about that ad," said April Roeseler, MSPH, chief of the program's statewide and community interventions section. "She became a hugely effective spokesperson and went on speaking tours. That ad transformed her life."
The successful California program, which launched in 1989 and is ongoing, is estimated to have saved $134 billion in health care costs in the state over a 20-year period and helped reduce the number of cigarette packs sold by about 6.8 billion. It has also served as an example of how states can tackle Leading Health Indicators such as reducing tobacco use.
Released in 2011 by the U.S. Department of Health and Human Services, the Healthy People 2020 Leading Health Indicators are a set of 26 objectives that are considered to be priorities for improving the nation's health.
Now in its fourth decade, Healthy People is the federally led plan that sets health objectives for the nation over a 10-year period and monitors progress. The latest edition of Healthy People covers 1,200 objectives. While all of the objectives are important, the Leading Health Indicators call out high-priority issues and highlight actions that can be taken to address them.
For example, Healthy People 2020 has almost two dozen objectives aimed at tobacco use, but just two are included in the Leading Health Indicators: reducing cigarette smoking by adults and reducing the number of teens who have smoked in the past 30 days. For oral health, which has more than a dozen objectives, increasing the proportion of people ages 2 and older who had a dental visit in the past year made the Leading Health Indicators list.
The 26 indicators are grouped into 12 topic areas, serving as a subset of the 42 topics identified for Healthy People 2020. Narrowing down Healthy People's myriad indicators to a priority subset makes it easier for health advocates to focus their work, said Carter Blakey, deputy director of the Office of Disease Prevention and Health Promotion at HHS.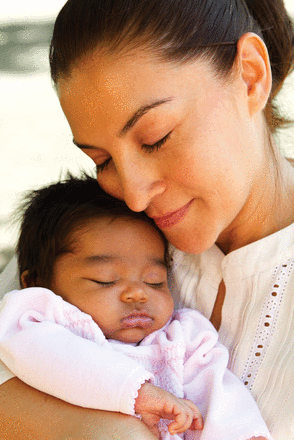 "All of the 42 topic areas that are included in Healthy People 2020 are important to the health of the nation, but the Leading Health Indicators offer a way to elevate a small set that can serve a couple of purposes," Blakey told The Nation's Health. "One is to focus attention on some topics that we feel there is the greatest potential for improving the health of the nation. And they also met the needs of some of our stakeholders, who felt like having 42 topic areas and over 1,200 objectives was too cumbersome."
Among the other Leading Health Indicators are objectives that call for:
Increasing the daily intake of vegetables among people ages 2 and older. Less than a third of adults and even fewer teens eat the recommended amount of vegetables daily. The objective calls for raising daily consumption to 1.1 cups per 1,000 calories.

Reducing the proportion of children, teens and adults who are obese. During 2005-2008, 16.1 percent of children and teens were obese, as were 33.9 percent of adults ages 20 and older. The objectives call for decreasing that by 10 percent.

Reducing the U.S. suicide rate, which was 11.3 per 100,000 population in 2007. The Leading Health Indicator objective calls for a 10 percent improvement.

Reducing fatal injuries. More than 180,000 people die annually from injuries, many of which are preventable. The objective calls for reducing fatal injuries to 53.3 deaths per 100,000 population.

Increasing the proportion of people with medical insurance. The objective calls for total health insurance coverage for all Americans. According to the U.S. Census Bureau, 48 million people were uninsured in 2012.
Since their release at APHA's Annual Meeting and Exposition in October 2011, the Leading Health Indicators have been used by health advocates around the nation to tackle issues in their communities. Blakey said there are programs in nearly every state that have used the indicators to improve health outcomes. Some programs have shared their work via "Who's Leading the Leading Health Indicators," HHS' ongoing webinar series, which attracts as many as 1,000 participants.
One of the success stories highlighted in the webinars is the Ohio Perinatal Quality Collaborative, formed in 2007 to tackle the state's poor national rankings in reducing preterm births. One of the objectives included in the Leading Health Indicators calls for reducing the nation's preterm births to 11.4 percent of live births, from 12.7 percent in 2007.
The Ohio collaborative, which includes the Ohio Department of Health and the Ohio Department of Job and Family Services, came up with projects to address the issue, such as reducing the number of births induced prior to 39 weeks for non-medical reasons, said Barbara Rose, MPH, the collaborative's executive director.
Ohio hospitals working within the collaborative formed teams to tackle the projects, develop initiatives, test them and report the successes and failures to the other teams for feedback. The constant collaboration leads to solutions multiple hospitals can use to improve birth outcomes for Ohio mothers, she said.
Since the project began, more than 39,000 babies who normally would have been born early have been carried to 39 weeks or later. The interventions have spread throughout the state, where 105 out of Ohio's 107 maternity hospitals now use them.
Rose said working toward the Leading Health Indicator objective on a statewide scale was a valuable experience.
"I think it's much harder to decrease prematurity and decrease infant mortality if you're just doing it as a single provider," Rose told The Nation's Health. "There's more strength, there's more learning and more progress if you're doing it collectively."
Back in California, the state's tobacco control program has saved more than 1 million lives. For every $1 spent in prevention, $35 was saved in health care costs, Roeseler said. The tobacco use objectives included in the Leading Health Indicators call for reducing adult smoking by 12 percent and past-month smoking by teens in 9th through 12th grades by 16 percent. About 18 percent of U.S. adults are currently smokers.
The California campaign has been addressing smoking rates on a number of fronts. Roeseler said one of the great things about the state program is that it enabled local health departments to create their own comprehensive tobacco control programs.
Even though there is progress, more than 3 million Californians still smoke. Challenges include conducting outreach in smaller, rural counties where there are few public health staff available to implement programs, said Ron Chapman, MD, MPH, the California Department of Public Health's director and state health officer.
Chapman said there is much evidence that points to why tobacco use should be among the Leading Health Indicators.
"As a family physician, thinking back in my 20 years of practice, I saw so many people whose health and lives were impacted by tobacco and so many different diseases," Chapman told The Nation's Health. "Roll it up to a public health level and the statistics speak for themselves. Tobacco remains a leading cause of death and morbidity."
While Blakey said it may take years to see results of public health initiatives targeting the Leading Health Indicators, she said there has been some progress.
For example, a physical activity objective included in the Leading Health Indicators calls for increasing aerobic physical activity and muscle strengthening from 18.2 percent to 20.1 percent. However, that objective was exceeded in 2011, when such activity was measured at about 21 percent, Blakey said.
"Meeting the Healthy People 2020 target for this objective is an important initial step in addressing physical activity among Americans — and continued progress is necessary to achieve greater success in this area," Blakey said.
The free HHS Leading Health Indicator webinars, which are archived online, are continuing this year. Webinars are scheduled for March 20 on reproductive health and sexual health, May 22 on clinical preventive services, July 24 on substance abuse, Sept. 18 on environmental quality, Oct. 23 on tobacco and Nov. 20 on injury and violence. APHA will offer continuing education credit for the webinars.
Another asset to supporters looking to tackle the indicators is a sharing library on the Healthy People 2020 website where organizations post their stories of what they are doing to address the Leading Health Indicators and see what others are doing. The site also includes a gallery of infographics that illustrate the indicators.
HHS encourages health organizations, public health workers, businesses, academic professionals and other health advocates to create programs and set goals for addressing the indicators.
"We can't do it alone, and rely really tremendously on partnerships, not only organizations like APHA, but other groups as well," Blakey said. "We make an effort to reach out beyond our traditional health boundaries and partner with organizations outside of government health care."
For more information on the indicators, visit www.healthypeople.gov/2020/LHI. For the webinars, visit www.healthypeople.gov/2020/learn.
Listen to a podcast from The Nation's Health related to this article.
Copyright The Nation's Health, American Public Health Association