Early this spring, Wisconsin's Supplemental Nutrition Assistance Program found itself in the national spotlight as state legislators pushed to require SNAP benefit recipients to adhere to a narrow set of guidelines dictating what they could and could not buy at the grocery store.
The guidelines, based on the buying requirements of the Special Supplemental Nutrition Program for Women, Infants and Children, were passed in the Wisconsin state Assembly in May and now await the state Senate. They included limiting benefit recipients' purchasing power of some items and barring others, such as shellfish, altogether. They also included a mandate that would require recipients to use at least two-thirds of their benefits on "healthy foods" as indicated by the state's WIC guidelines.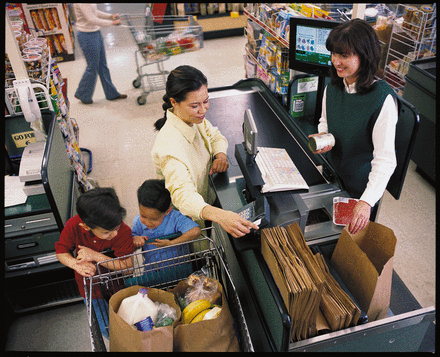 The guidelines were met with scrutiny online and in the press, as public health advocates noted there was no scientific or nutritional basis for the limits placed on recipients' benefits.
"The idea that people would be required to buy two-thirds health foods sounds good in theory, but we had to be oppositional to it because no one could define what healthy foods are," said Sherrie Tussler, executive director of the Hunger Task Force and outspoken opponent of the proposed Wisconsin guidelines. "Why would we take (dried) beans off the list? Probably because we don't grow them here. Wisconsin grows potatoes, so suddenly potatoes are a 'healthy' food…Here's the influence of politics. It has nothing to do with health, dignity or good stewardship of resources."
Wisconsin is not the only state where guidelines stricter than those enacted federally have been attempted via a waiver. New York City, for example, made headlines when the city attempted to block SNAP recipients from buying soda with their benefits in 2010.
SNAP and WIC are separate programs, though there is some overlap between the two. WIC is a federal grant program for which Congress authorizes a specific amount of funds each year. It targets low-income, nutritionally at-risk pregnant and post-partum women, infants and children up to 5 years old. WIC beneficiaries are entitled to receive supplemental nutritious foods, nutrition education and counseling at WIC clinics and screening and referrals to other health, welfare and social services.
SNAP, formerly known as food stamps, has been around in various forms since the late 1930s. Nationally, there are no guidelines as to what beneficiaries can purchase with their benefits, but states can administer their own guidelines.
Both programs are overseen by the U.S. Department of Agriculture, but can be remarkably different, said Richard Lucas, MA, deputy administrator for policy support at USDA's Food and Nutrition Service.
"SNAP is definitely a very different program in terms of design," Lucas told The Nation's Health. "It is intended for increasing purchasing power for food you can buy at retail outlets. It's very, very broad."
Lucas said SNAP is designed to provide only some assistance for beneficiaries — about 70 percent of SNAP benefit recipients use their own resources to purchase food as well. WIC is designed to give babies and young children a healthy start.
Barriers can hinder access to healthy food
While both programs were designed to make healthy food more accessible to lower-income people, hurdles remain for those who receive both SNAP and WIC benefits.
In a 2013 study published in the Journal of the Academy of Nutrition and Dietetics, researchers from the National Institutes of Health found that significant barriers stand in the way of SNAP benefit recipients buying healthy foods. Nutrient-rich fruits and vegetables are often more expensive than nutrient-poor foods, and spoil more quickly. Cindy Leung, ScD, MPH, a post-doctoral fellow at the University of California-San Francisco and lead author on the study, said many SNAP beneficiaries spend their entire allotment of funds on the first day they are available, so the foods they buy must last for a full month.
Another barrier to accessing healthy food, according to the study, is inadequate benefits. According to USDA, the average SNAP benefit funds per month, per person was $125.35 for fiscal year 2014. Average benefits per household for the same time period were $256.98. Benefits dropped by nearly $20 from fiscal year 2013, according to the data.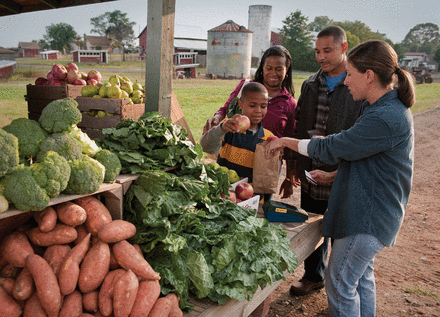 And even if SNAP benefit recipients want to spend their benefits on healthy foods, the environmental factors associated with poverty may make that difficult or even impossible. The NIH study found that SNAP benefit recipients often live in neighborhoods with a shortage of supermarkets. While a growing number of farmers markets accept the benefits, some do not. And convenience stores, which can become SNAP-certified by USDA, do not need to offer the full complement of nutrient-rich foods in order to qualify, Leung said.
"They could fill their fruit requirement just by providing lemons," she told The Nation's Health.
Even getting benefits can be a hurdle that is tough to clear, said Geri Henchy, MPH, RD, director of nutrition policy at the Food Research and Action Center, and co-chair of APHA's Food and Nutrition Section Policy Committee. Applications for SNAP benefits are long paper forms — not available online in many places. Henchy said there are also "burdensome verification requirements," limited locations that require travel and both appointments and phone lines are often booked up, frustrating recipients.
Stigma at the grocery store can also hinder people using SNAP and WIC, Henchy added. Electronic benefit transfer cards, which work like credit or debit cards, can make the checkout line easier, but for those who still have to use vouchers, the papers may as well shout "I am receiving benefits," she said.
Public health advocates are working to make both SNAP and WIC easier to navigate, as well as pushing to remove barriers to eating a healthful diet using the benefits. For example, the WIC program in Wisconsin will convert entirely to EBT cards, rather than vouchers, by the fall. All U.S. WIC programs are mandated to switch to EBT cards by 2020.
Rosamaria Martinez, MBA, RD, a WIC dietitian at the 16th Street Community Health Centers WIC program in Milwaukee, said that getting stores to make the changes necessary to accept the cards — by installing card readers and training employees — has been a long road, but the policy changes will help WIC benefit recipients in a huge way.
"I think they will really enjoy (the EBT cards)," Martinez told The Nation's Health. "It will be less obvious that they're using WIC. Most people have a card and use cards to pay, whether it's a bank card or a state food share card."
The card readers will also ensure that recipients are using their benefits only for approved foods. When the program used only vouchers, items that were not on the WIC list could slip by. Martinez also said that by using the cards, WIC officials will be able to see exactly what people are buying and encourage healthier buying.
Healthier SNAP purchases can also be made easier through incentive programs for both retailers and benefit recipients, Leung said. In the NIH study, the USDA-funded Massachusetts' Healthy Incentives Pilot Program was lauded as a success in getting beneficiaries to buy more fruits and vegetables. In some states, farmers markets that double incentive dollars increased beneficiaries' buying power while also offering them more nutrient-rich items.
Education programs, such as those offered through WIC and new programs funded by $31 million in grants from USDA, can help beneficiaries make healthy decisions, according to an April 1 news release from the department. Agriculture Secretary Tom Vilsack said the creative community partnerships funded by the grants encourage healthy eating and benefit regional food producers and local economies.
But ultimately, making healthy choices easier will help improve beneficiaries' health — they know how to make the healthy choice and stretch a budget, Leung said.
"The truth is, not many people are buying lobster," she said. "You're not going to buy something that costs your entire (month's budget)."
For more information on the SNAP or WIC programs, visit www.usda.gov.
Copyright The Nation's Health, American Public Health Association