Their regions do not share the same borders or languages, but the Arabian Peninsula and the Republic of Korea do have one thing in common: a coronavirus outbreak.
As of May, the Republic of Korea has been dealing with an outbreak of Middle East respiratory syndrome, a potentially fatal viral respiratory disease caused by a coronavirus. More than 180 people had been infected and 33 people had died as of July 6 from the South Korea outbreak — the largest one outside of the Arabian Peninsula. MERS was first identified in Saudi Arabia in 2012.
MERS is not the global public health community's first go-round with a dangerous coronavirus.
A 2003 southeast Asia outbreak of severe acute respiratory syndrome, also a coronavirus, revealed gaps in infection control and information sharing across global health systems. The disease led to nearly 800 deaths and more than 8,000 infected before the disease was controlled, according to the World Health Organization.
Now the public health community is looking at whether it has learned lessons from SARS or if it is repeating some of the same mistakes that can lead to more cases.
One of those mistakes may be the overcrowding of hospital emergency rooms and close contact of family and friends visiting infected loved ones. According to WHO, the first case of MERS in the Republic of Korea, a man diagnosed May 20 after traveling to Bahrain, Saudi Arabia, Qatar and the United Arab Emirates, may have spread the infection to health care workers, patients he shared a room with and visiting relatives.
"I think the entire episode in South Korea is something reminiscent of SARS, when we saw a lapse in infection control allow the SARS virus to spread around the world, and that's similar to what is happening in South Korea," said Amesh Adalja, MD, FACP, a member of the Infectious Diseases Society of America's public health committee and a senior associate at the University of Pittsburgh Medical Center's Center for Health Security. "We're seeing an entire outbreak that stems from the very fact they didn't recognize this case quick enough."
While it had faded from the headlines in the past year, MERS never stopped occurring. About 970 cases of the disease were identified in more than 20 countries before it spread to southeast Asia. Since reaching South Korea, the disease has spread to China and Thailand.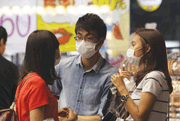 What drove SARS and what drives MERS are similar: the likelihood of "super spreaders," said Michael Osterholm, PhD, MPH, director of the Center for Infectious Disease Research and Policy at the University of Minnesota. A super spreader is a person who transmits higher levels of the virus than other patients in a place where there is inadequate infection control, he said.
According to the Centers for Disease Control and Prevention, an infected super spreader staying at a hotel in Hong Kong in 2003 was linked to 20 SARS cases that spread to countries that included Canada, Singapore and Vietnam.
"This absolutely occurs in MERS," Osterholm told The Nation's Health. "I've been in the Arabian Peninsula working on this and I've seen hospitals where four, five, six individuals will come in with MERS over time and are admitted to a hospital and there's no transmission. Then the next person is admitted and 20 health care workers and patients get infected. The same procedures in infection control were used, except those people weren't infectious. This person was."
What public health workers may need to address based on the SARS outbreak is the animal-human health connection. Osterholm said public health workers were able to stop a "faucet of infection" from flowing once they traced the SARS virus to animals such as civet cats and badger dogs in markets located in the Guangdong Province of China.
"With MERS, the faucet never stops because we have no way of interfacing in a meaningful way right now between the camel population and humans in the Arabian Peninsula," Osterholm said. "So with MERS, that's going to continue to be a serious global threat to the world as long as the ongoing case transmission occurs from animals to humans."
Not acknowledging and reporting outbreaks in a timely manner indicated an overall lack of trust and transparency among international health partners — an issue that arose with SARS, according to Scott McNabb, PhD, MS, a research professor in the Hubert Department of Global Health within Emory University's Rollins School of Public Health.
McNabb, who retired after 20 years with CDC in 2010, said one of the reasons why SARS became so significant is because of a lack of transparent information among global governments.
McNabb said the SARS outbreak is what prompted revisions in 2005 of the International Health Regulations, which are WHO's policy and guidelines for its member states to follow in reporting public health emergencies of international concern, which could potentially affect multiple countries. However, there is no mechanism to enforce countries to comply with the regulations, though peer pressure and public knowledge can be incentives.
"In order for countries to fulfill the goals of prevention, detection and response in the new Global Health Security Agenda, there must be trust among countries and detailed agreements on how and what to do," McNabb told The Nation's Health. "That level of discussion and diplomacy is still not present in the global community. We're at risk if we don't negotiate and discuss in detail how to expand the scope of the current IHRs. We should put flesh on the current IHR bones."
WHO sprang into action against the southeast Asia MERS outbreak. From June 8-13, WHO partnered with the Republic of Korea on a joint team mission to the sites of the outbreak to gauge its severity and provide steps health workers should take to control the infection.
The result was 10 team recommendations for the Republic of Korea's government. They include asking patients with respiratory symptoms or fevers about any contact with MERS patients, recent travel and possible visits to health care facilities where MERS patients were treated. Others highlighted cracking down on "doctor shopping," where patients visited multiple doctors and multiple facilities; increasing the number of isolation rooms for the infected; and creating a public education program through TV and social media ads.
While the outbreak has been "large and complex," it is similar to previous hospital-associated MERS outbreaks that have been controlled, according to a June 15 WHO update.
"However, the size and complexity of the outbreak means it will be a number of weeks before the true impact of the stronger disease control measures will be seen," the update said.
For more information on the MERS outbreak, visit www.who.int/emergencies/mers-cov/en.
Copyright The Nation's Health, American Public Health Association