When U.S. Surgeon General Vivek Murthy, MD, MBA, issued his call to action to promote walking late this summer, public health advocates knew they needed to make strides to achieve the surgeon general's goals.
"Step It Up! The Surgeon General's Call to Action to Promote Walking and Walkable Communities," released on Sept. 9, focused specifically on what individuals, communities and governments can do to make physical activity a priority for people of all ages and abilities. By improving the access to safe and convenient places to walk and wheelchair roll, and by creating a culture that supports those activities, Murthy said walking could become a priority for all Americans.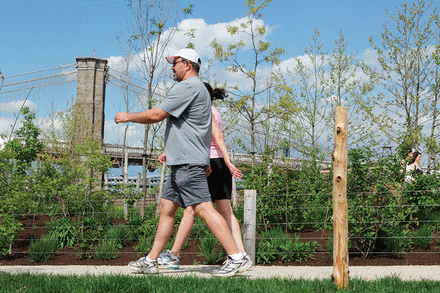 The call to action features five strategic goals:
making walking a national priority,

designing communities that are safe and easy to walk,

promoting programs and policies to support walking throughout the day,

providing information to encourage walking and improve walkability and

filling gaps in surveillance, research and evaluation related to walking and walkability.
In a Sept. 9 webcast to launch the call to action, Murthy applauded the collaboration of government and private organizations and individuals working to make walkability a reality across the country. Communities, he said, are the backbones for promoting walkability, particularly for seniors, minorities and people with disabilities.
"In our neighborhoods, we find more and more people who are encountering difficulty with walking, including important and major safety issues," Murthy said. "Today, we have the opportunity to reclaim the culture of physical activity that we once had. And today we are here to make that commitment, that in America, everyone deserves a safe place to walk and wheelchair roll."
Upon launching the call to action, Murthy noted that seven out of 10 deaths in the U.S. are linked to chronic, preventable health diseases, including heart disease. Murthy pointed out that chronic health conditions end up costing Americans more than $1 trillion each year.
"When I became surgeon general, I vowed to take on this epidemic of chronic disease as a central focus of my tenure," he said. "It turns out that one of the most powerful things that we can do to turn the tide on chronic disease is something we have been doing for millennia. And that is: walking."
Murthy's call to action called exercise "an essential ingredient for health," as almost 50 percent of U.S. adults live with at least one chronic disease. Physical activity, such as walking, has been shown to prevent risk factors for disease, such as high blood pressure and being overweight or obese, and to improve the health of people with chronic disease and prevent its progression, according to the call to action.
The call to action was lauded by public health organizations, including the Prevention Institute, which called it a "critical step" to raise awareness about walkability and community health.
In her introduction for the call to action, U.S. Department of Health and Human Services Secretary Sylvia Burwell called it an "important" measure to promote health for Americans.
"Like all parents, I am looking for easy, fun ways to keep my family healthy," Burwell said. "Walking is an important option, and I believe all Americans want that choice."
The 2008 Physical Activity Guidelines for Americans call for all adults to get at least 150 minutes of moderate aerobic physical activity or 75 minutes of vigorous physical activity each week. Children are urged to get 60 minutes of physical activity each day. Walking, Murthy said, can help make those minutes add up.
The call to action's tenet about safe places to walk is rooted in the reality that many communities, particularly those with lower incomes, do not have wide, safe sidewalks to stroll along. Katherine Robb, MSPH, a policy analyst for APHA's Center for Public Health Policy, noted there are many safe walking features that communities need, but may not have.
"Though we know the benefits of healthy community design, not all communities have the same opportunities to walk places," Robb told The Nation's Health. "For example, high-income communities are more likely to have street lighting, sidewalks and land use laws requiring pedestrian-oriented infrastructure than low-income communities. In addition, low-income communities are less likely to have access to parks or recreational areas than higher-income areas."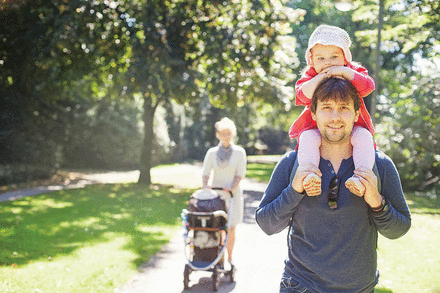 But some communities are pushing to eliminate these disparities. Christy Kwan, MA, programs and outreach director at the Alliance for Biking and Walking and an APHA member, said programs across the country are working to knock out the barriers to safe community walking.
Walk Boston, a Massachusetts-wide organization, invites local planners, transportation engineers and local politicians to participate in its regular "walk audits," giving the policymakers who can make improvements to walkability a ground-level view and hands-on assessment of a neighborhood's walkability.
"Elected officials can be the ones to apply the pressure to do something (about a cracked sidewalk)," Kwan told The Nation's Health. "When all those players are involved, that's when we see things move quicker in cities."
Part of the push for safer sidewalks needs to come from those doing the walking, Kwan noted. In some communities, that may be implementing Vision Zero, a plan to eliminate pedestrian and bike traffic fatalities.
Washington, D.C., announced its Vision Zero plan earlier this year. Vision Zero plans include providing safer access to walking: making wider or protected sidewalks, reducing vehicle speeds and creating curb cuts so that those who roll can safely get from sidewalk to intersection.
Other communities are taking more guerilla tactics. Walk Bike Nashville, for example, has been promoting its social media campaign, Don't Block My Walk, to raise awareness of construction sites that eliminate community walkability.
Through pictures of blocked sidewalks posted on social media with the #dontblockmywalk hashtag, Walk Bike Nashville Executive Director Nora Kern said city officials can learn about how the growing city center neighborhoods are affected by Nashville's construction boom.
"A lot of people weren't aware of the problem," Kern told The Nation's Health. "We often ask people to tag their council members (in their posts). They're going to be working with us now to find a solution."
In many ways, Nashville is a model for what other communities might do to promote walking. Kern said that walkability has become a priority for the city's future.
"Nashville has been growing a lot; we're getting more central development and we're putting more money into walkability," Kern said. "Our downtown is really thriving, and a lot of people are walking downtown. In our neighborhood centers, walking has become a top priority."
To learn more about walking and walkable communities, visit www.surgeongeneral.gov.
Copyright The Nation's Health, American Public Health Association