To scientists and health professionals, colistin is considered a last-resort antibiotic to treat the most aggressive infections.
But when Walter Reed National Military Medical Center researchers identified E. coli that was resistant to colistin in an American woman this spring, it not only added a new chapter to the public health nightmare of antibiotic resistance, it fueled an ongoing fire underneath researchers worldwide to develop new drugs and therapies to stave off what they see as a post-antibiotic era.
At least 2 million illnesses a year are linked to antibiotic resistance, which occurs when bacteria become able to resist the effects of an antibiotic. It also leads to at least 23,000 deaths annually, according to the Centers for Disease Control and Prevention. This is fueled by factors such as overuse, poor infection control among health professionals and diminishing research into creating new drugs. Scientists have not discovered a new class of antibiotics that made it to market since 1984, according to the Pew Charitable Trusts' "A Scientific Roadmap for Antibiotic Discovery," a five-year plan released in May to tackle the scientific hurdles to antibiotics development.
But developing and testing new antibiotics is easier said than done.
While antibiotic resistance has increased, the research and development of new classes of antibiotics has failed to do the same for scientific and financial reasons.
One of the scientific challenges is finding a new antibiotic that can treat Gram-negative bacteria. Gram-negative bacteria, such as carbapenem-resistant Enterobacteriaceae, are some of the most difficult-to-treat bacteria and there are few drugs to treat related infections, said Carolyn Shore, PhD, officer of the trust's antibiotic resistance project.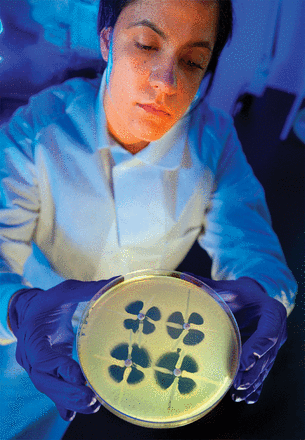 In addition, investing in the development of new antibiotics is seen as financially risky. There are four large pharmaceutical companies today that develop antibiotics, compared with 18 in 1990, according to the U.S. Biomedical Advanced Research and Development Authority. While there were over three dozen antibiotics in development as of September 2015, fewer than 50 percent could take on the challenge of Gram-negative bacteria, according to the trust. And smaller companies do not have the capital or scientific guidance to develop new, effective drugs.
"The return on investment on an antimicrobial drug is less than other drugs like an antihypertensive, where people use it for the rest of their life," said Helen Boucher, MD, FIDSA, an associate professor of medicine at Tufts University School of Medicine, and board member of the Infectious Diseases Society of America.
Realizing economic feasibility and scientific struggles have put a strain on new drug discovery, public health researchers are creating blueprints for paths to new development that break down barriers through public and private partnerships.
A recent national plan addressing the global problem of antibiotic resistance recognizes new antibiotics development as one of its five goals. Launched in March 2015, the White House National Action Plan to Combat Antibiotic-Resistant Bacteria aims to move at least two new vaccines, non-traditional therapeutics and antibiotic drug candidates from pre-clinical tests to clinical trials by 2020, among other outcomes.
But Joe Larsen, PhD, one of the leaders behind the Combating Antibiotic Resistant Bacteria Biopharmaceutical Accelerator, thinks that his public-private partnership will be able to create much more than two new products.
Launched in July, the accelerator, known as CARB-X, will provide companies with promising new antibiotics the help they need to navigate research and development through four accelerators.
The accelerators offer assistance such as access to funding, business development support and feedback on commercial feasibility of new drugs. The assistance is a result of partnerships between the Biomedical Advanced Research Development Authority, National Institutes of Health's National Institute of Allergy and Infectious Diseases and the accelerators of AMR Centre, California Life Sciences Institute, MassBio and Wellcome Trust.
"If you want innovation to return to this area, we need to provide developers a robust return on investment," Larsen, acting deputy director of the authority, told The Nation's Health. "Today, profitability is linked to volume of sales. They're the only class of drugs that their use diminishes their utility."
CARB-X began reviewing applications for potential new drugs in October, and its funders will choose which projects are promising enough to move forward for development and eventual clinical testing. CARB-X is not the only project promoting innovation. IDSA's 10 x '20 initiative, an ongoing call to action launched in 2010 to develop 10 new antibiotic drugs by 2020. The initiative supports global partnerships that incentivize the research and development of new antibiotic drugs and therapies.
Boucher said six new systemic antimicrobial medicines have come out of the initiative, but the challenge is that none of them treat the most resistant Gram-negative bacteria, such as CRE. APHA is one of many organizations that sponsors the initiative.
Goals of the Pew Charitable Trust's road map include creating studies that test the effectiveness of non-traditional therapies and developing chemical matter to form future antimicrobial drugs. Another is to increase data sharing on antibiotic development among scientists from a variety of backgrounds.
"Solutions require different types of research scientists, not just chemists and biologists, but mathematical modelers and other disciplines that have not historically focused on these problems, but can bring to bear the expertise needed to overcome key basic science barriers," Shore said.
While projects such as CARB-X are opportunities to revise the economics behind antibiotic sales, they are also chances to fold in the public health community to push the need for antibiotic stewardship, Larsen said.
"We feel that antimicrobial resistance is a global problem," Larsen said. "We need global solutions and partnerships to address the scale of this issue."
While antibiotic resistance tracking efforts such as the Centers for Disease Control and Prevention's Antibiotic Resistance Laboratory Network are not focused on creating new antibiotics, the data that come out of the network will be beneficial to drug development, said Jean Patel, PhD, deputy director of CDC's Office of Antimicrobial Resistance.
New antibiotics are sorely needed for CRE-related infections, as new drugs being developed for the bacteria typically work against one kind of CRE but not against another, Patel said. About half of patients with bloodstream infections from CRE die from them, according to a March 2013 study published in Morbidity and Mortality Weekly Report.
"That kind of surveillance data we're going to get from the regional lab network will help us predict whether drugs in development will be active against the bugs we see," Patel told The Nation's Health. "It will also help us to see changing trends in resistance so then we'll have a better idea of new drugs to start developing."
Patel said the network of seven regional labs will also have the ability to test the most resistant bacteria against new drugs to see if they are still effective.
At the University of Minnesota's Center for Infectious Disease Research and Policy, the center's Antimicrobial Stewardship Project convenes experts in antimicrobial stewardship and antibiotic resistance from the U.S. and abroad on best practices to encourage appropriate antibiotic use so that they are in place in the dawn of new classes of drugs.
Marnie Peterson, PharmD, PhD, the center's outreach coordinator for antibiotic stewardship, said she is encouraged by past congressional legislation such as the Generating Antibiotic Incentives Now Act of 2011, which incentivizes companies to create antibiotics to fight aggressive bacteria with perks such as prioritization for U.S. Food and Drug Administration review. Efforts such as that increase public awareness about the need for stewardship over future drugs, Peterson said.
"An additional focus of antimicrobial stewardship is to enhance the antibiotics we have and prevent selection for resistance with the appropriate dose and duration, not only preserving them but enhancing their efficacy in clinical practice," Peterson told The Nation's Health.
For more about the national action plan, visit www.whitehouse.gov.
Copyright The Nation's Health, American Public Health Association