Victor Dzau, MD, has had an exciting term since assuming the presidency of the National Academy of Medicine in July 2014. For one thing, the organization was not called NAM when he came on board — its membership voted in 2015 to transform the then-Institute of Medicine into the National Academy of Medicine. Now, the independent NAM is branching even further into what it means to develop meaningful research to be used in health fields. Dzau spoke with The Nation's Health about the future of the academy and its ongoing work.
For those who are unfamiliar, what is the focus of the National Academy of Medicine? Why is its work so important?
We want to advance knowledge and also accelerate progress in science, medicine, policy and health equity. As you know, we used to be formerly called the IOM, or Institute of Medicine. We have been around for 46 years, and our mission has always been, our mandate has always been, to advise the nation.
Let's talk a little bit about that name change, because I think a lot of our readers may still remember you as IOM. Why change the name?
Historically, the National Academy of Sciences was chartered by Congress and Abraham Lincoln in 1863 to be an independent organization of experts and scholars that can advise the nation on issues of science and related matters. It was very forward-looking, because what they were saying at the time was that in order to get independent, trusted, non-political advice, they should create such an academy that is not in the government, but actually works closely with the government; and, hence, the creation of the NAS.
Now, IOM, in the last 46 years, has evolved initially to really an academy of distinguished, outstanding individuals whose work is also to advise the nation on health and medicine. It's proper that rather than still be an institute, that we become a bona fide academy. What it took was votes from both the NAS members…and then also from the IOM members, that it should become an academy. Hence, they changed the name and bylaws to become the National Academy of Medicine, July 1, 2015.
Part of the reorganization really makes a big statement. Not only are we three equal academies, independent and interrelated, but we also work closely together on all issues related to science, engineering and medicine.
Can you tell us about some of the new initiatives NAM is working on, what you're most excited about?
The one that we are very excited about…is called Vital Directions in Health and Health Care. A year ago, we were well aware that there's going to be a change in U.S. administration. Our members, our council are saying, what would it look like under new administration? What are things that still haven't quite been achieved? What are things that we need to think about going forward?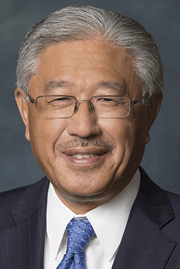 We convened a steering committee of 18 members, which commissioned over 100 experts to write papers, 19 in total, under the three themes: health and well-being, or health and wellness; health care delivery; and science and technology. Under those three themes are specific papers that look at life course management, social determinants of health, precision medicine, payment reform, science and technology for the future.
We hasten to point out that this is not an official recommendation of the National Academy of Medicine, because it has not gone through the kind of very rigorous consensus approach that we do, but it reflects the experts that we convene. Their work is worthy of looking at and listening to.
On Sept. 26, these reports were released by (the Journal of the American Medical Association) as what they call viewpoints. On the same day, we (had) public discussion we call a national conversation of the various Vital Directions. We can have authors and also non-authors to come and sit together and talk about what we believe are the issues that should inform the next U.S. administration and get input from the public. Following all this, we'll have a synthesis paper that will bring together all these dialogues into one final paper, published in Perspectives and in JAMA. That's going to happen around December.
We are thinking and hoping that this initiative will inform the next U.S. administration. Therefore, we are beginning to reach out to transition teams and to work with the next administration after the election, and begin to work with them in any fashion we can to help advise them.
Looking at Vital Directions and beyond, how are NAM projects chosen? And how are they funded?
Historically, being founded by the government, a lot of our work came straight from the government. Congress would say, "We need IOM to do this analysis before we pass the bill." FDA may say, "We need to advise on this regulatory framework on this area." CDC may say, "What about salt and what about marijuana and health effects?" But I think we also recognize that we need to not only serve the government's needs, we need to serve the country's needs.
We have a balance between government-mandated or -commissioned work, and this is our own initiated work based on members, council and what we believe is important.
We have three sources of funding, maybe four. One is government, and that accounts for 48 percent of our funding. And we used to be much more. The IOM and NAM have already been moving a lot into the other domain, which is foundations. We put forward a great idea, they like it, they fund it. The non-government side is now 51 percent or so.
We also have some philanthropy and endowments and program support that we use. We are constantly looking for people who are philanthropists who do not interfere with what we do, but who have a passion of the kind of things that we do and are willing to support it, because it's for the greater good.
Finally, we fund it ourselves. Usually, these, like Vital Directions, started with our own funding because we believe it is so important. Rather than waiting to raise the money, we say let's get going. Then we went out to ask foundations and others to fund it. And guess what? People were very generous by saying, "What a great initiative; of course we'll fund it."
Self-funding is becoming a very important avenue for me to say, "You got a good idea? Let's not wait." If we have enough capacity we'll seed it, we'll get it going and then I'm sure with a good project, people will come in to fund it.
What else are you working on? What is in the future for NAM?
Being a new academy and emerging from a brilliant history, one thing we need to agree on is, in fact, our mission statement. The conversation around this is occurring. We recognize how important that is. We want a five-year plan to say where are we going and how do we get there.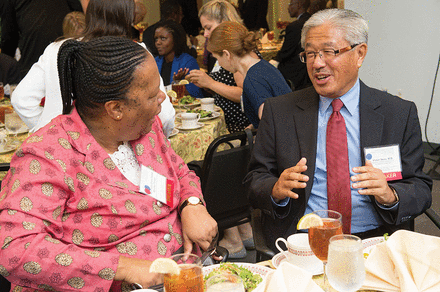 Another initiative we are working on as a new academy is membership. Do we currently have the right size? We elect 70 U.S. members a year, and 10 international. Should we expand that to include more? And what would be the right number? Because we are excluding so many brilliant people who should be part of it. But more importantly is diversity — how to represent our population and in terms of not only gender, race, expertise, but also the breadth of societal issues, and people who know how to help us.
There is an opportunity for the academy to be a leader and to inspire the nation, and our goal is to bring people together to collectively tackle moonshots.
I am really looking forward to working with (APHA). You guys have just phenomenal people. And, of course, what you represent: Public Health 3.0 and population health. We have done a lot of work in articulating the need for stakeholders to come together to improve health. We would love to help and convene and work with you to bring the right people together to improve health for all.
For more information on Vital Directions in Health and Health Care, read our related story in this issue
Copyright The Nation's Health, American Public Health Association