As its 50th anniversary approaches next year, APHA's Black Caucus of Health Workers returned to its founding location to celebrate its successes, and to launch a new health initiative in Detroit.
More than 125 people attended the April 4 Detroit District 7 Healthy Living Initiative Kick-Off, hosted by Detroit City Council member Gabe Leland in partnership with the APHA Black Caucus of Health Workers. The event honored Michigan public and community health heroes whose "leadership, achievements and sacrifices" have contributed to a healthier Detroit and Michigan, Leland said, and began the city's National Public Health Week celebration.
The event kicked off the Healthy Living Initiative, which focuses on addressing social determinants of health to elevate quality of life for residents through partnerships with the Detroit Health Department and Recreation Department along with community, faith-based and academic organizations. The initiative will focus on strengthening partnerships with neighborhood clubs and community leaders who have already been working toward a healthier Detroit.
Adequate housing, educational attainment, safe neighborhood environment, clean and affordable water and support for indoor and outdoor recreational opportunities will be targeted by the initiative, Leland said.
"Community engagement is critical to the success of this initiative," he told The Nation's Health. "This effort will be directed by the voices of our community."
Former APHA President Camara Jones, MD, PhD, MPH, served as the event's keynote speaker, and was also awarded for her public health work on racism by city, county and state leaders. More than 15 panelists from different sectors across the city also spoke on public health issues facing Detroit, and how they could be addressed.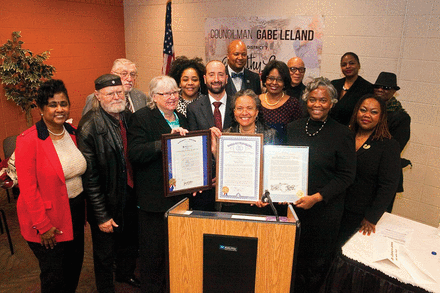 Leland described the event as part panel, part "Grammys for Michigan public health heroes," as leaders and volunteers were honored for their service while enjoying a healthy meal from a local restaurant. Included among the honorees were Kimberlydawn Wisdom, MD, MS, the U.S.'s first state-level surgeon general and an APHA member, and Bernard Scott, head coach for the University of Detroit Mercy women's basketball team, as well as the team itself, for their commitment to healthy living, community service and demonstration of academic excellence, Leland said.
The APHA Black Caucus of Health Workers, which co-hosted the event with Leland's office, was founded during APHA's 1968 Annual Meeting and Expo in Detroit. It serves as "an entry point for black and African-American public health workers, both professional and paraprofessional, to APHA," and lifts health issues that disproportionately affect people of color, such as poverty, discrimination, lack of medical and health care access and workforce entry opportunities.
As the Caucus continues toward its 50th anniversary, Apryl Brown, MD, MPH, president of the Caucus and science professor at Wayne County Community College District, said it is important for the group to celebrate its successes and leaders, but also look toward the future.
"We like to look at this (NPHW) as starting our kickoff," Brown told The Nation's Health. "We want to have a large celebration in San Diego (at APHA's 2018 Annual Meeting and Expo). We'll start planning how we want to honor the Black Caucus of Health Workers, and honor our founders, to reach back and thank those who are our early members, and everybody who's excelled in public health — the benefits and the sacrifices they've made.
"We've been reaching out to our students, our undergraduate as well as graduate public health students…So they can have leadership roles in the Caucus, and bring their creativity, bring their ideas and also have an active role in APHA."
To learn more about the Caucus, visit www.apha.org/apha-communities.
Copyright The Nation's Health, American Public Health Association