The wait is finally over: APHA's 2017 Annual Meeting and Expo arrives Nov. 4-8 in Atlanta. More than 12,000 public health leaders, professionals, advocates and students will convene in the nation's largest annual collection of research, best practices and advancements in the field.
Based at the Georgia World Congress Center, the Annual Meeting serves as a celebration of public health's successes, and raises awareness and action toward the work still to be done. This year's theme, "Creating the Healthiest Nation: Climate Changes Health," will permeate the event, with almost 100 climate-related sessions and presentations — four times more than usual.
Climate leads the topics discussed in the Annual Meeting's plenary sessions as well. Sunday, Nov. 5's opening session will feature a keynote address by Eriel Tchekwie Deranger, an indigenous activist leading Indigenous Climate Action. She is a member of the Athabasca Chipewyan First Nation of Northern Alberta, Canada, who led the "keep it in the ground" efforts around the Indigenous Tar Sands Campaign.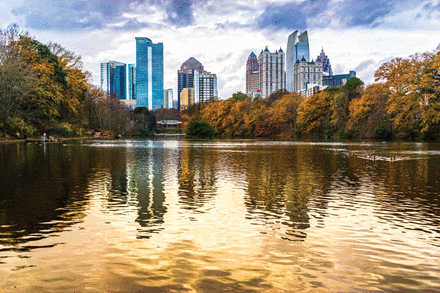 The Monday, Nov. 6, general session will feature Gina McCarthy, MS, former director of the U.S. Environmental Protection Agency. In her tenure with EPA, McCarthy oversaw the 2015 Clean Power Plan and spurred work to secure the Paris Climate Agreement.
Wednesday, Nov. 8's closing session on climate change and social justice features global leaders bridging the gap between climate change and health equity — a fitting segue as attendees leave Atlanta looking forward to the 2018 meeting, themed "Creating the Healthiest Nation: Health Equity Now." Speakers at the closing session include Chieftess Queen Quet, of the Gullah/ Geechee Nation, who is an artist, activist and founder of the Gullah/Geechee Saving Environmental Actions & Marine Environment program, and Kimberly Wasserman-Nieto, director of the Little Village Environmental Justice Organization, who was instrumental in leading the passage of the Chicago Clean Power Ordinance that resulted in the closing of the Crawford and Fisk coal-fired power plants. The session will be moderated by Jacqui Patterson, director of NAACP's Environmental and Climate Justice Program.
"The speakers featured in the Annual Meeting's general sessions are groundbreaking leaders in a variety of disciplines, but what unites them all is the work on climate and health," Anna Keller, APHA's director of convention services, told The Nation's Health.
The Annual Meeting expands far beyond its plenary sessions. Attendees will not want to miss APHA's Public Health Expo, which hosts hundreds of exhibit booths from leaders in the field. It also includes the Industry Expert Theater, where attendees can catch 45-minute sessions in which exhibitors share in-depth knowledge of the products and services displayed in the Expo Hall. Returning to the expo is APHA's Public Health CareerMart Career Guidance Center, the place to make a next career move — for students looking to enter the workforce, and veteran public health workers looking for their next opportunity.
Everything APHA, found in the heart of the expo, is another cannot-miss feature. Highlights this year include free headshots at the APHA membership booth, this year's Annual Meeting T-shirt and a book signing party on Sunday.
Also located in the expo are hundreds of poster sessions covering a variety of topics. The mobile app has a full listing of every poster session.
The expo opens Sunday after the opening session, and is open 9:30 a.m. to 5:30 p.m. on Monday and Tuesday, Nov. 7.
The expo features many schools of public health — perhaps of interest to student members of APHA, who will already be in Atlanta for the National Student Meeting on Saturday, Nov. 4. APHA Student Assembly members have once again organized a day of learning, networking and more for the hundreds who attend the annual event. The Assembly will also be hosting an expo booth and mentoring session, among other activities.
Social media, film festival add interest
The Annual Meeting offers plenty of ways to stay up-to-date on all Atlanta has to offer via social media. Attendees and those at home can follow along via the #APHA2017 hashtag, particularly on Twitter, where @public health and @APHAAnnual Mtg will lead the conversation. The Annual Meeting Blog, hosted on Public Health Newswire, APHA's public health blog, provides on-the-ground, real-time reporting on the highlights of each day in Atlanta. The blog is available at www.publichealthnewswire.org. Attendees will want to follow @americanpublichealth on Instagram as well, as they may spot photos of themselves from the meeting.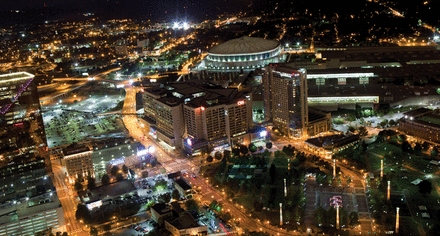 Those who are new to social media or want to fine-tune a specific skill will have the opportunity at APHA's Annual Meeting Social Media Lab. Co-sponsored by APHA and HIV.gov, the two-day lab offers attendees one-on-one technical assistance with social media experts, as well as short presentations on building an online brand, effective social media management, using graphics and more. The Social Media Lab is open 9:30 a.m. to 5:30 p.m. Monday and Tuesday.
The Annual Meeting also marks the return of APHA TV. Daily news video reports, with meeting highlights and in-depth reports, will be released throughout the meeting, and can be viewed in some Atlanta hotels as well as online.
For more than a decade, the Global Public Health Film Festival at APHA's Annual Meeting has been drawing crowds. This year, it will also be drawing attention to feature-length films on climate change.
Linda Bergonzi-King, MPH, chair of the Global Public Health Film Festival, said that in addition to dozens and dozens of video clips, from PSAs to movies shot on iPhones to films seen in theaters, the festival will screen some full-length movies as well. Opening the festival will be "From the Ashes," a National Geographic film on the impact the coal industry has had on the environment.
Bergonzi-King also said notable films in the festival cover a huge swath of public health, from climate change to cyberbullying, maternal mortality and internet exploitation of children. For more information, visit www.apha.org/filmfest or check the mobile app.
Even with the opportunity to watch full-length films, Annual Meeting attendees tend to keep moving. And with a variety of wellness activities, there is sure to be an opportunity that interests each person. The Annual Meeting Steps Challenge returns, offering a friendly competition to those who log the most steps. Participants can use the Stridekick app to sync with their mobile devices or log steps manually.
If walking or running do not appeal, dancing might. APHA will once again host its flash mob-style dance on Sunday afternoon — learn ahead of time on APHA's website, or pick it up on site. Or, try out a Zumba session or yoga class at the on-site Wellness Center. Activities will be available for mental wellness as well.
APHA's Annual Meeting serves as a growth opportunity for many attendees. Attending can be a boon for a career. Attendees can earn continuing education credits at hundreds of scientific sessions that will be awarded contact hour credits. Attendees can also take part in half-, full- or two-day Learning Institutes covering a range of topics, including a two-day review course for the Certified in Public Health exam. More information is available on APHA's website, and attendees who have not registered can do so on-site.
Using technology is the best way to maximize the Annual Meeting experience. The full program is accessible online as well as through the APHA 2017 Mobile App, which can be downloaded by searching APHA 2017 in app stores.
For those who want to give back to the city they are visiting, APHA's Help Us Help Them campaign offers attendees an opportunity to donate to HealthMPowers, a nonprofit organization that promotes healthy habits among children.
Not attending? Take part from home
With so much available at the Annual Meeting, public health advocates will not want to miss a thing. With APHA Live, they do not have to. Many sessions throughout the Annual Meeting, including the plenary sessions, will be recorded and livestreamed. People can watch no matter where they are, live or on their own time. APHA Live is made possible by the Kresge Foundation.
"The team at the Kresge Foundation is really encouraged by APHA's focus on health and climate this year," said APHA member Jalonne L. White-Newsome, PhD, MS, senior program officer at the foundation. "The impacts of climate change have a significant impact on the health and well-being of people across the country. We're thrilled to support APHA Live and support equitable learning opportunities for those who may not be able to attend the Annual Meeting."
Recorded Annual Meeting Presentations, available after the meeting, also offer a way to take in or review sessions. Syncing voice recordings with PowerPoint slides and cursor movements, RAMP is a digital library of presentations. RAMP and APHA Live can be purchased online now.
For more information, visit www.apha.org/annualmeeting.
Copyright The Nation's Health, American Public Health Association