There are many benefits that come with APHA membership. But for student and first-time member Elsie Moore, the best part is having access to a network of thousands of students and professionals in every field of public health.
"It really is exciting to think about what this membership means for students," said Moore, who is pursuing a Master of Public Health degree at the Yale School of Public Health. "It's such a huge network of people and now we have an opportunity to connect with it."
When Moore says "we," she means herself and about 250 fellow Yale students pursuing master's and doctorate degrees in public health, all of whom recently received a school-sponsored membership to APHA.
The Association's new school-sponsored student membership category launched last year, giving public health schools and programs the chance to purchase APHA memberships for their students at a discounted rate. The school-sponsored memberships come with automatic enrollment in the APHA Student Assembly, the country's largest student-led organization dedicated to the development of public health students.
Frank Grosso, PhD, associate dean for student affairs at the Yale School of Public Health, said he hopes the new memberships will help create stronger connections between the theory and science that students learn in the classroom and the reallife challenges and practice of public health.
"We're thrilled that our students are able to take advantage of it, many of who don't have the funds to join on their own," Grosso told The Nation's Health. "We hope it enriches what happens in the classroom."
The new school-sponsored membership came out of work to widen APHA membership opportunities for public health students, said Ellen Galant, APHA's director of membership services. Almost a dozen schools and programs of public health have opted to sponsor their students since the membership category debuted last year, including the Morehouse School of Medicine Master of Public Health Program, University of Michigan-Flint Department of Public Health and Health Sciences, and Saint Louis University College for Public Health and Social Justice.
In fact, Galant said many schools and programs plan to use the benefits of school-sponsored APHA membership to help distinguish themselves from the pack when recruiting potential students.
"We've had a very positive response from schools and programs that have signed up students," she told The Nation's Health.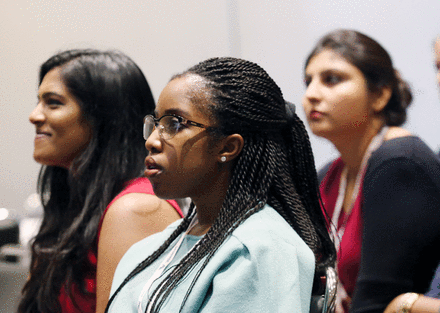 School-sponsored student membership comes with the benefits of APHA membership, including online access to the American Journal of Public Health and The Nation's Health newspaper; full access to APHA's Public Health CareerMart, the top job site for public health professionals; and the opportunity to present research at APHA's Annual Meeting and Expo, which last year drew 12,000 attendees from around the world. Members also get discounted registration for the meeting.
In addition to membership in APHA's Student Assembly, school-sponsored membership lets students join and participate in two APHA Sections and engage with the Association's many Special Primary Interest Groups, Forums and Caucuses. Other benefits include discounts on books from APHA Press and access to organizing and advocacy tools especially tailored for students.
"This is an affordable and easy way to expose students to the diverse world of public health," Galant said.
That exposure is what APHA member Ayman El-Mohandes, MD, MPH, MBBCh, dean of the City University of New York Graduate School of Public Health and Health Policy, hopes to give students. El-Mohandes, a former APHA Executive Board member, said the school plans to sponsor memberships for about 500 graduate students.
"This allows schools to enhance opportunities for students to engage with their professional organization in the early stages of their careers," El-Mohandes told The Nation's Health. "It helps them get closer to the real world of public health — and that can be a really grounding experience."
Membership in APHA, he added, can also help prepare public health students for the policy and advocacy work that is often critical to successful public health practice.
"The academic world needs to emphasize the importance of supporting our professional organizations any way we can," said El-Mohandes, who helped APHA develop the new membership category while on the Executive Board. "Creating bridges between the academic world and the professional world is essential."
Learning how to become effective advocates — "how to be a voice for the voiceless and how to represent those who don't have a seat at the table" — is one reason the Morehouse School of Medicine Master of Public Health Program decided to sponsor memberships for nearly 50 students, said Brenton Powers, MPH, the school's program manager for graduate education in public health. Another benefit for students is easier access to the APHA Annual Meeting, he said.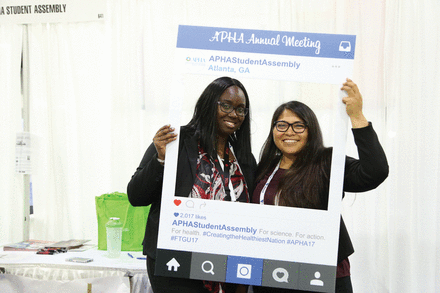 "The Annual Meeting is an amazing opportunity for students," Powers told The Nation's Health. "The opportunity for networking, being able to learn about cutting-edge public health research, seeing the practical nature of what they're learning in the classroom — it's a great experience."
Joining APHA's network of professionals can help students plan their longerterm futures too, Powers added.
"The contacts you make at APHA are a great foundation for helping students get to that next level in their public health careers," Powers said.
Back at Yale, Moore, who serves as co-chair for outreach and development for her school's public health student group, known as Yale-APHA, is working with APHA staff to develop a tutorial that students can use to optimize their new school-sponsored APHA memberships.
"There's so many ways for students to engage in APHA," she said. "There's something for everyone."
For more information on APHA's new school-sponsored student memberships, visit www.apha.org/membership.
Copyright The Nation's Health, American Public Health Association