Organizers were inspired during 2019's National Public Health Week, rolling out takes on this year's daily themes and going creative with events that stretched the boundaries of public health.
Yoga sessions in Chicago, mindfulness training in Rhode Island, shelter-dog walking in Santa Barbara and a vegan challenge in Florida were part of the celebration. There was also an introduction to composting food waste in New York, a cautionary tale about soaps and shampoos in Massachusetts and a paean to the healthful effects of water in Kentucky. An emphasis on science, action and public health connected the dots of the more than 600 events.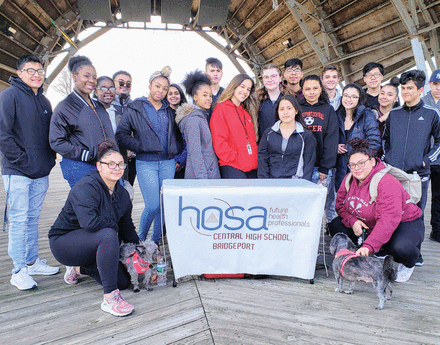 "The variety of events this year really showed how creative public health workers can be when it comes to their NPHW events," Rosa Riley, APHA program manager, told The Nation's Health.
Led by APHA, National Public Health Week was marked from April 1 to 7 with a theme of "Creating the Healthiest Nation: For science. For action. For health." Each weekday also had a theme — healthy communities, violence prevention, rural health, technology and climate change. The weekend's theme was global health.
The many NPHW events encouraged students, health care professionals, advocates and the general public to do their part in making the U.S. the healthiest nation by 2030. Over 300 events were posted on APHA's national events calendar. APHA's celebration in Washington, D.C. included the annual NPHW Forum, NPHW Student Day and a Twitter chat with over 4,200 tweets that trended nationwide. And APHA's Billion Steps Challenge exceeded its goal.
"Thank you to all the teams that formed for the APHA Billion Steps Challenge," said Susan Polan, PhD, associate executive director for public affairs and advocacy at APHA. "It was great to see team leaders encourage people to keep walking, not just for their team, but for their health and health of their community."
NPHW celebrated in US communities
Health advocates across the nation used NPHW to showcase and promote health.
In Mobile, Alabama, students, staff and faculty at the University of South Alabama College of Medicine took part by following the NPHW themes. Though some events were for medical students only, other events were open to the public.
On April 3, an information seminar was held on rural health, an important topic in Alabama, as it is one of the least healthy states in the U.S., APHA member Gisella Ward, MPH, president of the Public Health Interest Group at the university, told The Nation's Health. The information included data on several hospitals in Alabama that closed recently due to financial shortfalls. Students were encouraged to advocate for hospital funding by contacting state representatives.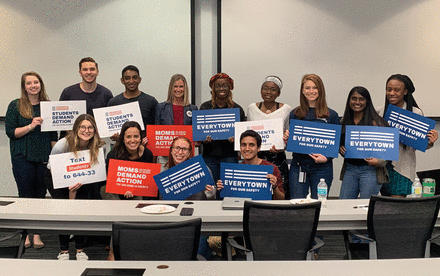 On April 4, a novel approach to the tech theme was held with a screening of a PBS documentary on the anti-vaccination movement in the U.S., followed by a panel discussion on social media technology. Social media has helped public health professionals educate and inform, but it has also enabled misinformation to spread fast, such as falsities about vaccine risks. An interesting discussion followed about freedom of speech and the public good, Ward said.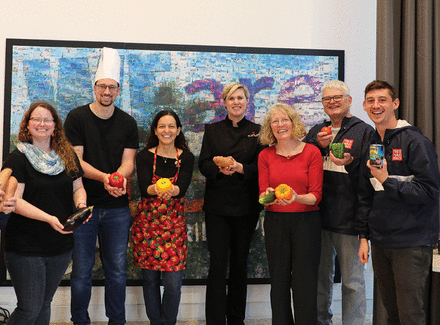 For the climate change theme April 5, events focused on the increase in vector-borne diseases, which is linked to warmer temperatures that allow pathogen-carrying ticks and mosquitoes to reproduce faster and spread to new regions.
"We are on the Gulf Coast, and expect to see infectious diseases such as Zika or Lyme disease show up in environments they were previously not in," Ward said.
In the South Central U.S., a road show by the Association of Schools and Programs of Public Health landed in Oklahoma, visiting Oklahoma City, Norman, Stillwater and Tulsa. The association worked with community and outreach organizations to promote education and healthy behavior.
Stops included Oklahoma universities, the Regional Food Bank of Oklahoma and Edwards Elementary School in Oklahoma City.
"We do it to help introduce students to public health careers and education at an early age and also to give back to the local communities where we visit," Tracie Seward, senior director of outreach and recruitment at ASPPH, told The Nation's Health.
As ASPPH staff hit the Oklahoma highways, health department employees in Kentucky hit the water glasses.
Brook Fogle, public health service coordinator of the Green River District Health Department in Owensboro, wanted to introduce a health program during NPHW for department employees. Noting the popularity of high-calorie sugary beverages, she decided to introduce a water challenge, first implemented by Columbus Public Health in Ohio in 2004. The challenge, "Water First for Thirst," encouraged people to drink eight 8-ounce glasses of water daily over eight days.
Given that department employees were spread across seven Kentucky counties, the water challenge was something all employees could take part in regardless of location, Fogle told The Nation's Health.
"Just grab your water and drink up," she said.
In Staten Island, New York, students at Wagner College were rummaging through cafeteria food waste as part of a NPHW event on composting.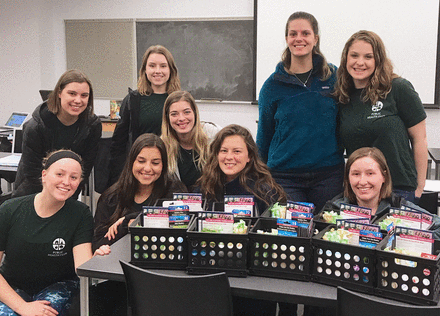 Composting reduces the effects of climate change caused by methane released from rotting food, Mouhamed Halwani, an adjunct professor in microbiology at Wagner and an officer in the local compliance branch of the U.S. Food and Drug Administration, told The Nation's Health.
"Composting allows for the organic scraps, rather than simply being thrown away, (to become) high quality organic matter used to fertilize farms and gardens," Halwani said. "This closes the nutrient cycle, and puts wasted food to good use, mitigates climate change and supports the creation of arable soil."
In the Southwest corner of the U.S., Chandler-Gilbert Community College in Mesa, Arizona, presented the "Dying to Look Good" awareness campaign. In collaboration with chemistry students, the Pre-Health Profession Club at Chandler educated about 150 students on research and legislation on toxic chemicals in personal care products, Sujatha Krishnaswamy, PhD, MS, a Chandler chemistry professor, told The Nation's Health.
"There is an increasing concern that many of the ingredients are endocrine hormone disruptors and may increase cancer rates," Krishnaswamy said.
Students were encouraged to advocate for non-toxic personal care items.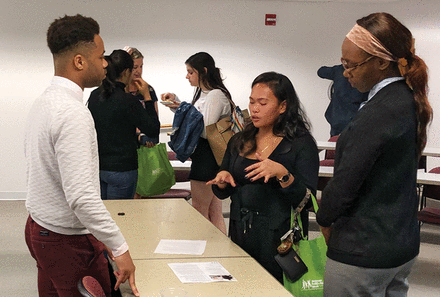 APHA leads way with national events
As National Public Health Week's organizer, APHA led the celebration from Washington, D.C.
APHA's events kicked off with an engaging NPHW Forum April 1. The live-streamed event highlighted grassroots community projects with a focus on social determinants of health, including racism.
"Racial bias can lead to discrimination, but when you have racial bias plus power, you have racism," said keynote speaker Joia Crear-Perry, MD, FACOG, founder and president of the National Birth Equity Collaborative.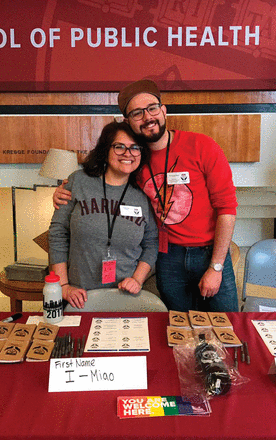 APHA hosted a 60-minute NPHW Twitter chat April 3. Nearly 750 people took part, with over 4,200 tweets. The event hastag, #NPHWchat, trended to No. 2 nationwide on Twitter and the chat gained over 98 million impressions. APHA also co-sponsored an April 2 Twitter chat on gun violence and public health.
April 4 was NPHW Public Student Day, with a career panel held at American University. Former university students talked about how they made the jump from students to public health professionals and shared job-seeking advice.
Also during NPHW, APHA's Billion Steps Challenge came to a close April 7, beating its goal with 1.5 billions steps from 407 teams. CrisfieldWalks had the highest average daily steps at 28,783.
The team, based in Crisfield, Maryland, heard about the challenge from the health department. Team member Karen Riggin told The Nation's Health she has lost 70 pounds since she began walking regularly three years ago.
Several teams in Connecticut, in partnership with the Connecticut Public Health Association, logged a combined total of over 85 million steps during the challenge, CPHA President Morgan Spencer, MPH, MPA, CPH, told The Nation's Health. One of the steps teams was HOSA Future Health Professionals, organized in March by two high school students, Jessica Silva and Najiyah Porter. In three days, they recruited 105 school classmates, who logged over 14 million steps in two weeks.
"The experience has helped me advocate to others why we should be more active," Silva told The Nation's Health.
With NPHW 2019 over, it is time to look ahead to next year's celebration. NPHW 2020, which will be the event's 25th anniversary, will be marked April 6-12.
Visit www.nphw.org for fact sheets and graphics and to view the forum and career panel.
Brown University takes holistic NPHW approach in Rhode Island
Brown University in Providence, Rhode Island, offered an array of events for National Public Health Week, from acupuncture treatments, to mindfulness meditation sessions, to lectures on hot-button public health topics.
"We were trying to focus on the breadth of public health so people understand how it touches their lives," Bess Marcus, PhD, dean of Brown's School of Public Health, told The Nation's Health.
On April 1 a session on acupuncture treatment was held, attended by about 40 students, faculty and staff. Acupuncture has been shown to increase endorphins, improve mood and create an overall sense of well-being, Marcus said.
The school's Mindfulness Center instructs on meditation and yoga and conducts research on the affects of mindfulness on people's biology, behavior and cognition. On April 2, a guided mindfulness session was held for the public, followed on April 3 by a lecture from Jon Kabat-Zinn, PhD, a professor emeritus at the University of Massachusetts Medical School, attended by 300 people.
"Mindfulness practices are not expensive," Marcus said. "They are available to everybody. Here we do it based on evidence-based work."
Organizers wanted NPHW to mirror a balanced life of exercise, mindfulness, rest and intellectual pursuits. So interspersed throughout the week were exercise instruction, such as how to use resistance bands, as well as meditation, yoga, healthy food breaks and stimulating lectures. An April 4 session explored food psychology — how things like dinnerware, lighting and food portions influence eating habits.
One of the week's lectures was on U.S. immigration enforcement and impact on children. R. Gabriela Barajas-Gonzalez, PhD, assistant professor at New York University School of Medicine, spoke about her recently published paper on child trauma from family detention at the U.S.-Mexico border.
Instrumental in bringing Gonzalez to the event was Abdullah Shihipar, a first-year MPH student in the School of Public Health.
"National Public Health Week is a key event in public health discourse, and we feel that immigration and public health needs more discussion," Shihipar told The Nation's Health.
NPHW ended with a career panel, featuring the School of Public Health Community Advisory Board.
For more information, visit www.brown.edu.
Animals help Californians get healthier in Santa Barbara County
Dogs and rabbits were part of happenings organized by the Santa Barbara County Public Health Department for National Public Health Week. Events were held in Santa Barbara and Santa Maria, both in Santa Barbara County, California.
On April 1, to promote healthy communities, Walk a Shelter Dog Day took place at the Santa Maria Animal Center and the Santa Barbara Animal Shelter. Twenty-six people volunteered to take shelter dogs on a romp, bringing exercise to both humans and canines, Jackie Ruiz, public information officer for the health department, told The Nation's Health.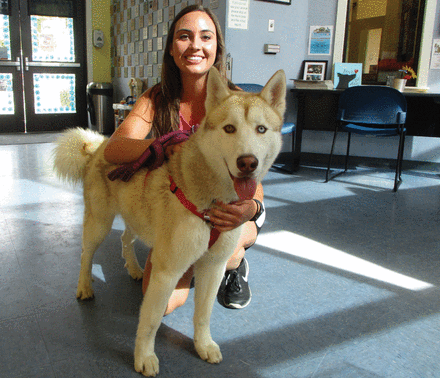 April 2 was health fair day in Santa Barbara, but not at touristy Shoreline Park or Santa Barbara Point along the sun-speckled Pacific Ocean. The fair took place at People's Self-Help Housing, dedicated to affordable housing for low-income individuals and families.
One of the fair events was bunny yoga, which essentially was 15 people doing yoga as bunnies hopped around. Bunnies Urgently Needing Shelter supplied the critters.
"We wanted to bring a different experience to this community," Ruiz said. "A lot of the kids had never held a bunny before."
The animal events are supported by science. A 2015 paper in Current Opinion in Psychology said interactions with domesticated animals offer people physical and mental heath benefits.
Other health fair happenings were sessions on hands-only CPR, sans mouth to mouth, and "Rethink Your Drink," a public health initiative led by the California Department of Public Health.
At the drink booth, Ruiz showed people sugar levels in sweetened beverages by displaying sugar cubes, equivalent to spoonfuls, in plastic cups. Typical sports drinks have nine spoonfuls of sugar, Ruiz said. Energy drinks are in double digits.
Too much sugar can lead to chronic health issues. Scientific studies have found an association between people who regularly drink sugary beverages and excess weight gain.
Important to Santa Barbara County's public health work is community partnerships, such as with the affordable-housing project and the animal shelters.
"We wanted to highlight those partnerships," Ruiz said. "It's not just the work of the department, but the work of the entire community."
For more, visit www.countyofsb.org.
Copyright The Nation's Health, American Public Health Association