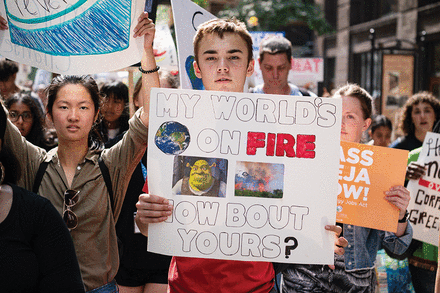 When it comes to climate change, few voices have captured the world's attention like those of young people.
"I think it's a combination of who we are and the message we're telling," said Zanagee Artis, who in the summer of 2017 co-founded the youth-led climate justice organization Zero Hour. "For us, this is an emergency."
With a goal of amplifying the voices of young people of color and those on the front lines of the climate crisis, Zero Hour recruits youth ambassadors from around the world to help educate communities about the roots of climate change and the importance of elevating equity in climate solutions. Artis, now a 20-year-old student at Brown University and Zero Hour's deputy advocacy director, said a key part of the group's communications strategy is highlighting how climate change affects people — versus just the environment — and why it disproportionately impacts communities already struggling with historical and systemic inequities. Those messages, he said, have resonated with audiences.
"Centering equity is the most important thing we can do right now, because if we don't include everyone explicitly, then we'll lose a lot of organizing strength," Artis told The Nation's Health. "Talking about the impacts people will face in their lives and communities — I think that's the way forward, for sure."
As climate change becomes more urgent, finding effective methods for talking about it in ways that resonate, engage and motivate people to action has become increasingly important. Initially, such conversations were more challenging, as climate impacts often seemed remote and far off, said Meighen Speiser, executive director of ecoAmerica. Now, as communities around the world face new extremes in temperature, weather and disasters, such impacts are no longer so abstract. The unfortunate silver lining is that it also makes it easier to personalize the climate story, which is a particularly effective form of engagement.
"Climate change has come home to roost, and people are experiencing it in their daily lives," Speiser said. "We're in a moment right now in which good communication is absolutely key."
Based on research and the real-life experiences of its grassroots partners, ecoAmerica recommends a number of steps for effective climate communication, such as identifying and connecting on common values, focusing on local realities, avoiding doom and gloom, and emphasizing solutions. Health, in particular, tends to resonate with people, Speiser said. In fact, an ecoAmerica poll released last year found that over half of Americans reported experiencing climate-related health impacts, and 90% believed people have a "moral responsibility" to ensure a safe and healthy climate. Sixty-six percent agreed that if the U.S. took steps to prevent climate change, it would also benefit health.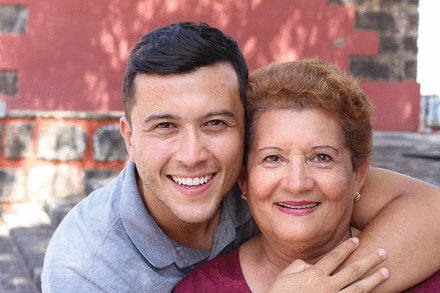 Not only does health resonate with audiences, public health professionals are particularly good climate messengers as well, said Edward Maibach, PhD, MPH, director of the Center for Climate Change Communication at George Mason University.
"We (health professionals) are trusted," said Maibach, an APHA member. "But we need to get on with the business of sharing what we know much more frequently, much more assertively. Other voices are working hard to confuse the public and policymakers about climate change. We need to speak up and speak out."
While public health professionals may be well-versed in the research behind climate change, Maibach cautioned against leading with climate science. Instead, he recommended simple, clear explanations about the myriad ways climate change is already harming people's health, as well as equally clear and simple explanations about actions people can take to protect their health — "numbers numb, but stories sell," he added. At the same time, he said lies and misinformation about climate change should not go unchallenged.
"We should tackle them head on and set the record straight," he said. "(Health professionals) are highly trusted, so it's absolutely critical that we debunk and rebut."
Maibach noted that only one-third of Americans see themselves as environmentalists, while almost everyone cares about health.
"The way to make climate change personal is to show people how climate change threatens the health of their loved ones and other members of their community, especially children," he told The Nation's Health. "Even more importantly, the way to get people excited about climate solutions is to show them how such solutions — like clean energy — will immediately help everyone live more healthfully and breathe more easily."
Until relatively recently, many scientists believed that if people simply understood the science on an issue, it would be enough for them to take action, said Julia Hathaway, PhD, MEM, a postdoctoral researcher with the Alda Center for Communicating Science at Stony Brook University. The theory is known as the information deficit model and assumes that people are "empty vessels and if we just provide them with the right information, it'll make a difference," she said. But research shows that facts are not always successful at changing hearts and minds. On top of that, some people have been effective at sowing doubt about climate change.
"We tend to interpret facts in accordance with our cultural attachments — we want the world to be as we understand it," Hathaway told The Nation's Health. "It's really hard to communicate science in a way that people can engage with on a personal level. In that way, the public health frame can be a great way to connect."
Putting a public health frame on climate change reaches people where they are and offers them actionable information, she said, such as suggestions to walk more and drive less, which produces benefits for both personal health and the local environment.
"We all know people who are being affected by climate change right now, but the challenge is to help them validate what they're feeling with the science," Hathaway said. "Those personal stories are so meaningful — they reach us at a level that's really, really powerful."
APHA's Center for Climate, Health and Equity is helping public health professionals learn how to more effectively use personal stories to talk about climate change through its new workshop. Previewed at a national environmental conference in January, APHA's Making Climate Change Personal workshop illustrates how stories about climate change's impact on human health, and the solutions that address it, can be a more effective advocacy tool. The workshop will be taught at several more conferences this year.
"When told well, stories change lives," said Louise Dettman, APHA communications specialist. "We all have a responsibility to share what we know and what can be done about climate change in a way that everyone can hear."
Like so many other communication challenges, talking effectively about climate change means knowing one's audience, said Olena Alec, MPA, director of engagement at the Climate Reality Project, which supports more than 21,000 climate activists in 154 countries. For too long, she said, the complexity of climate science may have scared people away from becoming voices for climate action in their communities. But the reality is that climate change is now part of common experience.
When training local climate advocates, Alec said the project emphasizes two main points. First, learn about the climate impacts and solutions most relevant to the audience — "that's how you make it personal." Second, relay the urgency of climate change while also offering hope.
"Every single person can be an effective communicator about the climate crisis," Alec told The Nation's Health.
For more on climate change communication, visit www.climatechangecommunication.org. For more on work by APHA's Center for Climate, Health and Equity, visit www.apha.org/climate.
Copyright The Nation's Health, American Public Health Association