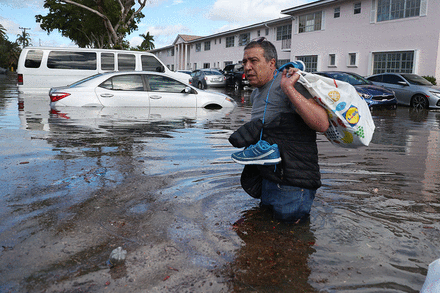 As scientific evidence mounts showing the impact of climate change on human health, U.S. public health agencies are stepping up to develop programs to reduce and prevent risks.
To aid them, the Centers for Disease Control and Prevention created the Building Resilience Against Climate Effects framework. BRACE helps health leaders pinpoint and even predict how climate change will affect their respective regions, then formulate a plan to protect residents, especially people who are most vulnerable.
CDC's Climate-Ready States and Cities Initiative is funding 18 U.S. BRACE programs in 16 states over five years. Among them is BRACE-Illinois, based at the University of Illinois at Chicago's School of Public Health. The five-step program is helping local health departments prevent and contain tick- and mosquito-borne diseases, which warming temperatures from climate change have made a growing concern.
Meanwhile, the Oregon Climate and Health Program, overseen by the Oregon Health Authority, is tackling the health effects of the state's wildfires, which create thick smoke that can cause respiratory and cardiovascular illnesses. The program is also creating resources on how to protect people from smoke inhalation and working with community-based organizations that serve populations most vulnerable to climate risks, such as seniors and people with asthma.
"Climate change will undoubtedly increase health disparities," Surili Patel, MS, director of APHA's Center for Climate, Health and Equity, told The Nation's Health. "And a lot of what goes into achieving good health occurs outside of the clinical setting. These social determinants of health are addressed by many of the climate adaptation plans developed across the country."
"Climate change presents challenges and threats to everyone's health, but some groups are more impacted. Those populations are of concern during a disaster."

— Chris Uejio
The BRACE framework enables grantees to identify and flesh out projects involving climate and public health. Among the goals are to anticipate climate impacts, assess vulnerabilities and create plans to address them.
For example, participants use data sources to gain insight into how climate change is harming human health in their states, such as through flooding and air pollution.
In Florida, health officials are concerned with issues that include extreme weather, wildfires and water-borne diseases, which are linked to allergies, asthma, stroke and more. The Florida Building Resilience Against Climate Effects Program began its funding period in 2017. Based at Florida State University, the program covers the entire state, an ambitious task as Florida has three climate regions with distinct challenges.
FL BRACE offers assistance and funding for county health departments, especially those serving vulnerable populations, such as seniors, coastal-community residents or both. For example, the Sarasota County Health Department in southwest Florida is receiving aid from FL BRACE to identify county communication and transportation needs to protect residents with mobility limitations in the event of a storm.
"Climate change presents challenges and threats to everyone's health, but some groups are more impacted," Chris Uejio, PhD, principal investigator at FL BRACE, told The Nation's Health. "Those populations are of concern during a disaster."
The BRACE system has worked well in Florida, said FL BRACE communications leader Tracy Ippolito. But implementation challenges remain. One is that public health workers at county health departments are inconsistent in completing evaluations, as recommended in the BRACE framework.
"If we are going to move from this mindset of being reactive to being proactive, that info is key," Ippolito told The Nation's Health. "But it is neglected because they are usually on to the next crisis, and opportunities to learn get missed."
APHA's "Adaptation in Action: Part II" report, updated in 2018, shares additional success stories from the BRACE program. To read the report, visit www.apha.org/climate. To learn more about BRACE, visit www.cdc.gov/climateandhealth.
Copyright The Nation's Health, American Public Health Association