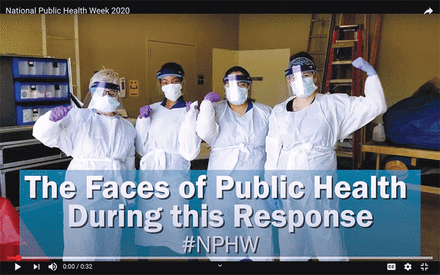 While COVID-19 reshaped the way National Public Health Week was observed this year, it did not stop the annual event from going forward. In fact, the outbreak helped to focus America's attention on public health more than ever before during the observance.
As people in the U.S. were told to stay at home and stay apart to help protect themselves and their communities from the disease, NPHW organizers moved their activities online, sharing information on social media, websites, conferencing sites and webinar platforms. Some participants created and posted videos to celebrate public health and front-line health care workers.
Many organizers shifted the focus of their events to COVID-19, using the increased attention to educate and engage people on public health.
"The coronavirus pandemic has made public health visible and understood as an essential service to society," said Martine Hackett, an associate professor at Hofstra University's School of Health Professions and Human Services, who organized several NPHW webinars on COVID-19.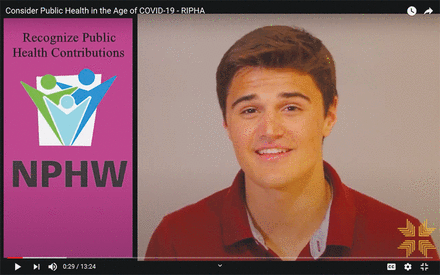 Now in its 25th year as an APHA-led event, NPHW is a celebration of public health, offering an opportunity to engage communities and amplify public health messages. This year's theme was "NPHW@25: Looking Back, Looking Forward," a nod to NPHW's anniversary.
Resolve and determination in the face of the outbreak were hallmarks of many events held during the April 6-12 observance, which is organized annually by APHA. One takeaway was that Americans are seeing how important public health is to their daily lives, Hackett said.
"We anticipate that this awareness will make public health careers more vital than ever," Hackett, PhD, MPH, told The Nation's Health. "We may see increases in funding opportunities within the fields of epidemiology and hopefully social determinants of health. Grant funding for public health will likely see a larger investment."
Hofstra University held NPHW events through April to accommodate last-minute schedule changes due to the global emergency. The university, based in Hempstead, New York, presented a palette of NPHW happenings connected to COVID-19. For example, a panel on careers discussed community needs during and after a pandemic, while a discussion on birth equity highlighted the challenges the outbreak places on maternal care.
In the Southwest, members of the Arizona Public Health Association gathered online April 9 to talk about the health equity implications of COVID-19.
"We have had many staff who have had opportunities to prepare for something like this, but now it's show time," APHA member Will Humble, executive director of the association, told The Nation's Health. "This is way different from anything else previously in my career just because of the sheer magnitude — not just of the disease itself, but of the ramifications of the interventions."
In the Northeast, the Delaware Academy of Medicine-Delaware Public Health Association used NPHW as a springboard for advocacy, employing social media, news releases and other means to support action on COVID-19.
"These times are pretty bad, but it is our time to shine," APHA member Timothy Gibbs, MPH, NPMc, executive director of the association, told The Nation's Health. "It is a time not to be beat down but be activated by it."
Not all NPHW events focused on the pandemic, however. Among those, APHA, ecoAmerica, the U.S. Climate & Health Alliance and other partners held an online discussion on climate policy on April 7. Speakers talked about 10 priority actions to protect and promote health and advance the well-being of all people in the era of climate change.
While the ongoing pandemic and climate change are different, they "both are health emergencies," said APHA member Linda Rudolph, MD, MPH, director of the U.S. Climate & Health Alliance, who spoke during the event.
"COVID is a sudden, rapidly evolving in-your-face emergency, while climate change is a catastrophe in slow motion, threatening our health, air, water, food and shelter," Rudolph told The Nation's Health. "COVID demands a laser-like focus right now. But we cannot let down our guard in efforts to protect from the health harms of climate change."
COVID-19 also shifted APHA's NPHW activities, including its annual Twitter chat. The hour-long event attracted more than 500 participants, who shared almost 3,000 posts with the #NPHWChat hashtag.
APHA's other virtual events included a public health forum moderated by APHA President Lisa Carlson, MPH, MCHES. Panelists discussed topics such as health disparities and public health advocacy.
On April 7, APHA Executive Director Georges Benjamin, MD, and Carlson hosted a members-only town hall that was live-streamed on YouTube. They spoke on COVID-19 response and correcting misinformation and rumors.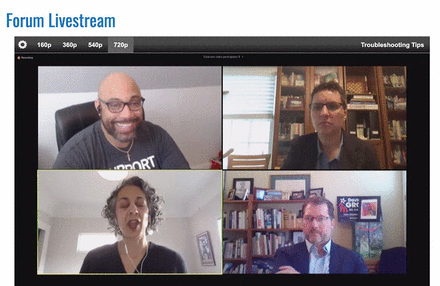 Carlson offered a shout-out to front-line health professionals working long hours in overwhelmed hospitals that were low on protective supplies. And she spoke of ways to relieve stress as public health workers go above and beyond during the national health emergency. Tips included taking exercise breaks and staying connected with the local community while honoring physical distancing.
APHA's Billion Steps Challenge also wrapped up during NPHW, with 415 teams logging 1.8 billion steps. Teams hailed from universities, health departments and communities.
At the State University of New York at Buffalo, a steps challenge was held through April to celebrate public health. About 700 people took part, all of whom followed health safety protocol of walking alone or six feet apart in a group, said Grace Lazzara, MA, director of communications at the university's School of Public Health and Health Professions.
"Keeping up your physical and emotional health in a time like this is so important, and public health experts agree that getting up and taking a walk is an ideal way to do that," Lazzara told The Nation's Health.
For more information, visit www.nphw.org.
Copyright The Nation's Health, American Public Health Association