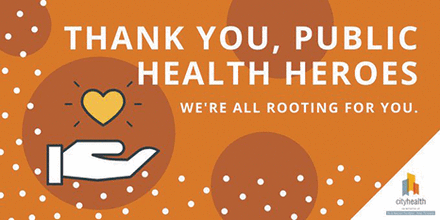 The public health workforce received a chorus of accolades during National Public Health Week for its tireless battle against COVID-19, thanks to the efforts of grateful supporters.
As thousands of health professionals across the U.S. fought to contain the disease outbreak, APHA and fellow public health groups shared their gratitude and encouraged others to do the same. Public health fans responded en masse, posting messages of appreciation online.
APHA launched the wave of acknowledgements by debuting a new video — featuring leaders from groups such as the Association of Public Health Laboratories, Society for Public Health Education and National Association of County and City Health Officials — that thanked public health workers.
"We know that public health is a team sport, and I want you to know that I've never been more proud of you, the nation's public health team," said U.S. Surgeon General Jerome Adams, MD, MPH, in the video. "Whether you're working on the COVID-19 response directly or indirectly, the fact is we need you now more than ever."
Viewers were encouraged to create their own videos and share messages using the #ThankYouPublicHealth hashtag. APHA's NPHW team provided shareable graphics that supporters could use to thank people serving their communities during the outbreak, including volunteers, essential workers and public health professionals.
"Let us all remember that the strongest people are not those...that show their strength by their muscles or their might, but rather their courage, caring and collaboration," said Elaine Auld, MPH, MHCES, SOPHE's CEO, in the video. "Thank you, public health, for all you're doing. We owe you a debt of gratitude."
While APHA worked to applaud the public health workforce as a whole, a related effort offered recognition on a more focused scale. The Thank A Public Health Hero campaign urged people to celebrate a specific person or organization by providing their name to CityHealth, which then shared the thanks on Twitter. Participants thanked colleagues, health departments, advocates, leaders and more.
APHA and dozens of organizations also banded together to help tell the story of the COVID-19 public health response, thanks to the work of the de Beaumont Foundation. On April 6, the foundation launched WhyPublicHealthMatters.org, a website where public health workers can record and upload short videos relaying their personal experiences.
"Public health professionals often go unnoticed and uncelebrated," said journalist and producer Soledad O'Brien in a video promoting the effort. "You can help change that. Show the world what public health really is."
The de Beaumont Foundation also released a new infographic, "5 Ways Public Health Departments Protect Your Community," with a focus on COVID-19 work. And on April 12, directors of the Northern Illinois Public Health Consortium sponsored a full-page advertisment in the Chicago Tribune thanking public health professionals for their work in fighting COVID-19.
"We know the hours are long, the stress intense, the fear all too real," the ad said. "You are on the front lines fighting this invisible enemy and preventing and slowing its spread. We will make it through this together — thanks, in large part, to you."
To view the APHA video, visit www.youtube.com/aphadc.
Copyright The Nation's Health, American Public Health Association