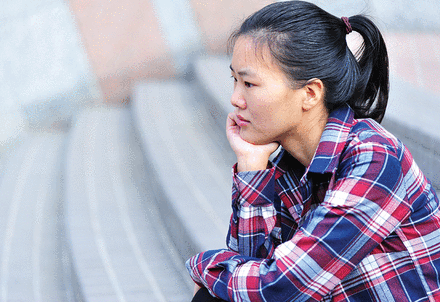 Studies at APHA 2021 spotlight COVID-19, stress, discrimination
Thousands of public health professionals shared science at APHA 2021 in October, highlighting findings from programs, surveys and other research. The findings reported here were discussed at poster sessions, which were recorded and can be viewed online via the Annual Meeting platform.
Researchers track rise in discrimination
Media outlets reported on hate and unfair treatment of Asian Americans and other minority groups in 2020, the first year of the COVID-19 pandemic. Research presented at APHA 2021 has corroborated many of those accounts, which include hate speech and violence.
The 2020 California Health Interview Survey asked people about their experience with unfair treatment due to their race or ethnicity. Researchers from the University of California-Los Angeles Center for Health Policy Research and Cedars-Sinai Medical compared the data with media reports of rising unfair treatment and hate incidents against Asian Americans.
In August 2020, Asian Americans had the highest number of reports of unfair treatment among all racial and ethnic groups, the study found. Asian Americans reported different levels of experiences of treatment depending on their ethnic affiliation.
Chinese, Filipino and Vietnamese Americans, for example, reported high numbers of verbal attacks, while Korean Americans reported the highest number of physical hate incidents.
— Aaron Warnick
Testing for COVID-19 in sewage successful
Wastewater-based epidemiology can be used to detect localized COVID-19 outbreaks, according to a Michigan study.
The practice allows communities to assess disease burden in the face of barriers such as clinical testing, transportation, asymptomatic people and individual reporting, said Alexis Porter, MPH, an APHA member and technician at Grand Valley State University in Muskegon, Michigan.
A Grand Valley State University lab tested 256 sewage samples twice a week in late 2020 for SARS-CoV-2, the virus that causes COVID-19. The samples were taken from 22 wastewater sites in Michigan.
The lab was able to both detect local COVID-19 outbreaks and evaluate level of disease prevalence.
Porter said wastewater testing can be used as a pre-screening tool for COVID-19 to better target clinical testing needs.
— Melanie Padgett Powers
Meditation reduces college student stress
College students can reduce their stress through mindfulness, according to a study shared at APHA 2021.
Health and science undergraduate students at Valparaiso University in Valparaiso, Indiana, took part in a contemplative stress reduction program for eight weeks. The 42 students provided demographic information and exercise levels and participated in a baseline stress assessment.
The students participated in meditation sessions twice a week and were encouraged to practice on their own, said APHA member Phrosini Samis-Smith, DHEd, MSSA, MSCEP, a health science program director and assistant professor of health care leadership at Valparaiso University. After eight weeks of the three-to 10-minute sessions, the mean stress scale score for all participants decreased by 1.59 points.
— Melanie Padgett Powers
Middle schoolers less active in pandemic
Daily steps by middle school children declined by half during the COVID-19 pandemic, according to researchers at the University of Missouri-Kansas City.
Research shared at APHA 2021 data from physical activity programs at U.S. middle schools to calculate student activity in 2019, before the pandemic. In 2020, after schools suspended in-person learning as part of COVID-19 safety recommendations, some of the students were provided accelerometers to track daily steps and physical activity. Researchers found that daily steps declined nearly 52% for middle-schoolers, and physical activity declined by 38 minutes per week.
— Aaron Warnick
Stigma harms health of bisexual women
Bisexual women who have experienced stigma may have problems identifying psychological intimate partner violence in their relationships, a study presented at APHA 2021 found.
According to survey data collected by researchers, bisexual women reporting hostility and victimization in a relationship were also more likely to be tolerant of abuse. The findings may suggest that hostility and victimization at the societal and community levels may endorse ambivalent or tolerant beliefs about psychological interpersonal violence at the relationship level, said study author Sabrina Islam, PhD, MS, an APHA member and postdoctoral fellow at the University of California-Berkeley.
"At minimum, public health efforts are essential to promoting widespread condemnation of all forms of violence and abuse that stigmatize and endanger bisexual women," Islam said.
— Aaron Warnick
Findings presented at APHA 2021 may be preliminary or unpublished. Portions of this article were published on APHA's Annual Meeting Blog.
Copyright The Nation's Health, American Public Health Association