Rogers, Texas county health director
Kent Rogers, MD, health director of the Corsicana-Navarro County Health Department, died Jan. 30 in Corsicana, Texas, of COVID-19. He was 75.
For nearly 30 years, Rogers was a physician at Medical Arts Clinic in Corsicana. He also served on its board of directors. In addition, for six years, Rogers was medical director of the intensive care unit at Navarro Regional Hospital, and for two years, he was the hospital's chief of staff.
Rogers was active in the community, serving as medical director of Heritage Oaks Retirement Village, Legacy West Nursing Home and Trisun Nursing Home. He also was the team physician for the local high school football team. For 20 years he was on the Corsicana Independent School District School Board.
Rogers attended Rice University and completed medical school at the University of Texas Southwestern Medical School, interning at Massachusetts General Hospital in Boston. After two years in the U.S. Navy, he completed his residency at Parkland Hospital in Dallas.
Wallace, expert in aging, health equity
Steven Wallace, PhD, a professor of community health sciences at the University of California-Los Angeles in the Fielding School of Public Health and an associate director of the Center for Health Policy Research, died March 30. He was 63.
Wallace joined UCLA in 1990 as an assistant professor. In 1992 he was named faculty member of the year by the Public Health Student Association. Several years later, he received an outstanding mentor award from the UCLA Public Health Diversity Enrichment Program.
His academic career brought him many honors, including the Lifetime Achievement Award from APHA's Aging and Public Health Section in 2018 and its chair's citation for service in 2017. He was an active member of the Section and had served as its chair.
Wallace developed new ways to approach developing economic security of older people through the California Elder Economic Security Standard Index, which measures the actual cost of basic necessities for older adults. It became a law in California and will be used in the state's master plan. The World Health Organization included the index in its 2020 Decade of Healthy Aging report.
In Los Angeles, Wallace advocated for better air quality and the importance of smoke-free rental housing.
Wallace taught at UCLA for 30 years, focusing on social inequality and how it impacts health equity. He authored more than 100 articles in peer-reviewed journals, including APHA's American Journal of Public Health, the Journal of Gerontology, and Social Science and Medicine.
Shaw, Georgia local health leader
Virginia Hamilton Shaw, MD, MPH, who for 34 years was the senior district health director for Georgia's Coosa Health District, died May 3. She was 96.
As director, Shaw over-saw 10 counties in northwest Georgia, and was responsible for the region's public and mental health programs. She also established programs for diabetes and cardiovascular treatment. In addition, she developed the region's emergency medical services programs. Her staff consisted of over 300 workers.
She received numerous awards and tributes for her health care leadership in Georgia, including the Appalachian Georgia Health Service Award and the Georgia Primary Health Care Provider Award, which recognizes someone who has significantly contributed to the health care of North Georgia residents.
Shaw earned her medical degree at the University of Alabama School of Medicine and completed her residency at Crawford W. Long Hospital in Atlanta. She earned her MPH at the University of North Carolina.
Shaw was the first woman to graduate from the University of Alabama Medical School and the first woman to hold the position of public health commissioner in Georgia.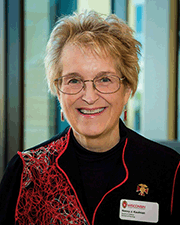 Kaufman, nurse administrator
Nancy Kaufman, RN, MS, a health care professional for over 50 years, died May 11 in Wisconsin. She was 72.
Kaufman, an APHA member, was the founding president of the Strategic Vision Group, a health consulting firm based in Milwaukee. She worked in state government for 20 years and served as the state's deputy director of public health under three governors.
For 12 years, Kaufman was vice president of programs at the Robert Wood Johnson Foundation, and for five years she was vice president of philanthropy at Aurora Health Care.
Among her many leadership positions, Kaufman served as board chair on the University of Wisconsin-Madison's School of Nursing.
She was also on the Board of Scientific Counselors for the National Center for Emerging and Zoonotic Infectious Diseases and a member of the National Advisory Council for Health Care Research and Quality. In addition, Kaufman served on the U.S. Department of Health and Human Services' Interagency Council on Smoking. Kaufman earned her graduate degree in administrative medicine at the University of Wisconsin-Madison School of Medicine and Public Health.
Copyright The Nation's Health, American Public Health Association