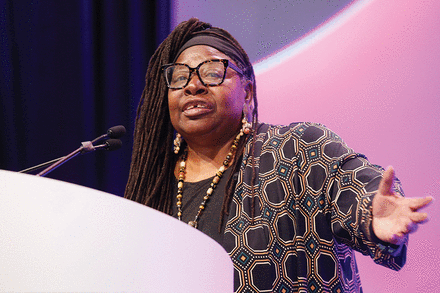 A pathway of panels charting APHA's history and accomplishments welcomed attendees to the Association's 2022 Annual Meeting and Expo in November.
The exhibit's timeline of milestones, advocacy and growth, told in images and text, showed how APHA has steadfastly worked to improve and protect public health throughout its 150-year history. The exhibit was the perfect invitation to the Boston meeting, which drew more than 12,500 participants Nov. 6-9.
"Between celebrating our history, coming together in full force for the first time since the pandemic began and the wealth of public health information that was shared, APHA 2022 was a powerful event," APHA Executive Director Georges Benjamin, MD, told The Nation's Health. "We were honored to have so many join with us as we marked our accomplishments and ushered in the next phase of our work on public health."
Visitors to the APHA 150th anniversary exhibit could peruse a display case with Association artifacts, such as an 1883 membership card, a button from the 1899 APHA meeting in Minneapolis and a souvenir coin from the APHA exhibit at the 1939 New York World's Fair.
APHA 2022 attendees also became part of history at the exhibit by sharing their predictions and desires for the future of public health. Participants shared their thoughts on sticky notes and posted them on a special display panel.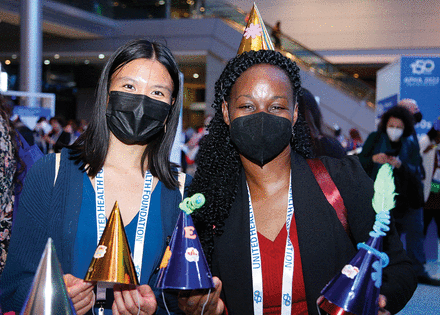 "We've saved those Post-It notes, and the person responsible for the 175th anniversary will be able to look back and learn about the ideas and concerns members expressed in 2022," APHA archivist Wendy Shay told The Nation's Health.
For many in attendance, APHA 2022 was their first in-person public health event since before the COVID-19 pandemic began, which drove up the excitement to connect and collaborate. Attendee Bethlihem Gebremedhin, MPH, a program associate at the National Collaborative for Health Equity, described the meeting as "humanizing."
"It was a beautiful experience to finally meet colleagues in person for the first time after virtually collaborating on many projects together," she told The Nation's Health.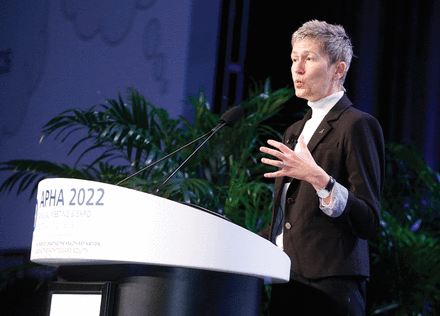 Hundreds of timely scientific sessions covered a broad array of public health topics during the meeting. Resilience, resolve and work for equity were hallmarks during the four-day gathering, which often touched on the pressures faced by public health workers over the past two- and-a-half years.
Public health's goal is the same it has always been: to save lives. But during the COVID-19 pandemic, public health professionals were vilified and attacked repeatedly as they worked to protect the public.
"Public health should not be a controversial issue…Why the hell are so many people angry at us for trying to save their lives?" asked keynote presenter Loretta Ross, an associate professor at Smith College, during Sunday's opening session, which took place ahead of Election Day. "We know our democracy is at stake. We know that the COVID denial, the vaccine denial, the cruelty of those people is the point…We've got these purveyors of hate; we've got to get them out of power, where they can do the most harm."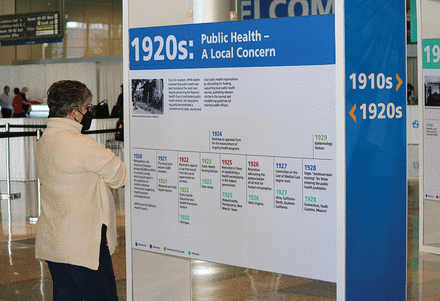 Politics and public health have long been intertwined, requiring public health professionals to have skills in both. Daniel Dawes, JD, executive director of Satcher Health Leadership Institute at Morehouse School of Medicine, said he has learned how to maneuver in a partisan political landscape.
In a Wednesday session, Dawes talked about his work advocating for state health policies in Georgia. This year, his work helped pass H.B. 1013, known as the Mental Health Parity Act, which bolstered health insurance coverage for mental health and substance abuse in the state.
"Relationships matter," Dawes said. "Trust matters. Over time, we were able to develop that relationship, know what they wanted, what we wanted."
In recent years, public trust in science has eroded and politicians have weaponized public health for their own political gain, according to speakers at a Monday history session. The courts have also become more partisan.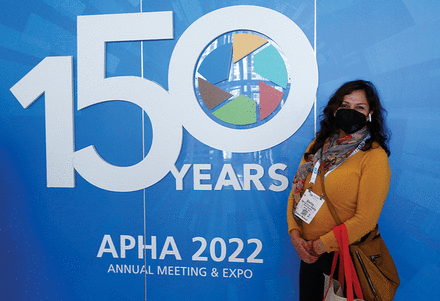 "America was founded on the common good; we all share a community together," said Lawrence Gostin, JD, faculty director of the O'Neill Institute for National and Global Health Law at Georgetown University. "We need to look into the mirror and wonder how we lost all these wonderful values we had in history and how can we regain them."
Session speakers contrasted the 1918-19 flu pandemic with the recent COVID-19 outbreak, noting they both had inequity in common. People of color and those with low incomes were most at risk for infection and death and least likely to receive adequate health care throughout most of the recent pandemic, said Evelynn Hammonds, PhD, a history professor in the T.H. Chan School of Public Health at Harvard University.
"Disease runs along these fault lines," Hammonds said. "Why? Because we have yet to come to terms with the structural inequality in society."
APHA 2022 welcomed its new president at the closing session. Chris Chanyasulkit, PhD, MPH, an adjunct assistant professor at Temple University College of Public Health, told the audience to "play for health, read for health and vote for health."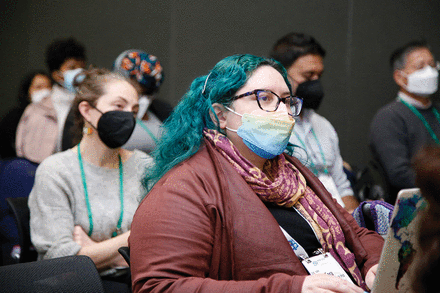 "By voting on who makes the policies, we can change the policies and, therefore, the health of our communities," she said.
Networking, learning opportunities abound
APHA 2022 offered opportunities to network, develop professionally and learn from nearly 300 booths of exhibitors at the Public Health Expo. Among the exhibitors was Georgia State University's Georgia Health Policy Center, which offers research, guidance and tools to health policy decision-makers.
"This year was pretty special, since we released a number of new tools," Teri Wheaton, the center's marketing and public relations manager, told The Nation's Health. "The Annual Meeting gave us the opportunity to have conversations with folks who have used our tools and to hear about their impact in the field."
The expo hall also played host to the meeting's 350 scientific poster sessions, with thousands of students, health professionals, researchers and more sharing their public health work.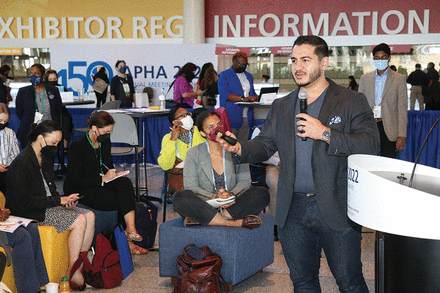 "I thoroughly enjoyed the roundtables and poster presentations as a viewer-participant and a presenter," Brenice Duroseau, MSN, said on Twitter.
APHA 2022 attendees were able to earn continuing education credits, which almost 2,000 professionals took advantage of. The pre-meeting Learning Institutes, which offered in-depth information on public health skills, were a popular draw.
Meeting participants were also able to hone their skills at the Social Media Lab, co-hosted by JSI, where they could meet one-on-one with experts or take in short talks on social media trends. The lab was also the site of the annual Sunset Tweetup, sponsored by the de Beaumont Foundation for the fifth year. People took part in the event via Twitter from wherever they were or at the Boston Convention and Expo Center, with the #APHATweetup hashtag gaining 7.7 million impressions during the one-hour activity.
APHA's Annual Meeting Blog kept participants informed, publishing 30 articles on sessions and the expo. Meanwhile, APHA TV filmed on-site, creating daily updates and conducting interviews, with videos shared daily on APHA's YouTube channel.
Web users can visit bit.ly/americadissected to listen to an episode of Crooked Media's "America Dissected" podcast that was recorded live at the Annual Meeting on Nov. 6. Podcast host Abdul El-Sayed, MD, a physician and epidemiologist, talked to Jane Coaston, host of The New York Times podcast "The Argument" about what public health gets right and wrong about politics, communication and racial equity.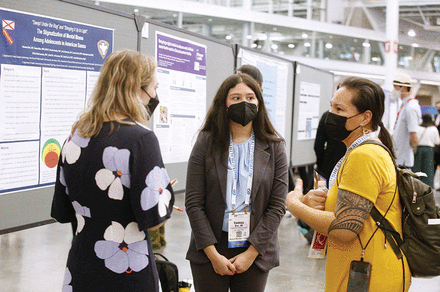 With the Boston event now in the books, plans are under way for APHA 2023, Nov. 12-15 in Atlanta, where the theme will be "Creating the Healthiest Nation: Overcoming Social and Ethical Challenges." Abstract submissions are open Jan. 2-March 30.
For more information on APHA's Annual Meetings, visit www.apha.org/ annualmeeting.
A PDF of the anniversary exhibit is available online at www.apha.org/ apha-150.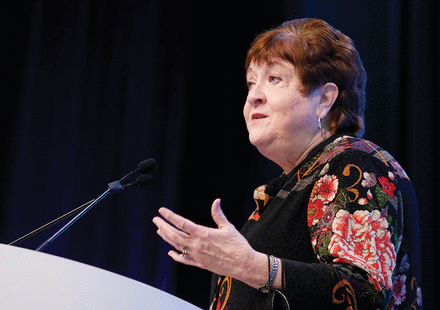 Portions of the article were previously published on the Annual Meeting Blog.
Copyright The Nation's Health, American Public Health Association