Special section: All of Us program bringing diverse populations to health research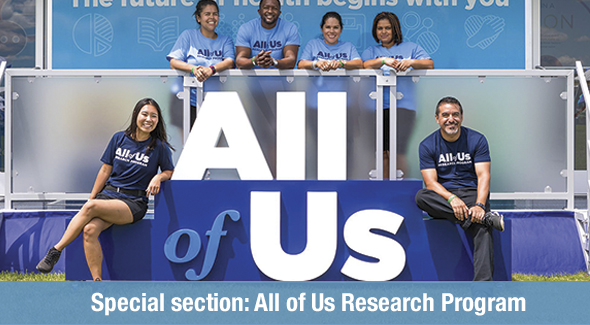 Launched in May 2018 by the National Institutes of Health, the All of Us Research Program hopes to have 1 million people in the U.S. take part in an unprecedented biomedical research program. As of May, over 192,000 people across America had started the process of joining, and over 142,000 had completed all of the initial steps.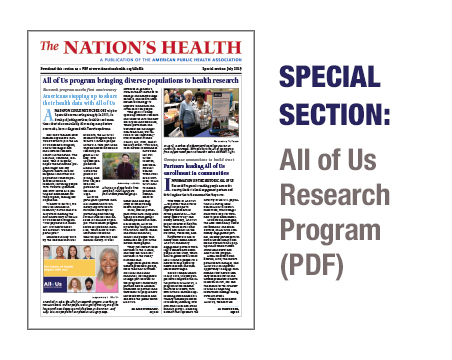 Download a PDF of the special section now!

Read and share articles on the All of Us program
Americans stepping up to share their health data with All of Us: Research program marks first anniversary
All of Us participants provide medical information to ultimately improve health outcomes and ways of preventing and treating chronic illnesses and diseases for millions of people. The research program embraces precision medicine, which aims to treat individuals based on their unique diversity and medical history. It uses advances in genomics, state-of-the-art methods to manage and analyze large datasets, and health information technology to improve biomedical discoveries for all people.
Partners leading All of Us enrollment in communities: Groups use connections to build trust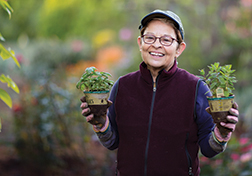 Information on the historic All of Us Research Program is reaching people across the country, thanks to local engagement partners and their longtime ties to the communities they serve.
Better health for all through inclusive science research: Q&A with All of Us' Richardson-Heron: Ambitious US study changing landscape of health science
"One of our top priorities is to achieve a demographically, geographically and medically diverse participant community by intentionally including those individuals who have historically been underrepresented in biomedical research."
Health providers play important role in All of Us enrollment
Dozens of health care provider organizations nationwide are working to enroll All of Us study participants. Learn how the San Diego Blood Bank, the SouthEast Enrollment Center and other organizations are using outreach to engage patients.
Listen to our podcast: How the All of Us program is supporting diversity in research ​
Dara Richardson-Heron, chief engagement officer for the All of Us Research Program, speaks to The Nation's Health about its progress one year in. June 2019. Runtime: 6:53
• Play recording
• Read a transcript of recording