Violence has an effect on communities, reducing productivity, disrupting social services and even decreasing property values, according to the Centers for Disease Control and Prevention. But violence can also cause long-term suffering for its survivors, leaving both physical and emotional damage.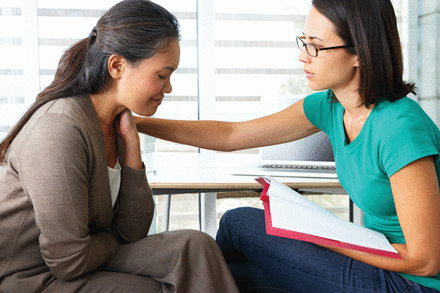 To help public health workers and communities create effective interventions, CDC has created five technical packages for violence prevention. Aimed at preventing child abuse, intimate partner violence, suicide, sexual violence and youth violence, the technical packages share proven strategies and approaches and the evidence on which they are based.
Released in 2016 and 2017, the technical packages were created by CDC scientists who reviewed the best available evidence and developed the recommendations. The packages can be used to prevent violence from occurring or to lessen harms and prevent future risk.
The five technical violence packages, which can be downloaded from CDC's website, are:
"A Comprehensive Technical Package for the Prevention of Youth Violence and Associated Risk Behaviors," which includes approaches for providing quality childhood education early in life, strengthening youth skills and promoting healthy family environments;

"Preventing Child Abuse and Neglect: A Technical Package for Policy, Norm and Programmatic Activities," which includes approaches for enhancing parenting skills, intervening to lessen harm and strengthening economic support for families;

"Preventing Intimate Partner Violence Across the Lifespan: A Technical Package of Programs, Policies and Practices," which includes approaches for teaching healthy relationships, creating protective environments and engaging influential adults and peers;

"Preventing Suicide: A Technical Package of Policy, Programs and Practices," which includes approaches for identifying people at risk, promoting connectedness and strengthening access to care; and

"Stop SV: A Technical Package to Prevent Sexual Violence," which includes approaches for promoting protective social norms, providing opportunities for empowerment and supporting survivors.
While the packages are especially useful to public health workers — who often create and implement the programs, policies and practices that guide the health of communities — other community members can benefit from them as well. Educators, businesses, faith-based organizations and government agencies are among the recommended audiences.
"The hope is that multiple sectors will use these packages to take advantage of the best available evidence and join CDC in efforts to prevent violence," CDC said.

For more details, visit bit.ly/technicalpackages.
Copyright The Nation's Health, American Public Health Association