When daylight saving time ends this month, use it as a reminder to check your emergency supplies. That's the message of Set Your Clocks: Check Your Stocks, which is part of APHA's Get Ready campaign.
To help communities be prepared for disasters and emergencies year-round, Set Your Clocks: Check Your Stocks advises that Americans take time to update their emergency supplies every time they change their clocks for daylight saving time. If they have an emergency kit already, Americans should make sure that stored food and water has not expired, that batteries have not corroded and that nothing is missing from their supplies. People who do not have an emergency stockpile for their households are advised to put one together.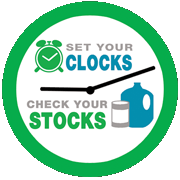 Public health workers are encouraged to help spread the word about Set Your Clocks: Check Your Stocks in their communities by putting a link on their websites, sending a tweet, making a post on Facebook or printing and sharing materials with residents.
The campaign website includes fact sheets on general stockpiling, budget stockpiling, the importance of storing water, a supplies checklist and emergency pet supplies. Supporters can also download logos or a sample letter and add their own logos.
Daylight saving time ends Nov. 6. For information and materials from the Get Ready campaign and Set Your Clocks: Check Your Stocks, visit www.aphagetready.org.
Copyright The Nation's Health, American Public Health Association