From a Boston campaign that uses online videos to talk to teens about sugary drink consumption to an oversized Louisiana stork who reaches out via Facebook and Twitter about healthy pregnancies, health departments around the nation are embracing social media as a new way to connect with the public.
Social media tools such as Facebook, Twitter and YouTube offer health professionals the ability to deliver public health messages — from common-sense guidance to critical information during an emergency — directly and quickly. Because of its low cost and ease of use, more and more health departments are becoming involved in social media, with some campaigns earning both recognition and avid followers.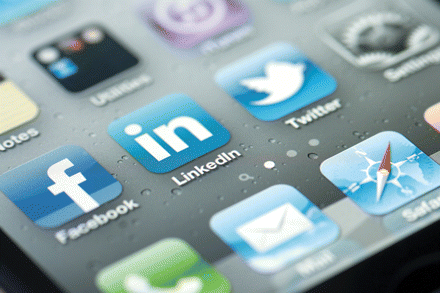 Around the nation, the use of social media among health departments is on the rise. In March, the National Public Health Information Coalition surveyed about 200 state and local health department websites, finding that 56 percent of state and 53 percent of local health departments used Facebook to communicate, an increase from earlier surveys. A list of state, local and regional health agencies on Twitter available via APHA's@publichealth account tracks about 180 such accounts.
"Social media offers a unique opportunity to really speak to members of the public in a place that they've chosen to already be in and a place they're comfortable with interacting with organizations, families and friends," said James Garrow, operations and logistics manager for the Philadelphia Department of Public Health, which launched a successful Facebook page on flu during the 2009 H1N1 influenza pandemic. "People can seek out information that's pertinent to them in a fashion that they're most comfortable with."
The Philadelphia flu Facebook page, www.facebook.com/PDPHFlu, helped health department workers learn the best ways to engage their communities via social media and how to provide factual information in an accessible way, particularly during the pandemic. The department also has Facebook pages for health topics such as condoms, the city's Medical Reserve Corps and physical fitness and healthy eating.
"My biggest lesson learned came about, actually, during the pandemic," Garrow said. "As the campaign developed, we began to ask for feedback. As soon as we did that, we saw much more intake of our messages, but also interaction. I would argue that our big lesson was to be human and actually interact with the people who were there."
At the University of Florida, home to the Center for Digital Health and Wellness, researchers are compiling data on how many health departments are using social media and which tools are the most popular. Researchers are also looking at whether health departments are "using it in evidence-based ways and how innovative" they are, said Jay M. Bernhardt, PhD, MPH, who is the center's founding director as well as chair of the university's Department of Health Education and Behavior.
With so many people on social media, health departments that have not come on board yet could be missing out. As of December, Facebook reported that it had 845 million monthly active users worldwide. Twitter said that it had 140 million active users sending 340 million tweets a day as of March.
"I definitely feel that state and local and regional health departments should all be using social media," said Bernhardt, who is an APHA member.
Interest in social media among health departments has been growing, and health organizations and agencies are responding with resources and advice that professionals can use to shape their use of social media. The National Association of County and City Health Officials, for example, provides a toolkit on social media to its members, who often inquire about the best ways to use the tools.
"Whenever we have our annual conference, we have a table, and there are so many people who come up and ask questions," said Nina Jolani, program analyst for e-public health and informatics at NACCHO and chair of the organization's social media group. "Some people are very advanced, and others are very new to it and are trying to see what are some ways they can start using it at their agencies."
The Centers for Disease Control and Prevention also has an online social media toolkit and a wealth of resources, including data on how to determine a health department's audience and the audience's communication preferences.
"We are trying to make sure that what we learn at CDC can be translated at the state and local level and for other partners as well," Amy Heldman, CDC's team lead for social media in the communications office, told The Nation's Health. "We try to reassure people that they can harness social media if they have a good, solid health communications foundation."
Health departments interested in establishing a presence on social media can also look to their peers for examples of how to do it successfully.
For example, at Louisiana's Maternal and Child Health Program, home to Sammy the Stork, health officials learned it is important to have a social media plan in place, said Karis Schoellmann, MPH, of the Tulane School of Public Health and the Louisiana Office of Public Health's Maternal and Child Health Program. When planning outreach for Sammy, who has about 600 followers on Twitter, organizers asked themselves what he would talk about and how often, which "were really timesavers, sort of lifesavers, in the first year," she said.
Sammy's Twitter followers not only receive general messages such as taking folic acid supplements before and during pregnancy, but can also reach out to receive specific information such as the address of the nearest clinic or places to find breastfeeding support.
"The interactive nature of social media allows for greater participation with your audiences," Schoellmann told The Nation's Health. "I think one of the things that makes it so effective is you have shared responsibility and power. We don't really own it. Our audience has a very strong role in keeping things going."
At the Boston Public Health Commission, which uses Twitter, Facebook, YouTube and blogs to reach the public, social media falls under the umbrella of Healthy Boston. The social outlets are synchronized, meaning that if someone posts an article on the Healthy Boston blog, it is simultaneously posted to Facebook and Twitter, thereby reaching audiences who may not be engaged on all of the platforms.
"You really have to stay on the edge of how people are consuming information," Yanik Ruiz-Ramon, multimedia producer for the Boston Public Health Commission, told The Nation's Health.
One of Boston's successful social media campaigns was FatSmack, which was aimed at driving down sugary drink consumption among teens by illustrating the link between such drinks and obesity. When TV personality Mehmet Oz, MD, mentioned the campaign on his television show, the Fat-Smack YouTube video had 22,000 hits in 24 hours.
For health departments already struggling to perform key public health functions in a strained economy, the question may not be whether to adopt social media, but when and how.
"I think it's really going to be a sea change in how we do communications," Garrow said. "If you approach it in a negative light, it's going to be a struggle. If you approach it as an opportunity, we can do some really cool stuff with this."
For tools, guidelines and best practices for using social media from CDC as well as a toolkit for health communicators, visit www.cdc.gov/socialmedia.
Examples of state, local health departments using social media
Boston Public Health Commission
FatSmack: www.fatsmack.org/media
www.facebook.com/healthyboston
Chicago Department of Public Health
www.twitter.com/chipublichealth
Contra Costa, Calif., Health Services
www.cchealth.org/topics/social_media
Kansas City, Mo., Health Department
www.facebook.com/kcmohealthdept
Los Angeles County, Calif., Health Department
www.youtube.com/choosehealthla
Louisiana's Sammy the Stork
www.facebook.com/sammythestorkdhh
Salt Lake Valley, Utah, Health Department
www.slvhealth.org/html/socialmedia.html
Health agencies on Twitter, via @publichealth
Copyright The Nation's Health, American Public Health Association