The Grim Reaper — tobacco — is on the prowl in the United States, pointing its proverbial scythe at the nation's kids. With 3.6 million U.S. teens smoking cigarettes, tobacco use — the leading cause of preventable death and disease in the United States — is threatening to rob the nation of its very future.
After years of progress, declines in preventing America's teens and young adults from using tobacco products have stalled, according to a new U.S. surgeon general's report on preventing tobacco use among youth. The first update on the subject since the surgeon general's initial report in 1994, "Preventing Tobacco Use Among Youth and Young Adults" brings troubling news. In addition to cigarettes' deadly grip on millions of middle school and high school kids, smokeless tobacco products are increasingly attracting America's youth.
"Today there are middle schoolers developing deadly tobacco addictions before they can even drive a car," U.S. Department of Health and Human Services Secretary Kathleen Sebelius said at a Washington, D.C., news conference unveiling the report on March 8. "And the younger a child is when they try cigarettes, the more likely they are to get and stay addicted to nicotine. One child picking up a tobacco product is one too many, but the fact that each day, across America, more than 3,800 kids under 18 smoke their first cigarette is completely unacceptable."
The report provides further scientific evidence on the addictive nature of nicotine. The younger youth are when they start using tobacco, the more likely they are to become addicted and the more heavily addicted they will become. Because of nicotine addiction, about three out of four teen smokers will continue to smoke as adults, said the report.
"The addictive power of nicotine makes tobacco use much more than a passing phase for most teens," said U.S. Surgeon General Regina Benjamin, MD, MBA. "We now know smoking causes immediate physical damage, some of which is permanent."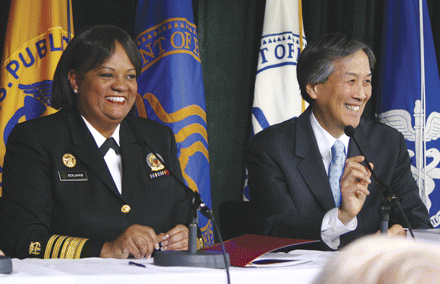 According to the report, early cardiovascular damage is seen in most young smokers. Teens who smoke are short of breath and in adulthood may end up with lungs that failed to grow to full capacity. Such damage is permanent, the report said, and increases the risk of chronic obstructive pulmonary disease.
The report repeats a well-known fact: Tobacco is the leading cause of preventable and premature death, killing more than 1,200 Americans every day. But adding to the concern, the report found that for every tobacco-related death, two young people become regular smokers. Nearly 90 percent of the so-called replacement smokers tried their first cigarette before age 18, according to the report, and about three out of four high school-age smokers will continue to light up long after they become adults. Among youth who continue to smoke, a third will die prematurely from it, according to the report.
"The (report) makes two things perfectly clear: The tobacco industry's marketing is still addicting America's kids, and elected officials — especially in the states — need to do more to protect our children from the scourge of tobacco," said Matthew Myers, president of the Campaign for Tobacco-Free Kids.
Calling tobacco use "a pediatric epidemic," the report documents the scope of the problem among youth ages 12–25 and points an accusatory finger at tobacco companies' pervasive targeted marketing tactics for fueling the public health crisis. Such tactics, which make tobacco use attractive to youth, include sleek ads in magazines, images of smoking in movies and prominent ads for tobacco products on the Internet and in retail stores. More than 80 percent of underage smokers choose the top three most heavily advertised tobacco products, the report said.
But there is hope on the smoky gray horizon, and as the air clears, proven prevention strategies are coming into sharper focus. A comprehensive, sustained program that combines mass media campaigns, price increases, smoke-free laws, evidence-based school programs and community-wide efforts can cut youth tobacco use in half in six years, the report said.
Proving that such comprehensive programs work, a study published March 14 in the Journal of the National Cancer Institute found that tobacco control work — including restrictions on smoking in public places, increases in cigarette taxes, reduced access to cigarettes and increased public awareness about the health issues related to smoking — prevented nearly 800,000 lung cancer deaths between 1975 and 2000.
"Continued implementation of evidence-based tobacco control policies, programs, and services remains the most promising approach to reducing the burden of lung cancer," the researchers wrote.
Aiming to make tobacco death and disease part of the nation's past rather than its future, the U.S. Centers for Disease Control and Prevention in March launched a groundbreaking national tobacco education campaign featuring the graphic stories of real people living with the complications of tobacco-related diseases and the toll smoking-related illnesses take on smokers and their loved ones. The campaign, Tips from Former Smokers, was expected to run for at least 12 weeks on television, radio, billboards, online, in theaters, magazines and newspapers across the nation. The hard-to-watch ads provide tips from people who have suffered with lung and throat cancer, heart attack, stroke and asthma.
One ad features Brandon, age 31, who started smoking at 18 and has lost both of his legs and several fingertips to Buerger's, a smoking-related disease. In the ad, Brandon describes the difficulties of getting dressed with artificial limbs. In another video, three smokers who developed throat cancer explain the difficulties of shaving, showering and eating with a "stoma," or surgical opening in the neck. In other ads, viewers get to see smokers' scars from heart surgery.
"This campaign is long overdue, is powerful and will have a significant impact on reducing tobacco use," said Charles Connor, president and CEO of the American Lung Association.
For more information on the Tips from Former Smokers campaign, visit www.cdc.gov/quitting/tips. To download the surgeon general's report, visit www.hhs.gov.
Copyright The Nation's Health, American Public Health Association