During the London Olympic Games this summer, television and Internet audiences will receive regular updates on how many medals each country has won.
But a different kind of daily math will be computed by public health workers striving to monitor doctors' offices and hospitals looking for signs of infectious diseases. Surveillance systems will collect data on health complaints and illnesses, and a clinic based in the Olympic Park will report anonymous data that will help inform the public health response during the 17-day event, which begins July 27.
"Mass gatherings, including the Olympics, bring together large concentrations of people from throughout the world," said Brian McCloskey, London director of the Health Protection Agency, an independent organization in the United Kingdom that works to protect the public from health threats. "Some events may attract people from particular risk groups, i.e., those who haven't received routine vaccinations or are immunocompromised, which could increase the chances of infectious diseases spreading in those who are susceptible."
McCloskey said there is only a slightly increased risk of infectious disease during the Olympics and that "serious outbreaks in relation to sporting events are uncommon."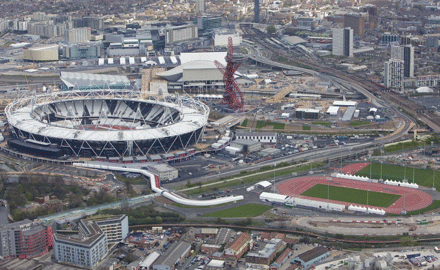 Nevertheless, organizers are anticipating as many as 3 million people converging on London in late July, and prevention and surveillance are key to ensuring a major outbreak is avoided, officials said.
The enhanced surveillance systems being put in place for the games "will provide the first indication of emerging infections in the community and in hospitals," McCloskey told The Nation's Health. "Our network of public health laboratories will provide rapid diagnostic microbiology testing to quickly identify any pathogens, and our public health staff across the country will provide expert advice to clinicians...on how to limit any threat to public health."
As part of that effort, they are looking to previous mass gatherings to see what they can learn.
For instance, researchers examined travel patterns for visitors attending the 2010 Winter Olympics in Vancouver. Canadian officials found that about two-thirds of the people originated from only 25 cities.
That intelligence allowed Canadian authorities to focus real-time surveillance and monitoring of potential disease threats on those cities before, during and immediately after the games.
The Lancet Infectious Diseases published a six-part series on the health implications of mass gatherings in January. One of the studies in the series that offers lessons for the upcoming Olympics was an examination of the annual Hajj in Saudia Arabia, which attracts 2.5 million pilgrims. The preparations put in place for the Hajj each year, such as updated immunization recommendations, regulations on food and water security and the building of a separate terminal and health-screening systems at Jeddah's international airport, helps prevent large outbreaks, said study authors.
"Saudi Arabia's experience of Hajj medicine contains rapidly developing public health solutions to several global challenges," they said.
Of particular concern to U.S. officials in relation to the London Olympics is measles. Vancouver experienced an outbreak of measles after the Olympics there, and the Centers for Disease Control and Prevention warned American travelers to the London Olympics in an April blog post that measles is still common in many countries. In fact, the U.K. Health Protection Agency announced in May that a measles outbreak in the country's Merseyside area had reached more than 200 confirmed cases. In 2011, 222 people in the U.S. were reported to have measles and most cases were linked to international travel, according to CDC, which is recommending that travelers be vaccinated.
"We want to make sure all those travelers get vaccinated and bring home proper souvenirs, not measles," said Anne Schuchat, MD, director of CDC's National Center for Immunization and Respiratory Diseases, during a press call in April.
Studies of mass gatherings show that significant illness and death are rare. A literature review published in the May 2005 Journal of Environmental Health found that the top risks include traveler's diarrhea, foodborne and waterborne illness, airborne disease and sexually transmitted disease. The top health issues experienced by spectators at the 2002 Salt Lake City Olympics were sprains and strains, miscellaneous trauma and respiratory and digestive illnesses, the review found. About 27 people per 10,000 sought medical help, the study found.
Public health officials in England are also addressing concerns about sexually transmitted disease, in part through an awareness campaign. The campaign will feature messages about using condoms to protect against sexually transmitted infections and pregnancy as well as information about local sexual health services and treatment. It will reach out to young people in particular, according to a plan released by National Health Service, the United Kingdom's health care system.
The goal, according to the plan, is that sexual health will not decline during the games and that there will be no increase in unplanned pregnancies or in STI and HIV rates.
McCloskey's advice for anyone attending the games is to ensure that they are up-to-date on routine vaccinations as recommended by their home countries and to remember that even basic personal hygiene measures such as hand-washing can go a long way toward preventing illness.
For more information on the Olympic Games, visit www.london2012.com. For travel health advice from CDC, visit www.cdc.gov/travel.
Copyright The Nation's Health, American Public Health Association