Thousands of public health practitioners from around the world will converge on San Francisco this month for APHA's 140th Annual Meeting.
This year's meeting, which runs from Oct. 27–31, has a theme of "Prevention and Wellness Across the Life Span" and will offer attendees the opportunity to explore a multitude of social, environmental and behavioral issues from infancy to older age. Many of the meeting's hundreds of scientific sessions will zero in on subjects related to this year's theme. However, sessions will also span the full spectrum of the public health discipline and highlight some of the most exciting and cutting-edge trends in today's public health practice.
"Public health is quickly transforming and adapting itself to new fiscal, technological and social changes, and there's no better place to take it all in than among thousands of fellow public health practitioners at the APHA Annual Meeting," said APHA Executive Director Georges Benjamin, MD, FACP, FACEP (E).
San Francisco's meeting events will take place in the south and west buildings of the Moscone Convention Center and in the San Francisco Marriott Marquis.
Among this year's notable meeting speakers will be opening session speakers Gail Sheehy, an award-winning author and journalist, and Reed Tuckson, MD, former commissioner of public health for Washington, D.C., and executive vice president and chief of medical affairs at UnitedHealth Group. During the meeting's closing session, on Wednesday, Oct. 31, attendees will hear from social justice activist and author Angela Davis. CDC Director Tom Frieden, MD, MPH, who was scheduled to speak in person at the opening session, is now expected to deliver his speech via video.
Among this year's many sessions will be those focusing on the latest public health issues, such as health equity, environmental disasters and the Affordable Care Act.
Beyond scientific sessions, the APHA Annual Meeting will offer a variety of networking opportunities and host business and planning meetings for the Association's Sections, Special Primary Interest Groups, Caucuses, Forums, Student Assembly and affiliated state and regional public health associations. Other highlights include the annual Public Health Awards Reception and Ceremony on Tuesday, Oct. 30, and the ninth annual APHA Film Festival, which will showcase more than 30 films throughout the meeting. To view this year's film schedule, visit www.apha.org/meetings/highlights/films.htm.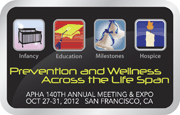 After the meeting's opening session on Sunday, Oct. 28, attendees can follow a group of surprise entertainers to the opening of this year's Public Health Expo, which will host hundreds of booths. Expo booths will offer a wealth of public health-related information, services and products, representing schools of public health, nonprofit and advocacy organizations, federal, state and local public health agencies and much more. In the center of the expo, located in the South building of the Moscone Center, will be Everything APHA, the complete source for all APHA has to offer.
Also inside the expo hall, attendees can view public health poster sessions, check their email at the Electronic Information Center and browse APHA's Public Health CareerMart. At CareerMart, employers and job seekers can submit job openings and resumes online, and attendees can sign up and pay for a private session with a certified career coach.
Hundreds of the meeting's scientific sessions will offer continuing education credits. A list of sessions offering credit will be printed in the Annual Meeting final program. Registration for continuing education credits must be completed by noon on the last day of the meeting. Twenty APHA Learning Institutes will be offered on Saturday, Oct. 27, and Sunday, Oct. 28, covering topics such as epidemiology, cultural competencies and health equity. The Learning Institutes also offer continuing education credits.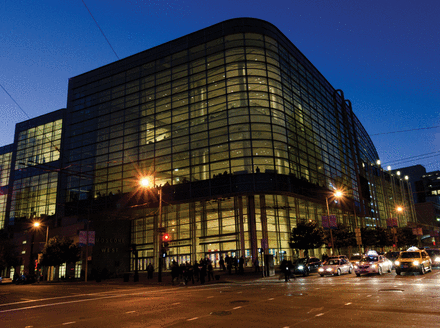 The APHA Annual Meeting is also a chance for members and Association leaders to conduct business. APHA's Governing Council, a member-elected body that helps shape APHA's work, will meet throughout the Annual Meeting. Council members will consider and vote on proposed APHA policies, which, if adopted, serve as the Association's official stance on public health issues. Any APHA member is welcome to attend the council's public hearings on the proposed policies and provide comments. The hearings take place on Sunday, Oct. 28, and the proposed policies are available at www.apha.org/advocacy/policy.
A number of book signings are scheduled for the San Francisco meeting and will take place in the APHA Press section of the Public Health Expo. This year's lineup includes APHA's very own Benjamin, co-author of "The Quest for Health Reform: A Satirical History;" opening session speaker Gail Sheehy, author of "Passages in Caregiving: Turning Chaos into Confidence;" and Richard Jackson, MD, MPH, author of "Designing Healthy Communities." For a schedule of signings, see Page 5.
With so much going on at the APHA Annual Meeting, it is impossible to attend everything. Luckily, APHA's social media tools will help attendees keep abreast of all the meeting's happenings, fill them in on events they may have missed and offer an opportunity to keep the conversation going well after a session ends.
Regular updates and tips on navigating the Annual Meeting's hundreds of events will be posted via APHA's official Annual Meeting Twitter account, @APHAAnnualMtg. Twitter users covering the meeting are encouraged to use the official hashtag, #APHA12. Attendees, as well as those unable to make it to San Francisco, can read multiple daily updates on the official APHA Annual Meeting Blog and view photos on APHA's Flickr page. Attendees can add their own photos to APHA's Flickr pool as well. For a list of all of APHA's Annual Meeting social media offerings, visit www.apha.org/meetings/socialmedia.
The Mix and Mingle Lounge, where attendees can access free, wireless Internet, will be located in the Moscone Center South Lobby.
Registration will be available on-site at the 140th APHA Annual Meeting. During registration, attendees can donate to APHA's Help Us Help Them campaign, which will benefit the San Francisco Community Clinic Consortium, which works in underserved neighborhoods to help residents at greatest risk of poor health outcomes.
For more information on the Annual Meeting, visit www.apha.org/meetings/annualmeeting.
APHA launches smartphone, tablet app for use at Annual Meeting
A new app for this year's APHA Annual Meeting in San Francisco will make navigating the event easier.
The free mobile app, which debuted this month, will be available for smartphones and tablets, including Apple, Android and Blackberry devices. Once the APHA2012 app is downloaded, it does not require Internet access to use.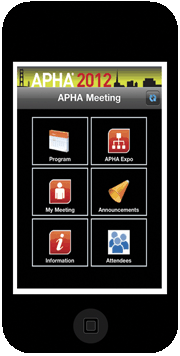 "We feel like this is the wave of the future," said Natalie Sorkin, APHA's meetings manager. "We really wanted attendees to be able to access information from their hand-held devices while at the Annual Meeting. This app will make it easy to search for all kinds of meeting information."
The app will allow users to create a personal schedule of Annual Meeting events and sync the schedule with their phones' personal calendars. With the app, users can view convention center maps, find session room numbers and read scientific session abstracts, a feature not available in the meeting's final printed program that attendees receive when checking in and registering onsite at San Francisco's Moscone Convention Center West.
APHA2012 app users will also be able to view a directory of registered meeting attendees.
Users can also use the app to evaluate sessions and presenters. Only APHA staff will have access to the reviews, which will help meeting organizers and planners as they put together future APHA meetings.
To download the app, search for APHA2012 in phone and tablet app stores.
Copyright The Nation's Health, American Public Health Association