At Worcester Polytechnic Institute in Massachusetts, all first-year students participate in a "great problems" seminar focusing on issues such as food sustainability, the world's water supply or chronic disease. The early public health exposure means a number of those students end up doing public health work in their junior and senior years.
At Kapi'olani Community College in Hawaii, students choose from the service learning "pathways" of health, the environment and elder care as part of their general education curriculum. A recent service project matched Native Hawaiian students with native elders to work on health literacy.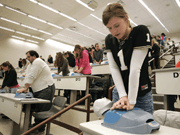 "Their curriculum is just shot through with public health," Susan Albertine, PhD, vice president at the Association of American Colleges and Universities, told The Nation's Health. "It's a beautiful thing."
The movement to incorporate public health into all undergraduate students' education, while still relatively new, has gained momentum in the past few years. Leaders in the effort are working to quantify exactly how many schools now offer either introductory public health courses to undergraduates, a public health minor or a public health major.
"What I can tell you for sure is that the programs are proliferating in the liberal arts college sector and at comprehensive universities," said Albertine, who is on the planning committee for the upcoming Undergraduate Education for Public Health Summit. "It's harder to track what's going on in the general education area in relation to public health, but that, too, is proliferating, and it's very exciting."
The push to add at least some public health presence to the studies of all college students began after the Institute of Medicine's 2003 "Who Will Keep the Public Healthy?" report recommended all undergraduate students have access to public health courses.
"That really kicked things off," Richard Riegelman, MD, PhD, MPH, professor and founding dean of the George Washington University School of Public Health and Health Services, told The Nation's Health. "I always like to say when people read that report, they thought 'all' was a typo. It wasn't in the cards in 2003."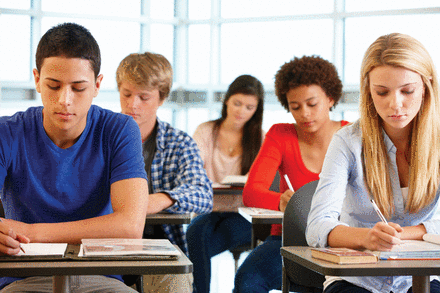 Yet a broad collaboration of public health organizations as well as arts and sciences organizations, particularly the Association of American Colleges and Universities, developed an "educated citizen in public health" initiative. Following a 2006 Consensus Conference on Undergraduate Public Health Education, the initiative has been the basis of many of the undergraduate public health education efforts nationwide, Riegelman said.
"I think what's been impressive is the degree of collaboration across public health and among arts and sciences," he said.
Riegelman estimated about 300 higher education institutions now offer undergraduate public health minors and majors, with many more schools giving students the opportunity to take some public health courses as part of their general studies.
Three positive aspects of the movement, Riegelman said, are an increased interest in public health education, a better understanding of public health among the public and also an understanding of public health by health professionals such as doctors and nurses.
"Ten years ago, the public really didn't understand what public health was in very deep ways," Riegelman said. "Now that problem hasn't gone away. But we think the leverage point is to get to the college audience. They are at the right stage of life, and they are receptive."
In August, the Association of Schools of Public Health released a list of recommended critical components of an undergraduate major in public health. For example, students not only should be able to communicate both orally and in written form through a variety of media to diverse audiences, but they also should be able to locate, use, evaluate and synthesize information.
Amy Dailey, PhD, MPH, an assistant professor of health sciences, said she has used the critical components to help shape the introductory public health courses she teaches at Gettysburg College in Pennsylvania.
"The very first time I taught my public health course, I assigned a systematic review paper on a topic of their choice, and I realized, when reading their papers, they weren't very well-equipped to find reputable public health information and sources," Dailey told The Nation's Health. "On top of that, they had a hard time interpreting the science."
Dailey now assigns a semester-long project, using obesity as a theme. Students first complete a descriptive review, then examine existing interventions and eventually develop an intervention themselves.
Gettysburg College is an example of a school offering introductory public health courses with the plan to eventually offer a public health minor in the Health Science Department. At East Tennessee State University, the College of Public Health offers not only seven public health master's level concentrations and three doctoral degrees but also six undergraduate public health degree concentrations: health care administration, community health, environmental health practice, occupational health and safety, microbiology and human health. Students study those areas while pursuing a bachelor of science in public health, environmental health or health sciences.
As for those who are skeptical about the value of an undergraduate public health degree, the college's dean said those with such degrees are able to find local jobs.
"At least in our environment, there is a job market for undergraduate public health grads," Randy Wykoff, MD, MPHTM, dean of the East Tennessee State University College of Public Health, told The Nation's Health. "We have a number who enter the job market and then come back later for further education. Some go on to medical school. I think a student with an undergraduate degree in public health is prepared for all of those options."
At Temple University in Pennsylvania, the College of Health Professions and Social Work's Department of Public Health offers a bachelor of science in public health as well as three public health graduate degrees and a PhD program.
"In our program, we have really seen a shift from people discovering public health as they get into college and transferring into a major, to freshmen saying, 'I want public health,'" Alice Hausman, PhD, MPH, professor and interim chair of the Department of Public Health, told The Nation's Health. "That is really exciting, showing the profession has really come into its own."
Sarah Bass, PhD, MPH, director of Temple University's undergraduate health program, said the undergraduate program does not compete with the MPH or PhD programs. Students with an undergraduate degree often take on entry-level public health jobs in areas such as community-based health education and data collection for public health research projects.
"They're doing the boot-leather kind of work in public health that an MPH person is not going to be doing," Bass told The Nation's Health. "I think it's very important to have those two levels."
Wykoff said public health education helps build job and life skills.
"I welcome the idea that more students will adopt a sort of perspective on life that's informed by an understanding of data and risk interpretation and communication, with an element of altruism and compassion thrown in," Wykoff said.
Two sessions relating to the undergraduate public health education movement are planned for APHA's 140th Annual Meeting in San Francisco, both on Monday, Oct. 29. Session 3100, scheduled for 10:30 a.m., will include a discussion on the ASPH initiative "Framing the Future: The Second Hundred Years of Education for Public Health." Riegelman will moderate session 3302, scheduled for 2:30 p.m., which will explore undergraduate public health education issues such as information literacy in undergraduate coursework, the critical elements of a bachelor's in public health and working with historically black colleges and universities to create public health degree programs.
The 2012 Undergraduate Education for Public Health Summit is scheduled for Oct. 27 in San Francisco. For more information, visit www.asph.org/UGsummit. For more on the APHA meeting, visit www.apha.org/meetings.
Copyright The Nation's Health, American Public Health Association