In the early days of the AIDS epidemic, public health often employed the "ABC method" to tell people how to reduce their risk of contracting the HIV virus: Abstain. Be faithful. Condomize.
ABC was an early example of combination prevention, a concept that has gained new traction with the release in December of a blueprint for how the U.S. will move forward in reducing the number of global HIV/AIDS cases.
The President's Emergency Plan for AIDS Relief, or PEPFAR, was created in 2003 under President George W. Bush. The program is the largest commitment by any nation to combat a single disease internationally. It provides funding to more than 30 countries and, as of October 2011, had supported lifesaving antiretroviral treatment for more than 3.9 million men, women and children worldwide.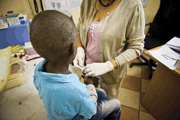 The new PEPFAR blueprint lays out an ambitious goal — an AIDS-free generation — as announced by Secretary of State Hillary Rodham Clinton.
"Together, we can deliver a better future to millions across the globe," Clinton said in the introduction to the blueprint. "A future where children are not born with HIV… where teenagers and adults are at far lower risk of contracting the virus…where those who do have the virus get lifesaving treatment. A future where every child has the chance to live up to his or her God-given potential."
The blueprint seeks to encourage countries around the world to step up to the challenge. It notes that the U.S. leads the world in contributions to the fight against AIDS, having invested nearly $37 billion in funding to agencies working in countries. It sets goals, such as the elimination of new HIV infections among children by 2015. It seeks better, more comprehensive treatment and partnerships among a wide range of countries, people, faith-based organizations and multilateral institutions in order to stretch resources and act more quickly.
The call for an AIDS-free generation was hailed as a landmark effort by many in the field.
"The conversation around HIV has fundamentally changed in the last 18 months or so," said Mitchell Warren, executive director of AVAC, a nonprofit global HIV prevention organization formerly known as the AIDS Vaccine Advocacy Coalition. "This is the culmination of the evidence-based approach to what is now a relatively new and exciting concept of an AIDS-free generation. It's the beginning of the end of the epidemic."
Globally, new HIV infections have declined nearly 19 percent in the last 10 years, according to the report, and in sub-Saharan Africa, new infections are down by 22 percent and AIDS-related mortality has declined by 31 percent. But worldwide, more than 33 million are believed to have the virus, including more than 3 million children.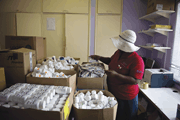 The report calls for rapid scale-up of combination prevention interventions, including antiretroviral treatment, or ART.
"By reducing infectivity while rapidly increasing coverage of ART, it is possible to bring the number of annual new HIV infections below the annual increase in new patients on ART — achieving what many have called a programmatic 'tipping point' in the epidemic," the blueprint said.
Countries such as Botswana are doing well, with about 18,000 new patients in treatment and 8,500 new infections in 2011, according to UNAIDS data contained in the report. But Nigeria, for example, still lags. In 2011, it had about 57,000 new patients in treatment but 270,000 new HIV infections. Globally, the World Health Organization estimates that about 15 million people with HIV are in need of antiretroviral treatment.
Part of the reason the new PEPFAR plan is sparking so much enthusiasm in the HIV community is that it represents a shift toward thinking about combination prevention, said Michael Horberg, MD, MAS, chair of the HIV Medical Association, part of the Infectious Diseases Society of America. Instead of focusing solely on community-based prevention efforts or education, the new plan looks at the problem holistically and seeks to attack the issue from all sides.
"It's a transition," Horberg told The Nation's Health, referring to how thinking about antiretrovirals has changed. "Getting people successfully on antiretroviral medication not only improves their health and their long-term survival, but it also prevents effectively 96 percent transition to other folk…As a result, there is a two-for-one effect, or even three-for-one."
But, he said, antiretrovirals cannot work alone. The plan also calls for voluntary male circumcision, which has been shown to reduce HIV transmission.
Another key, and one that Horberg said he is excited to see included in the plan, is movement toward better gender equality.
"In many parts of the world, women are second-class citizens," he said. "They have less access to health care and are at higher risk for sexually transmitted infections."
PEPFAR's programs will seek to increase gender equity in HIV/AIDS programs and services, reduce violence and sexual coercion, engage men and boys to address norms and behaviors, increase women and girls' legal protection and increase women and girls' access to income and education.
For more information on the "PEPFAR Blueprint: Creating an AIDS-Free Generation," visit www.pepfar.gov.
Copyright The Nation's Health, American Public Health Association