It started with a single phone call on a Monday in December. A resident of Casper, Wyo., called the local health department to report becoming seriously ill after eating at a new restaurant in town.
The health department did what it normally does: made a visit, informed management of the complaint and advised them to keep an eye out for sick employees. Everything seemed up to snuff, said Bob Harrington, MS, RS, DAAS, director of the City of Casper-Natrona County Health Department.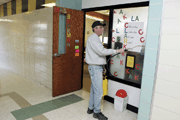 But then on Tuesday came a curious call from a local radio station, asking for confirmation of "multiple" reports of illness from both patrons and employees of the restaurant.
The local emergency room confirmed it: There had been a sharp uptick in the number of patients complaining of vomiting and diarrhea.
Casper had a norovirus. By the end of the outbreak, the town would have more than 300 confirmed cases of the virus, and Harrington said the true figure is probably much higher.
Noroviruses — there are many versions of the same virus — are among the most common causes of gastrointestinal illnesses, according to the Centers for Disease Control and Prevention. Every year, about 21 million Americans are infected with the virus and develop symptoms — stomach pain, nausea, vomiting and diarrhea — that can last 12 to 72 hours and can lead to dehydration. About 10 percent of patients require some sort of medical care, and more than 400,000 visit emergency rooms and 71,000 are hospitalized. While most people recover without problems, about 800 people die every year, with most deaths among people ages 65 and older.
"This is the average per year, but we have seen years with bigger numbers," said Ben Lopman, PhD, MSc, an epidemiologist in CDC's Division of Viral Diseases in the National Center for Immunization and Respiratory Diseases, during a Jan. 17 webinar for clinicians.
The virus can spread through contact with an infected person, ingestion of contaminated food or beverages, through aerosolized vomit particles and via contaminated surfaces. The virus is often the culprit in outbreaks in high-volume areas such as schools and assisted living facilities, as well on cruise ships.
It remains to be seen whether the U.S. 2012-2013 winter season will have higher than usual numbers, but norovirus has been getting more attention recently. Outbreaks have been reported in multiple states, and the virus was linked to widespread cases in the United Kingdom this winter.
Many of the recent cases may be linked to a new strain, GII.4 Sydney, that originated in Australia and has afflicted people worldwide. In fact, CDC said in January that the new strain was the cause of most U.S. norovirus outbreaks in late 2012 and early 2013.
But another reason noroviruses may seem more prevalent lately is that it has gotten easier to test for them, said Aron Hall, DVM, MSPH, an epidemiologist in CDC's Division of Viral Diseases.
"Noroviruses have likely been around for a while," Hall told The Nation's Health. "But we didn't have the ability to detect them regularly until the 1990s. Now we have testing capacity available in all 50 state health departments, so our ability to identify and implicate these viruses in outbreaks has really increased dramatically."
In Wyoming, identification of the cause of the outbreak in Casper fell to the state health department. The department is charged with coordinating the work of the investigators, said Kelly Weidenbach, MPH, foodborne and waterborne disease epidemiologist, which, in this case included state epidemiologists, local health department and environmental health staff and nursing staff.
"This was the biggest outbreak I've ever seen," she told The Nation's Health. "And I've been doing this for 10 years."
The Casper health department pitched in, too, deploying about 12 staff members to handle the huge number of calls coming in from residents complaining of illness.
Two of the county's environmental health inspectors began interviewing employees of the restaurant, asking them when they worked, what they ate and when they got sick. County and state workers also interviewed patrons who said they had been sick, looking for the common food that could be implicated in the illness.
And that was where the investigation hit a brick wall. The restaurant is part of a buffet chain and was immensely popular.
"They told us they were serving 1,200 to 1,700 people a day, which is probably three or four times what they were built for," said health department director Harrington.
What's more, when patrons were asked what they ate, they all had the same answer: "Everything."
"It's very unlikely that we're ever going to be able to nail down a specific food," Harrington said.
But investigators were not completely stymied. They started picking up on some patterns. Three patrons who were interviewed said they became ill while they were still in the restaurant.
"That surprises us a bit," Harrington said. "It seems to indicate that this particular virus seems to be a bit more virulent. It comes on fast."
Employee interviews found that many workers had come to work while they were sick or within 48 hours of symptoms subsiding, which is against CDC recommendations.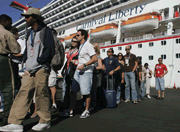 The state and local health departments conferred and were considering ordering the restaurant to close when restaurant management made the decision on its own. Three days after the first person reported becoming ill, the restaurant voluntarily shut its doors and embarked on a top-to-bottom cleaning that was supervised by county sanitarians. It reopened a little more than 24 hours later.
But even as things went back to normal at the restaurant, public health workers were still interviewing victims and trying to get to the bottom of the outbreak. All told, 307 people had illnesses that met the case definition of norovirus and another 37 did not meet the definition but are suspected of having had the virus. Investigators were able to obtain four stool samples from sick people, all of which tested positive for a particular strain of norovirus.
"Given normal patterns of epidemiology, we're guessing there were probably two to three times as many (cases) as that," Harrington said.
The burden of the outbreak on the health department was significant, he said. At one point, 12 staff members were involved, primarily environmental health specialists and nurses. Professional staff were diverted from their duties and tasked with staffing phones and logging complaints. Though not an official figure, Harrington estimates that the outbreak likely cost about $10,000.
"What it did was interrupt normal, routine activities," he said. "We did very little else that week."
Paul Etkind, DrPH, MPH, senior director of infectious diseases at the National Association of County and City Health Officials and an APHA member, said outbreaks such as the one in Casper are urgent situations.
"When you have an outbreak, it's kind of 'all hands on deck,'" he told The Nation's Health. "You draw people from wherever. You're always thinking on your feet."
Health departments may be struggling to meet demands of such outbreaks, he said, because budget cuts have trimmed many departments.
CDC estimates that each year, noroviruses cost the U.S. about $2 billion each year in health care and lost productivity. To help health workers respond, the agency has a toolkit for handling norovirus outbreaks on its website.
Weidenbach, of the Wyoming health department, said the outbreak in Casper — the largest by far in the state in 2012 — involved six state epidemiologists. The outbreak affected nearly four times as many people as the second largest outbreak.
"These investigations are very labor intensive," she said.
For more information on norovirus, visit www.cdc.gov/norovirus.
Copyright The Nation's Health, American Public Health Association