Prompted by growing rates of obesity in their states and communities, some leaders are using a new type of campaign to engage residents in health changes: the weight-loss challenge.
With popular TV shows such as "The Biggest Loser" spotlighting obesity and weight loss, more officials are becoming inspired to lead similar campaigns for their residents.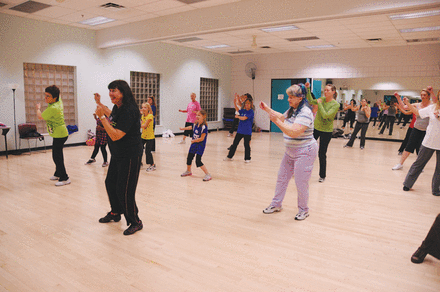 Oklahoma City Mayor Mick Cornett wanted to see a transformation of his city after he started the OKC Million campaign in 2007, which challenged city residents to lose 1 million pounds. The challenge was in response to Cornett's personal struggle with obesity and a 2007 Men's Fitness magazine article that ranked Oklahoma City as one of the nation's most obese cities.
"When you're doing something that's really hard, it's hard to do it by yourself," Cornett told The Nation's Health. "One of the reasons we succeeded is we brought the subject of obesity out into the open. If the mayor's willing to talk about his own problems, maybe other people were open to talk about theirs."
During the Oklahoma City challenge, about 47,000 people participated by logging their weight loss into an OKC Million website once a week. The website offered weight-loss advice, nutrition tips and a map of the city's parks and trails. The campaign included events such as an "Olympic Day" in 2010, during which Oklahoma City children kayaked in the Oklahoma River in conjunction with first lady Michelle Obama's Let's Move! campaign. Other events included a 2008 public cooking demonstration from George Stella, a Food Network chef who specializes in cooking low-carbohydrate meals.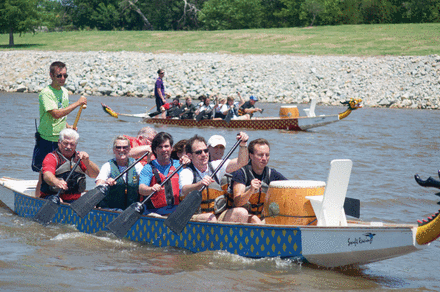 The city reached its 1 million pound weight-loss goal in January 2012, Cornett said.
"We got a conversation going on in our community and there was no conversation of any magnitude going on before," Cornett said. "That's been helpful in creating the conversation on nutrition and obesity."
Kansas, where 64 percent of adults are overweight or obese, became the latest state to announce a weight-loss challenge this year. Kansas Gov. Sam Brownback kicked off the Governor's Weight Loss Challenge in January, after a September Kansas Summit on Obesity.
The Kansas Department of Health and Environment is running the four-month challenge, during which Kansans are encouraged to form teams of five to shed pounds and log their weight loss into the challenge's official website. The event will end with a weigh-in ceremony on May 15, said Miranda Steele, the Kansas Department of Health and Environment's director of communications. As an added incentive, the state employee team that loses the most weight wins $5,000.
Several teams of state government employees get together and walk around the state capital in Topeka, Kan., during lunch breaks, Steele said. Fitness clubs and YMCA locations in Topeka offer discounts to people who show their state IDs and confirm they are part of the contest. The website also offers weight-loss and nutrition tips from health department staff.
"There are more than 1,000 teams (of five) signed up," Steele told The Nation's Health. "County employees, local businesses have signed up. They've signed up to have teams compete against the governor's team."
Kansas and Oklahoma are far from the only municipalities to hold weight-loss challenges for residents. Similar events have been held in recent years in major cities such as Boston and Philadelphia, as well as in smaller cities such as Oak Creek, Wis.
January marked the second year of Lighten Up Henderson, a 12-week weight-loss challenge in the city of Henderson, Nev. The Parks and Recreation Department's Healthy Henderson Committee created the challenge as members brainstormed programs to get residents more active and use the city's exercise rooms and take classes, said Nick McLemore, a recreation services supervisor with Henderson's Parks and Recreation Department.
"The department offers a lot in terms of fitness classes and fitness rooms," McLemore said. "We thought 'What can we do to brand all this stuff together and put some incentive with it to encourage people to be healthier?'"
The first week, participants weigh in at city recreation centers. Participants who email their weekly weight to contest managers are entered into drawings for prizes such as pedometers and heart rate monitor watches. One woman in the age 50 and older category lost 71 pounds in 2012, McLemore said.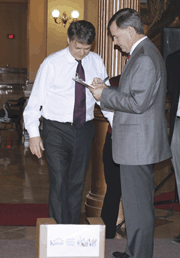 "We didn't want it to be really forceful and have them come in every week to weigh in," McLemore said. "We really wanted people to get healthier themselves."
While losing weight is a good idea, comprehensive studies on whether community weight-loss challenges are keeping people healthy after contests end have yet to be conducted, said James Hill, PhD, director of the Colorado Nutrition Obesity Research Center at the University of Colorado Anschutz Medical Campus.
Hill said the contests are often seen more as public relations events than research projects.
There is a mindset that all the exercise that comes with a weight-loss challenge is temporary, he said. But participants who are serious about weight loss cannot return to old habits, he said.
"The challenge is keeping it off," Hill said. "Don't go into this as a 12-week challenge. Go into it as the start of a lifestyle change."
Challenges paying off for partnerships
The benefits of community weight-loss challenges can pay off in more than pounds. They can also lead to strengthened community partnerships for health officials, participants said.
Gary Cox, JD, director of the Oklahoma City-County Health Department, said that it makes sense for public health professionals to be involved in city- or statewide weight-loss challenges because of their link to community health.
Cox joined the Oklahoma City-County Health Department in 2009, two years into the OKC Million challenge. The health department was not involved with the contest when it began in 2007, but he said the challenge sparked a conversation and call to action about preventing chronic disease the city had never seen before.
"It got a lot of people talking and involved with publicity," Cox said. "Before you can have a culture change in your community, which I think it takes with something like obesity, you have to have that critical mass of people who are interested about talking about solutions. This is talking about that critical mass that's needed for a cultural change, and it's definitely helped in that area."
Cornett said the challenge helped the Oklahoma City-County Health Department develop a closer relationship under the Wellness Now coalition. The coalition, made up of of city and county elected officials as well as health department workers, formed in April 2010 to identify solutions to prevent chronic disease and obesity. One of those was removing deep fat fryers from Oklahoma City public schools.
Building on the momentum of the contest, the city in 2009 passed legislation called Metropolitan Area Projects 3, which included funds for the construction of new bicycle trails, hundreds of miles of new sidewalks for pedestrians and new gymnasiums for 44 city schools.
In addition, a 54-acre wellness campus is under construction and is slated to be finished in 2016, Cox said. The campus will be a public health hub for wellness classes, behavioral health services and case management workers.
"We had been a city that had been designed around cars and we became a city that's designed around people," Cornett said. "Now that that's been communicated through the staff, they kind of like it. They're willing to tax themselves to do more."
In Kansas, the weight loss does not end when the contest ends May 15, Steele said. A partnership with Blue Cross and Blue Shield of Kansas yielded Move Across Kansas, an initiative that follows up with weight-loss challenge contestants. Participants will be able to sign up on a website, choose an avatar — a digital image — and log in how many minutes of physical activity they did daily. A certain number of minutes will equal miles and the avatar will move across a computer image of the state of Kansas.
For more information about the weight-loss challenges in Oklahoma City and Kansas, visit www.thiscityisgoingonadiet.com and www.weightloss.ks.gov.
Editor's note: This article was corrected post-publication
Copyright The Nation's Health, American Public Health Association