Now in its third year, Let's Move!, the national campaign led by first lady Michelle Obama, is aimed at reducing obesity and increasing well-being by encouraging American kids to be more active and eat healthier foods. In this issue of The Nation's Health, Obama talks about the campaign, what it has achieved so far, what comes next and what role public health can play in the effort.
The Let's Move! campaign is three years old now. What has been accomplished so far?
In launching Let's Move!, we took what felt like an insurmountable problem and gave folks a sense of optimism and hope that we could solve it. And now, thanks to new (Centers for Disease Control and Prevention) data, we're actually seeing a decline in childhood obesity rates, so we know we're on the right track.
I think that one reason why we're seeing change happening is that we helped people understand that everyone has a role to play in helping our kids lead healthier lives, and we've encouraged everyone to do their part to help. And, so many different people are working together, stepping up to address this epidemic in their communities.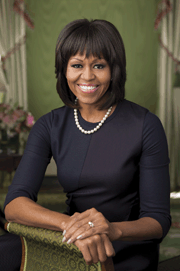 Already, big businesses, governors and mayors, museums and gardens, even the Department of Defense has gotten involved. For example, Wal-Mart is now providing healthier products and more information to their customers so that they can make healthy choices for their families. Darden, the owner of restaurants like Olive Garden and Red Lobster, has committed to making kids meals more healthy and nutritious.
The media industry and food companies are shifting the way they market to children. Last year, Disney made an unprecedented commitment to ensure that unhealthy products aren't marketed to kids through their characters or on any of their channels or movies.
There are now 56 million people across the country who live in a community that is a Let's Move! city, town, or county. And more than 10,000 child care providers have committed to instilling healthy habits through our Let's Move! Child Care initiative. Faith-based organizations are championing community-wide efforts as well.
And just this year, we launched Let's Move! Active Schools, which is an effort to get kids moving before, during, and after school in order to reintegrate physical activity into kids' daily lives.
Finally, new school lunch standards are helping to bring healthier food into schools all across America. And for the first time ever, (the U.S. Department of Agriculture) announced rules for vending machines and a la carte lines, helping us get the junk food out of schools and making the healthy choice the easy choice for our kids. These changes mean that the hard work parents are doing at home to keep their kids healthy will now be reinforced throughout the school day.
What is your reaction to how the campaign has been received and embraced?
I am thrilled to see that so many people have really taken Let's Move! and made it their own — in their communities, in their families, and in their homes. All across the country, families are starting their own gardens, eating more fruits and vegetables, and trying healthier recipes. Kids are getting active every day — at school and at home. We've seen local elected officials, child care providers, chefs, faith leaders, businesses and other community leaders all get engaged in the efforts to end childhood obesity within a generation. And just recently, the CDC announced that after decades of rising rates, between 2008 and 2011, obesity among low-income preschoolers declined, meaning that more kids are getting a healthier start to life. So while we still have a long way to go, we're beginning to make some real progress on this issue.
What can stakeholders such as businesses and communities do to get involved in Let's Move!?
The great thing about Let's Move! is that everyone can play a role. I'd encourage businesses to think about what they can do to make the healthy choice the easy choice. Local restaurants, for example, can put pictures of healthy meals on the menu instead of photos of less healthy options, and make water and a vegetable the default drink and side dish for kids' meals. Faith and community leaders can start wellness councils in their congregations or organizations. Chefs can work with local schools to teach cooking classes and engage students in creating healthy, delicious meals. Corporate leaders and elected officials can make all kinds of changes — in the products they sell and the policies they promote — to improve the health and well-being of …families. Community leaders can team up with businesses to encourage them to shift the way they market food to our kids.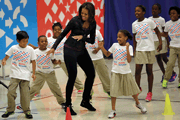 Finally, families can take action in their homes and make small changes that can make a real difference. Just a few weeks ago, I joined the Partnership for a Healthier America in launching a new effort called Drink Up to encourage everyone to drink more water. As you know, water is the healthiest choice families can make when choosing a beverage, so we're encouraging people to try drinking one more glass a day. In the end, we all need to do our part to reach our goal of making healthy eating and active living a routine part of our daily lives.
What can we in public health do to support the effort?
As trusted leaders, the message you send has a huge impact on your communities and on our country. You can use your voice — and your expertise — as public health leaders to educate your families, friends and patients about what is really at stake for our children. I'd encourage you to move outside the public health world to galvanize other leaders in your community — faith leaders, public officials, business owners, school administrators — to work together to elevate the issue of childhood obesity. After all, you are this issue's greatest spokespeople. Understand the power you have and use it to build momentum and support for healthy and active living not only for kids, but for your entire community. Encourage people to drink more water and to do so more often. Talk to your school leaders about improving nutrition in school lunches. Have conversations with parents about how the snacks in school vending machines will be healthier starting next year. And, help your neighborhood school join Let's Move! Active Schools and bring more physical activity into kids' daily lives — just go to www.letsmoveschools.org.
You have worked hard to engage kids in Let's Move!, including through a recipe contest seeking healthy meals. Why is it so important for kids to be involved?
When we decided to start Let's Move!, our first step was to plant a garden on the White House lawn. We did this because I wanted that to start a conversation about our kids' health and get kids involved in the process of growing their own food. We've seen that when kids play an active role in what they eat — whether it's planting a garden, grocery shopping with a parent, or helping cook dinner — they're much more willing to try new things and take ownership of their own health.
For the Kids' State Dinner recipe contest, we asked kids to work with their parents, using MyPlate, to create healthy lunches. We received 1,300 recipes this year that were creative, healthy, and most of all, delicious. We had 54 kids come to the White House to be recognized for their healthy and nutritious recipes. I hope that kids all across the country are inspired by the winners in their state to try their hand at creating healthy food with their families.
The Let's Move! website is a great resource for facts, but it also encourages interaction. How can people use the site best?
The Let's Move! website is a great place to learn more about the simple steps everyone can take to help kids be more active, eat better, and grow up healthy. To see how, go to www.letsmove.gov. You can read our blog to hear more about people who are making a difference in their communities, sign up for email updates, and get information about how to plant a garden or find a play space in your neighborhood.
Download this page as a PDF: http://bit.ly/LetsMoveNations
Copyright The Nation's Health, American Public Health Association