Every day, each certified application consultant at Los Barrios Unidos Community Clinic helps about a dozen families or residents navigate the new federal Health Insurance Marketplace.
Many of the people seeking help do not speak English, do not have computers at home and are completely unfamiliar with insurance. They need help every step of the way.
"We've been serving the community for 41 years and we're a trusted source of information," said Joleen Bagwell, director of development and marketing at the Dallas-based community health center, which serves about 23,000 patients a year. "So when it came to the new insurance marketplace, everyone called. We're slammed."
The center has been doing eligibility work for years, previously helping patients enroll in Medicaid and the Children's Health Insurance Program. But with funding via the Affordable Care Act, the center was able to hire three new application consultants and strengthen its enrollment and outreach activities. Bagwell said the additional capacity has been the biggest benefit related to the law so far. In the near future, Bagwell hopes another benefit will be the better reimbursement rates that come along with more patients who have insurance.
"We're working really hard to become a patient-centered medical home, and we hope that people will continue to choose to receive services at our clinic," she said. "We think they will."
Funding for enrollment and outreach is just one of the ways the nation's 1,200 community health centers are benefiting from the Affordable Care Act. The law also established a five-year, $11 billion Community Health Center Fund to support new construction and expanded services and operations. Much of the law's success could depend on the ability of community health centers to engage and enroll vulnerable, underserved and hard-to-reach populations. Community health centers serve about 21 million people every year, providing culturally competent care to millions of uninsured, low-income and unemployed residents. A defining characteristic of such centers is having a governing board that includes patients as a majority of its members.
Amy Simmons Farber, director of communications at the National Association of Community Health Centers, said that about 800 communities are waiting to establish a center and 60 million Americans do not have access to primary care, largely because of where they live — both of which are problems that Affordable Care Act funding is starting to address. Still, centers face funding issues. While the Community Health Center Fund was intended as additional funding, it has recently been used to backfill declines in federal support.
"It's a very tight fiscal environment on Capitol Hill and community health centers have not been immune to that," Farber told The Nation's Health. "We had intended to grow our reach to 40 million — to double the number of patients served — but because of budget challenges, we've had to grow a lot more slowly."
However, many health centers will be the beneficiaries of better reimbursement, especially in states that have expanded Medicaid eligibility, as called for in the Affordable Care Act. In northern California, enrollment activities at Mendocino Coast Clinics are aimed at patients now eligible for the state's expanded Medicaid program, said Executive Director Paula Cohen.
In terms of enrollment, Cohen reported that Mendocino Coast Clinics received Affordable Care Act-authorized funding to hire two more enrollment staff. As of early January, the center had enrolled 200 people and reached out to more than 300. Cohen said she is concerned about patients who previously paid via sliding-scale fees and may not be used to monthly insurance payments — "the concern is whether they'll remain on the rolls (as opposed to paying a tax penalty), so hopefully we can make the case that this is beneficial."
"Education about the ability to get preventive care is a big piece," she said.
In Cedar Rapids, Iowa, at Linn Community Care, which serves 6,000 patients annually, broad community partnerships are distributing the demand for enrollment assistance among many organizations, "so we're able to avoid any bottlenecking," said Jeffrey Tourdot, MPA, the clinic's Affordable Care Act outreach and education specialist. Tourdot said strategic partnerships with local hospitals, the health department, the free clinic, nonprofit organizations and others "means we're leaving no stone unturned." In fact, Tourdot said he and his partners had a feeling that the federal Health Insurance Marketplace website, Healthcare.gov, would debut with glitches and advised residents not to try to enroll until November.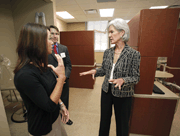 "We wanted to provide the best possible outcome by letting it work itself out a bit," Tourdot said. "A lot of times, organizations work in silos and, to a degree, are going to be very protective of their own interests, but we haven't seen any of that here in Linn County. We have 20,000 people in Linn County who don't have health insurance and they need to be the focal point."
Unfortunately, lawmakers in nearly half of states have decided not to expand Medicaid eligibility, which could affect community health center services and capacity. Researchers estimate that more than 1 million health center patients who would have been eligible for Medicaid under an expansion will remain uninsured. Jose Camacho, JD, executive director of the Texas Association of Community Health Centers, said his state's decision to opt out of expanding Medicaid only exacerbates an unstable funding environment. In addition to declines in federal discretionary funding, state budget cuts — such as a 70 percent cut in state family planning funds — make it even harder for community health centers to meet rising demands, Camacho said. Community health centers are the single largest provider of primary care services in Texas.
"At the end of 2015, we have a 70 percent decline in federal grant funds to health centers and that's going to be a problem," Camacho told The Nation's Health. "Until Congress fixes or deals with the fiscal cliff, we're going to have instability in our ability to recruit providers, expand services and expand the number of folks we're taking care of."
Still, Camacho said the state's community health centers are benefiting in terms of outreach and enrollment. Texas received $11 million in federal grant money to support enrollment in the new Health Insurance Marketplace.
"I have a lot of hope for the ACA," he said. "It's amazing the type of interest and demand out there for coverage."
At Alexandria Neighborhood Health Services Inc. in northern Virginia, staff served nearly 14,000 patients in 2013, and 71 percent of its patients are uninsured, which is about double the national average for a community health center. If Virginia lawmakers had decided to expand Medicaid eligibility, about 30 percent of those patients would have been insurable and an additional $1 million would have come into the center, said Martha Wooten, MPH, the center's executive director.
"It's definitely been a detriment to my organization and unless Medicaid gets expanded, it will continue to be," Wooten said.
Because of its high uninsured population, the center received enough federal funding to hire four additional outreach and enrollment staff, Wooten said. Interestingly, Wooten said one of the biggest benefits of the Affordable Care Act is the opportunity to "envision ourselves differently and grow into a practice that's more sellable to the community at large." While many residents have the impression that the center is exclusively for uninsured or Medicaid patients, she said the health reform law offers a chance to attract newly insured residents.
Wooten also noted that community health centers are well suited to thrive in a health care environment in which the health reform law puts new pressures on providers to focus on quality and measure outcomes.
"Community health centers have a long history of doing really well on outcomes," she said. "From that vantage point, the future looks promising."
To learn more about community health centers, visit www.nachc.org.
Copyright The Nation's Health, American Public Health Association