At the height of the prescription drug abuse epidemic in rural Scioto County in south-central Ohio, so-called pill mills were pumping out enough pain pills to provide every single county resident — nearly 80,000 people — with 123 pills every year.
The problem was so bad that in 2010, county officials declared a public health emergency and went into incident command mode.
"It was awful," said Lisa Roberts, RN, public health nurse at the Portsmouth City Health Department in Scioto County. "The place was just crop-dusted with opium...(Pain pills) became a form of commerce here. Pretty much everyone I knew had an addicted kid. It became completely mainstream."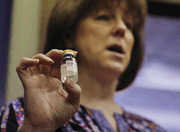 Today, thanks to statewide efforts to restrict easy access to painkillers, prescription opioids such as oxycodone are hard to find on the street, Roberts said. However, that gap has been quickly filled by another opioid: heroin.
"We've had a nearly 100 percent transition to heroin (among people) in our needle exchange program," Roberts told The Nation's Health.
Unfortunately, Scioto County is not alone. According to the National Institute on Drug Abuse, heroin use has been on the rise since 2007. In 2012, about 669,000 Americans reported using heroin in the past year, up from about 373,000 in 2007. The greatest increase in heroin use was among young people ages 18 to 25. Heroin overdose deaths have risen as well, increasing by 45 percent between 2006 and 2010. Closely tied to the rise in heroin use is the rise in prescription opioid abuse, which in 2008 was involved in more overdose deaths than heroin and cocaine combined.
In 2010, national drug surveys found that more than 12 million people reported using prescription painkillers for nonmedical reasons. Not surprisingly, surveys have found a strong link between the use of prescription opioids and heroin initiation: Nearly 80 percent of people who reported initiating heroin use in the past year had previously abused prescription pain medication; whereas, only 3.6 percent of people who began abusing painkillers reported heroin use in the previous five years. In March, U.S. Attorney General Eric Holder called the rise in both heroin- and prescription drug-related overdose an "urgent public health crisis."
"It's impossible to understand the heroin problem without first understanding the prescription pill problem," Rafael Lemaitre, MA, communications director in the White House Office of National Drug Control Policy, told The Nation's Health.
Wilson Compton, MD, deputy director of NIDA, said that while there are indicators that the prescription drug abuse epidemic is connected to the rise in heroin use, the availability and purity of heroin has increased. He said that even though state and local efforts to restrict the flow of prescription opioids may have steered some people toward heroin, the natural progression of addiction also plays a role.
"As someone uses prescription drugs more and more regularly, the propensity to try other forms of opioids goes up," Compton said. "In many ways they're not two separate epidemics — it's just one opiate epidemic."
There is no data to suggest that gains made in restricting easy access to prescription painkillers are being voided by a switch to heroin, said Len Paulozzi, MD, MPH, medical epidemiologist in the Division of Unintentional Injury Prevention at the Centers for Disease Control and Prevention's National Center for Injury Prevention and Control.
"We can't say that the prescription problem is being replaced by heroin," Paulozzi said. "The safest assumption is that we have a new problem on top of the old problem."
In tackling the opioid abuse problem, both Paulozzi and Compton said health officials have to look upstream. In particular, Compton said prevention strategies need to take a long-term approach, such as reducing the kinds of early childhood trauma that often lead to risky behaviors in adulthood. But often the most immediate need — beyond prevention and treatment — is helping those addicted to opioids prevent a fatal overdose.
Naloxone access gaining momentum
Across the country, lawmakers and officials are widening access to naloxone, a prescription drug that can be injected or given nasally to reverse an opioid overdose. Medical first responders have traditionally administered naloxone, which is nonaddictive and only has an effect if a person has opioids in her or his system. However, people with little or no training can easily administer the life-saving drug as well. APHA adopted a policy statement in 2013 in support of widening access to naloxone.
As of this year, policymakers in 17 states and Washington, D.C., had amended laws to make it easier to prescribe and dispense naloxone, according to the Network for Public Health Law. The legal changes are in line with emerging science on the topic as well. For example, a study published in January in the British Medical Journal examined naloxone distribution and bystander training programs in Massachusetts found that such programs are associated with a decrease in opioid overdose deaths.
"If a person dies of an overdose, they never get the chance to go to recovery," said Mike Leyden, MPH, NREMT-P, who oversees the Vermont Department of Health's Naloxone Opioid Overdose Prevention Pilot Program and serves as deputy director of Emergency Medical Services.
Last year, in response to a rise in heroin-related overdose deaths, Vermont leaders amended the law to allow health care professionals to dispense and prescribe naloxone to people at risk of overdose as well as to family and friends of those at risk. Today, the pilot program is partnering with needle exchange programs in Burlington and White River Junction to distribute naloxone rescue kits, which include two doses of naloxone as well as instructions on how to administer the drug nasally. As of late March, Leyden said, the two pilot sites had distributed more than 200 rescue kits. In addition to educating community members, health officials are also providing naloxone training to Vermont State Police, who have agreed to carry the drug and are often the first to respond to an emergency overdose call.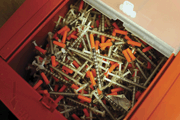 To the south in Baltimore, which has a long history of heroin abuse problems, the Staying Alive Drug Overdose Prevention and Response Program has been training people at risk of an opioid overdose to use naloxone since 2004. According to Chris Serio-Chapman, program director for community risk reduction services at the Baltimore City Health Department, the Staying Alive program has trained more than 3,000 people and documented more than 225 overdose reversals.
When the program first began, naloxone was only distributed to people in "drug-using pairs." But last year, state legislation passed allowing physicians to prescribe naloxone to friends and family of those at risk of overdose. In turn, Serio-Chapman said, the Staying Alive program will soon begin training programs throughout east and west Baltimore.
In 2013, the Maryland Department of Health and Mental Hygiene reported a 54 percent rise in heroin-related overdose deaths between 2011 and 2012.
"I've met so many people (addicted to heroin) who you'd never dream would get hooked on this stuff," Serio-Chapman said.
Back in Ohio, where two-thirds of fatal drug overdoses involve an opioid, Project Deaths Avoided With Naloxone, better known as Project DAWN, began in 2012 to distribute naloxone rescue kits. With training and distribution sites in Portsmouth and Cleveland, the project was initially restricted to people at risk of overdose. But as of March, state legislation expanded naloxone access to friends and family members as well as first responders such as fire and police. So far, Roberts reported, the project has documented 23 overdose reversals.
"This truly is a public health problem and we are the solution," Roberts said. "You've got the treatment side, law enforcement, the drug courts...and public health has the ability to bring all those people together to work as a unified force."
For more information on naloxone and the rise in heroin use, visit www.drugabuse.gov/drugs-abuse/heroin.
Editor's note: This article was corrected post-publication.
Copyright The Nation's Health, American Public Health Association