In response to the 2009 H1N1 flu pandemic, public health officials in Palm Beach County, Florida, had to get thousands of vaccine doses out to the community as quickly as possible. But they knew they could not do it alone. So they reached out to new partners who came with familiar faces and trusted reputations: local pharmacists.
"They were a reliable source, a convenient source and they'd be able to increase uptake of the vaccine," said Jillian Janicki, MPH, assistant coordinator for the Cities Readiness Initiative at the Florida Department of Health in Palm Beach County. "It was an invaluable partnership. The pharmacy is that one-on-one contact that people don't always get with the health department."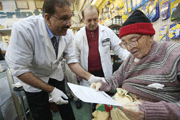 During the H1N1 pandemic, Janicki and her colleagues reached out to all the major community pharmacies on administering the flu vaccine and educating patients on flu prevention. Overall, health officials supplied more than 200,000 educational Flu Ready Cards in 250 local pharmacies, and about 40,000 doses of H1N1 flu vaccine were distributed to local pharmacies and retail health clinics. Pharmacists also joined the county's Healthcare Emergency Response Coalition, offering expertise on how the local response system could leverage pharmacies during emergencies. The first-time partnership was such a success that it continues today, with pharmacists participating in local emergency planning and exercises.
"To be honest, there weren't many challenges because it really was a win-win for everyone," Janicki told The Nation's Health. "Pharmacists want their patients to be healthy; they want to spread the message (of prevention). They're a trusted professional and we should be tapping into that resource."
Indeed, public health practitioners and advocates are increasingly calling for stronger partnerships between the two fields, noting that pharmacists and their reputation for being accessible and trustworthy are ideally positioned to help further priority public health goals. Already, pharmacists administer vaccines, provide critical health and medicine education, offer preventive screenings, serve as chronic disease coaches, connect patients to community services and much more. And some research has found that pharmacists can play an important role in communities with health provider shortages. For example, a 2012 study published in the Journal of the American Pharmacists Association found that nationwide, more than one-third of flu shots were administered by pharmacies in medically underserved areas.
Mitchel Rothholz, MBA, RPh, chief strategy officer at the American Pharmacists Association and an APHA member, noted that pharmacists have long been providing services that align with public health, though it is only recently that more formalized partnerships between the two fields have emerged. While such partnerships are not entirely new, Rothholz said the idea is gaining even greater momentum with the recent push to expand access to coordinated care.
"What's really awakened the partnerships is the shift in the health care system and the access issue," Rothholz said. "If we're really going to meet Healthy People 2020 goals, we need to look at how to maximize the abilities of all of our health workers. We need to figure out how to work together and not be seen as competitors, but to meet public health goals collaboratively."
In fact, the public health field is quickly filling up with resources on why and how to partner with pharmacists, many of which were originally inspired by the role pharmacies play in disaster response. For example, in 2013, the National Association of County and City Health Officials released "Building and Sustaining Strong Partnerships between Pharmacies and Health Departments at State and Local Levels," which noted that the benefits of such partnerships include a coordinated emergency response, improved disease surveillance and communication, and enhanced community outreach. However, the report also cited survey results finding that 68 percent of pharmacists working in community settings had no contact with health department staff in the past year.
Sara Rubin, MPH, MA, a senior program analyst in catastrophic and pandemic preparedness at NACCHO, said it is not that there are barriers to such partnerships — "it's more likely that they just haven't thought of each other as potential partners."
Rubin co-authored an article in the March-April issue of Biosecurity and Bioterrorism outlining the benefits of such partnerships to pandemic flu response.
"Public health personnel and the public need to have increased awareness of pharmacists' qualifications and a broadened understanding of how pharmacists' skills can contribute to and support emergency response efforts," Rubin wrote.
Rubin noted that many pharmacists already view themselves as part of the public health system. For example, she pointed to recent data from the American Immunization Registry Association finding a significant increase in the number of pharmacies reporting vaccinations to state immunization registries.
"Both sides can bond on that similar desire to serve the community and serve the population — that's probably the most powerful thing that brings them together," Rubin told The Nation's Health. "I'm very optimistic about these types of partnerships and I think we're moving toward a scenario in which this just happens routinely. That's the goal we're working toward, and I think it's feasible."
Work is also underway at APHA to bring the two fields together. APHA member Stuart Feldman, PhD, professor emeritus at the University of Georgia College of Public Health and a pharmacist by trade, is working to launch a Public Health Pharmacy Special Primary Interest Group within APHA. Feldman said today's pharmacy students receive much more education in public health topics, such as biostatistics and epidemiology, which creates ever-widening opportunities to partner toward community health goals.
"I do think more and more pharmacists will pursue a public health background," Feldman said.
Indeed, a number of universities are beginning to offer dual degrees in pharmacy and public health. At the University of Minnesota, the Public Health Pharmacy program began in the fall of 2013 and allows students to complement their pharmacy degrees with a Master of Public Health degree. Katherine Waters, DVM, MPH, director of the university's Executive Program in Public Health Practice, said that with the passage of the Affordable Care Act and a greater emphasis on patient-centered care, many pharmacy students see themselves as part of a patient's health care team and believe an MPH offers a better grounding in community health. Plus, Waters said the program fosters interprofessional collaboration in the classroom that students will hopefully bring with them after graduation.
"The more people in your health care team that understand the spectrum of disease and prevention…the stronger the patient is going to be," Waters said.
In the future, more pharmacists might be like Laura Palombi, PharmD, MAT, AE-C, who describes herself as public health pharmacist. Palombi, who serves as an assistant professor at the University of Minnesota College of Pharmacy and is currently pursuing her MPH, said she first felt a spark for public health as a pharmacy student learning about chronic disease.
"I had this realization," said Palombi, an APHA member. "Medications are life-saving, don't get me wrong, but there are so many conditions that can be avoided with prevention. Sometimes the best thing is to try to get the patient on the least amount of medication as possible or even no medication at all. That's what sparked my passion for public health."
Palombi was so interested in public health that she called her local health department, Carlton County Public Health and Human Services, to inquire about volunteering and it soon turned into an internship. In fact, she is the first pharmacist to serve as the department's public health intern. Among her duties at the department is organizing Operation Community Connect, a one-day event to connect homeless residents with health screenings, food assistance and social services.
"Public health is an emerging field within pharmacy and the value of prevention is being recognized," Palombi said. "It's so important that pharmacists get involved so that they know what their communities need."
To learn more about public health and pharmacy partnerships, visit www.pharmacist.com or www.naccho.org.
Copyright The Nation's Health, American Public Health Association