For health workers dealing with the very ill, death can be a difficult subject to broach with both patients and their families.
But as millions of baby boomers in the U.S. age, health workers and organizations are seeing the value of educating Americans on the need for end-of-life care plans.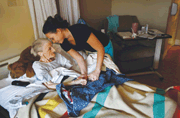 Thanks in part to the baby boom between 1946 and 1964, the number of U.S. adults ages 65 and older in 2050 is estimated to be nearly 84 million, almost double the estimated 43.1 million in 2012, according to census data. With the jump in the senior population comes greater attention to how their lives will end.
But more than 25 percent of U.S. adults have either given little or no thought to how to manage their end-of-life care, according to "Dying in America: Improving Quality and Honoring Individual Preferences Near the End of Life," a September 2014 Institute of Medicine report. As such, public education and engagement is a growing priority.
The report recommends that many groups, including the public health community and health care organizations, need to reach out to patients about advanced care planning with targeted, evidence-based information on their options. It added that it should be part of a health care organization's practice to give out materials regarding end-of-life care to patients and families to keep dialogue open.
"We really tried to point out that the current health care system we're a part of does not do a very good job for preparing people for the end of life or for allowing individual preferences to be heard or respected," said Philip Pizzo, MD, co-chair of the IOM report and the former dean and professor of pediatrics, microbiology and immunology at the Stanford School of Medicine. "That's one of the reasons why public education is important. It's critical everyone know they have a right to make their own preferences known to their care providers, friends and colleagues so they will be heard whenever the time of need arises."
Many people rely on their primary care providers to direct them to the best care when it comes to end-of-life care decisions, said Porter Storey, MD, FACP, FAAHPM, executive vice president of the American Academy of Hospice and Palliative Medicine. Thanks to the Affordable Care Act, large health care systems such as the Mayo Clinic and Kaiser Permanente have shown they can provide better care and lower costs if they include palliative care services, Storey said.
"A lot of patients are now learning from their providers, who are being taught by their health care system how to utilize palliative care so their patients get what they need," Storey told The Nation's Health. "This is an ongoing process, but it's really becoming clear that a hospital cannot afford to not have a palliative care consultation service, because leaving people in pain is bad for them and drives up hospital costs. Sometimes patients don't quite understand that this is going to help them feel better and live longer, not just get to hospice faster."
Education about advanced care planning needs to begin when people are on a downward trajectory because of declining health, such as those with multiple chronic diseases and people who are having trouble with daily living, said Bill Novelli, MA, co-chair of the Coalition to Transform Advanced Care. The coalition is a nonprofit organization whose focuses include the policies, public education and best practices surrounding advanced care.
The coalition launched CareJourney.org in 2014 as a resource offering advice on creating a care plan, caregiving, managing finances and integrating spirituality with end-of-life care.
"If you look at the research, what it suggests is that when people are seriously ill, they want to be at home, they want to be among their loved ones, they want to have their pain managed and their spiritual needs addressed," Novelli told The Nation's Health. "They don't want to impoverish their families. That's what they want, but what they get is entirely different."
What they get is potentially a longer, more painful road to death because of a lack of communication about a loved one's end-of-life care wishes. One of the barriers to creating end-of-life care plans is how to start a discussion about dying in the first place. In 2010, following the death of her mother, journalist Ellen Goodman helped found the Conversation Project, a public engagement campaign to encourage Americans to have conversations about their end-of-life wishes. As a guide to these conversations between loved ones, they created the Conversation Starter Kit.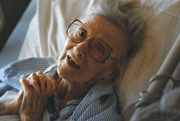 The starter kit, created in 2012, gives families advice on how to break the ice in bringing up end-of-life care. Available in multiple languages, the guide is designed to be used by families or individuals to help them think about and communicate important decisions such as how much information the doctor should share with a family and which family member should be the primary decisionmaker. As of February, more than 200,000 copies of the starter kits have been downloaded. Project members recently launched a Pediatric Starter Kit to assist parents of terminally ill children, said Harriet Warshaw, executive director of the Conversation Project.
"We feel there needs to be a cultural shift where conversations about end-of-life care become normalized," Warshaw told The Nation's Health. "We want to create an environment where everybody feels comfortable having these conversations and designates a health care proxy to speak on their behalf if they can't make decisions for themselves."
The Conversation Project also works in collaboration with the Institute for Healthcare Improvement, which created the Conversation Ready Health Care Community in 2014. More than 20 health care organizations from the U.S. and Scotland participate in the community: a nine-month collaborative focused on receiving, recording and respecting patients' end-of-life care wishes.
"Changes include focusing on when and how providers engage with patients about these wishes, stewarding this information as reliably as we would allergy information through changes to the electronic health record, and exemplifying this work in our own lives as providers with our own loved ones so that the barriers are better understood," Warshaw said.
Families have found project resources helpful because they create advocates out of family members and take the guesswork out of what family members want and what matters most at the end of life, she said.
"From a clinician's point of view, we know by having this understanding of what the patient wants, the patient and clinician can work together in creating a care plan that honors people's wishes and can be really respectful in what kind of care they want to have," Warshaw said. "It cuts down on the uncertainty, it cuts down the conflict and makes a partner out of the patient or patient's family, which is a much more positive way of handling end-of-life care."
For more information, visit www.advancedcarecoalition.org and www.theconversationproject.org.
Copyright The Nation's Health, American Public Health Association