As an emergency medicine resident doctor more than a decade ago, Comilla Sasson, MD, PhD, saw her fair share of black and Hispanic patients enter an emergency room for cardiac events. But what struck Sasson was that prior to arrival, there was no evidence that anyone had tried CPR to revive them.
"It was not OK to think it was because people didn't want to do it," said Sasson, an associate clinical professor at the University of Colorado-Denver's Department of Emergency Medicine. "I thought something else was going on."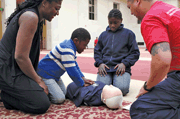 Sasson was right. Driven to find out why there was such a disparity, Sasson has spent the last decade uncovering what the public health community is discovering is a nationwide problem: bystander CPR happens less frequently in low-income and minority communities.
Nine out of 10 Americans who suffer cardiac arrest will die from it and nearly 50 people an hour suffer cardiac arrest, according to the American Heart Association. But blacks and Hispanics are 30 percent less likely than whites to have bystander CPR performed on them, the association said.
Where people live is a huge factor in whether they will receive bystander CPR, according to a 2012 New England Journal of Medicine study of data from the Cardiac Arrest Registry to Enhance Survival. Of more than 14,000 Americans with out-of-hospital cardiac arrests between Oct. 1, 2005, and Dec. 31, 2009, only about 29 percent of them received bystander CPR. But in low-income black neighborhoods, the odds of someone in cardiac arrest receiving bystander CPR was 50 percent lower than in high-income white neighborhoods, the study said. The registry, a collaboration of the Centers for Disease Control and Prevention and Emory University, is a Web-based data system that allows communities to enter local emergency medical services data to help improve responses to cardiac arrests.
However, health advocates are hoping that grassroots efforts to expand training to high-risk neighborhoods will pass that knowledge forward.
"I think one of the big things that was important for people to understand is it's not that African Americans and Latinos don't want to do CPR," said Sasson, who is also the director of the American Heart Association's Community Markets and Programs. "If you don't know how important it is, why would you bother to learn or spend your own personal money to do it?"
Affordability is just one of multiple barriers to knowledge of CPR in low-income and minority communities. Basic life support classes can cost participants $25 to $100, Sasson said.
In Hartford, Connecticut, the Mobile CPR Project tackled the barrier of costs and transportation. A collaboration between Travelers Foundation and the University of Pennsylvania's Center for Resuscitation Science, the Mobile CPR Project involved sending a van of trainers to Hartford's urban neighborhoods to teach free hands-only CPR classes. The American Heart Association recommends hands-only CPR because of bystander concerns about mouth-to-mouth resuscitation and administering CPR correctly.
Project leaders walked through neighborhoods to spread the word about the classes, said Kelsey Sheak, the project manager. After a 30-minute class, students —who included participants from community groups and churches — received free CPR training kits, a mannequin and instructional DVD to practice. The project trained just under 6,000 Hartford residents between March 2013 and April 2015, said Benjamin Abella, MD, MPhil, the principal investigator.
"Cardiac arrest leads to over 300,000 deaths in the United States and it's often sudden and abrupt, afflicting people who are generally in good health," said Abella, an associate professor of emergency medicine at the University of Pennsylvania. "It always seemed to us that should be a crucial focus of public health. It's been known for some time that where you live has an effect on where you have your cardiac arrest."
Another barrier driving the disparity is fear. Jaracz Swain, a Kentucky EMT and retired firefighter, said one of those fears is causing further harm to someone suffering cardiac arrest and facing legal action. Swain co-founded SafetyNET, a Louisville, Kentucky-based business that teaches residents in Louisville and southern Indiana communities how to provide CPR and how to use an automated external defibrillator. During those classes, Swain educates participants about good Samaritan laws in Kentucky and Indiana that protect people from lawsuits when they attempt to save a life.
"A lot of people's thought is, 'We can't use that machine,' because they fear they may be sued, but that's not the case," Swain said of AED use. "If you can get the machine hooked up to the person in the first few minutes, you have a 75 percent better chance of saving that person's life."
The minority-owned business has also made an effort to network with racial and ethnic-based groups, such as the Kyanna Black Nurses Association of Louisville, Kentucky, to spread the word about affordable bystander CPR training and calm any fears over saving a life.
Sasson also recognizes the risk for chronic disease in minority populations. Armed with epidemiological and census data, she led what later became an American Heart Association- and Colorado Clinical and Translational Sciences Institute-funded project: identifying High Arrest Neighborhoods to Decrease Disparities in Survival.
Researchers targeted neighborhoods in major cities at high risk for cardiac arrests, identified the barriers to CPR training in those communities and then created hands-only CPR training opportunities where residents could, in turn, train family and friends using a free CPR Anytime kit and an educational DVD.
The program launched in Denver in 2013. Across five high-risk city neighborhoods, about 340 people received training, but nearly 890 people received training by the original people who taught their friends and family hands-only CPR. After an expansion to Chicago; Columbus, Ohio; and Tampa, Florida, in 2014, more than 800 people participated across those cities. More than 200 people were trained after a family member or friend showed them how, according to data released in May, Sasson said.
In Columbus, program team members spread the word about CPR training throughout the neighborhood of Linden, which was targeted for its low rate of CPR use and high mortality rates, said Ashish Panchal, MD, PhD, the program project leader in Columbus. Team members spread the word through the newspaper, advertisement at community events and by placing ads on vehicles. Classes were held in local restaurants, fire stations, community buildings and libraries, along with open-air settings such as festivals. Classes included local firefighters from Columbus Fire Department and community liaisons who engaged residents.
"The best way for people to get engaged is to engage their neighbors," Panchal told The Nation's Health.
In areas with large Hispanic populations, such as Denver, program workers found that language was a barrier to not just learning CPR but for even calling for help. Aside from a distrust in law enforcement, there was a fear among residents in those communities that law enforcement would show up before paramedics and possibly check the residency status of those involved with the cardiac event, Sasson said. But Sasson said program workers informed local police about their efforts to train residents in CPR and make them aware of those fears.
Sasson said there are plans to make High Arrest Neighborhoods to Decrease Disparities in Survival a national program. From a local perspective, public health workers must realize they cannot just blanket a community with training and must open people's eyes to the disparities.
"It literally has to be neighborhood-by-neighborhood if we're going to see change happen," Sasson said. "The great thing about the work we do is that the community wants to know about that information."
For more information, visit www.heart.org.
Copyright The Nation's Health, American Public Health Association