While the future of the Affordable Care Act remains uncertain, the consequences of repealing the law are increasingly clear, with millions at risk of losing health coverage.
"It's anyone's guess what will happen," Leighton Ku, PhD, MPH, director of the George Washington University's Center for Health Policy Research, told The Nation's Health in February. "But I do think something will happen because there's been such strong commitment from Republicans and the president to keep their promises (to repeal). The potential adverse effects of that repeal could be disastrous, and then the problem becomes what to replace it with."
As of early March, Republicans in both chambers of Congress had introduced legislation. For instance, in the House, the American Health Care Reform Act of 2017, H.R. 277, would repeal the ACA entirely. In the Senate, the Patient Freedom Act of 2017, S. 191, would repeal certain provisions of the ACA, such as the individual mandate that requires people to have coverage and essential health benefits or pay a fine.
In addition to repeal legislation, majority members of the House and Senate passed budget resolutions aimed at allowing lawmakers to target ACA measures related to spending and revenue. And on his first day in office, Trump signed an executive order giving federal agencies the discretion to "waive, defer, grant exemptions from, or delay the implementation" of ACA provisions that "impose a fiscal burden" on states or individuals.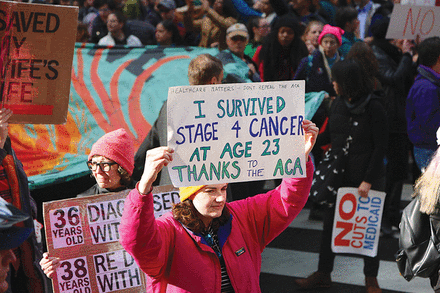 To that end, the IRS announced in February that it would continue processing tax returns that do not disclose health insurance status, marking a reversal of plans to require such disclosure and potentially making it easier to skirt the ACA's individual mandate.
Also in February, the Centers for Medicare and Medicaid Services published proposed rule changes that would, among other things, shorten the next open enrollment period by more than a month and increase scrutiny on those who buy plans outside open enrollment periods. As of mid-February, according to the Kaiser Family Foundation, more than 12 million people had selected a health insurance plan during the 2016-2017 open enrollment period via federal and state marketplaces, though final numbers were still coming in.
At stake in the repeal-and-replace debate are not only historic gains in insurance coverage, but also billions in public health funding. On the insurance side, a January Congressional Budget Office report found that repealing the ACA's individual mandate, Medicaid expansion and marketplace subsidies, while leaving intact reforms such as barring discrimination based on pre-existing conditions, would result in 32 million additional uninsured by 2026 as well as significantly higher premiums.
It could also throw insurance markets into disarray, experts say.
"If you do away with the individual mandate and tax credits, it's hard to imagine insurers wanting to stick around," said Cynthia Cox, MPH, associate director of health reform and private insurance at the Kaiser Family Foundation.
Cox said if pre-existing condition protections remain while the individual mandate disappears, it could result in insurers not only leaving the federal and state exchanges, but the individual market too. The ACA's pre-existing condition protections apply to all insurance and without an enforceable requirement that both healthy and sick people join the insurance pool, offering plans outside the group market could become too financially risky, she said.
"Much of the ACA coverage expansion is dependent on the voluntary participation of private insurance companies and they'll only participate if they're confident that there's a market where they can make money or at least not lose a lot of money," said Sabrina Corlette, JD, a research professor at Georgetown University's Center on Health Insurance Reforms. "In an environment of uncertainty, we could end up with the worst case being…a mass exodus of insurance companies…the less certainty they see, the less confident they are that the markets are stable."
Corlette said the ACA coverage expansion relied on a "social bargain:" insurers would cover those with pre-existing conditions in exchange for everyone joining the risk pool. If everyone is required to join the pool, then the government would expand Medicaid and offer subsidies to ensure affordability. But "knock out any part of that bargain and it undermines the whole system," she told The Nation's Health.
Knocking out the ACA's major financial provisions would also ripple throughout the health care system and economy. For example, in a December report from the American Hospital Association and Federation of American Hospitals, researchers found that even if lawmakers restored pre-ACA funding that offsets hospital care for the uninsured, eliminating the ACA's individual mandate, Medicaid expansion and subsidies would lead to a $165.8 billion negative impact on hospitals.
Community health centers could face a similar future, as the majority of the 25 million people served by such centers live below 200 percent of poverty and the Medicaid expansion provided critical new revenue. Repealing the ACA's tax credits and Medicaid expansion could lead to big employment losses as well.
In a January study from the Commonwealth Fund and the George Washington University's Milken Institute School of Public Health, researchers found that repealing the two provisions could mean a loss of 2.6 million jobs across the country, with 912,000 job losses concentrated in the health care sector.
Whether states could — or would — maintain ACA policy changes and infrastructure after a federal repeal is still very much unclear, Trish Riley, MS, executive director of the National Academy for State Health Policy, told The Nation's Health in February. For example, she said if Congress repealed federal Medicaid expansion financing, "states would be really challenged — they don't have the money to sustain that." On the other hand, if Congress replaced the ACA with a return to high-risk insurance pools, the state health insurance exchanges could be well positioned to administer those options.
"The thousand-dollar question is what will the replacement look like," Riley said. "We do know the ACA has brought extraordinary success in bringing down the uninsured rate, has brought billions into state coffers and reduced uncompensated care. We know there's been a real impact and that's what we can measure any replacement against."
Public health funding, programs in jeopardy
A full ACA repeal or one that targets the law's spending and revenue would also eliminate the Prevention and Public Health Fund, which provides nearly $900 million annually to the Centers for Disease Control and Prevention and has become a critical source for backfilling budget gaps. The fund's repeal would leave CDC facing a 12 percent budget reduction. At the state level, the fund's elimination would mean a loss of $3 billion over the next five years, according to the Trust for America's Health.
"We're very concerned about a loss of millions of dollars to CDC that supports core evidence-based services at the federal, state and local levels," APHA member John Auerbach, MBA, CEO and president of Trust for America's Health, told The Nation's Health. "We fear that without a continuation of those services, we'll see an increase in illnesses, injuries and preventable deaths — and an increase in health care expenditures."
Auerbach said this year, CDC received $890 million from the ACA fund, with $624 million of that going out to state and local levels. If a repeal happened, for example, a state like California would immediately lose $62 million for core public health work, he said. And if the fund's repeal was coupled with across-the-board federal budget cuts for all nondefense, discretionary funding, Auerbach said it could have "catastrophic impacts on (CDC's) continued ability to function."
Monies from the Prevention and Public Health Fund now support core public health services and functions, from immunization efforts to chronic disease prevention. For instance, the fund enabled CDC to direct an additional $40 million a year to its Epidemiology and Laboratory Capacity for Infectious Disease program, said Peter Kyriacopoulos, senior director for public policy at the Association of Public Health Laboratories. Those extra funds have enabled state and local public health to cross-train personnel in infectious disease response and significantly improve how data is shared between health agencies.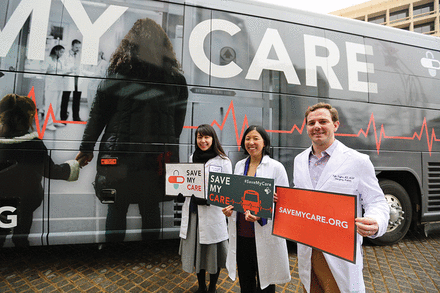 He noted that the epidemiology and laboratory capacity funds are flexible monies that agencies can tailor for their specific needs, as opposed to typical funds that are allocated for specific purposes such as West Nile virus or food safety. The result of such flexible funding, for example, is when Florida experienced a Zika outbreak last year, it had trained response staff ready.
In addition to funding impacts, public health agencies could also feel the effects of insurance losses. APHA member Michael Fraser, PhD, executive director at the Association of State and Territorial Health Officials, said while many health agencies began transitioning away from providing direct clinical services as insurance coverage expanded, a rise in uninsurance could leave many residents once again turning to public health as a clinical safety net.
As for the possible elimination of the Prevention and Public Health Fund, Fraser said a "big chunk of core public health capacity is at risk."
"It's difficult to work in an environment of uncertainty," he said. "But public health is about resilience and most of the state health folks I talk with say, 'let's be optimistic' — they really do look for the opportunity versus the challenge."
For more information on the ACA, including fact sheets and advocacy tools, visit www.apha.org/health-reform.
Copyright The Nation's Health, American Public Health Association