People who are homeless in the Arlington, Virginia, area can turn to the Homeless Services Center at the Arlington Street People's Assistance Network for the health and support services that they cannot easily access. Medical care, food, shelter, counseling and job training are all available to people who need assistance.
Such wraparound services are vital to people who are homeless, but the "housing first" model is at the heart of the organization's mission.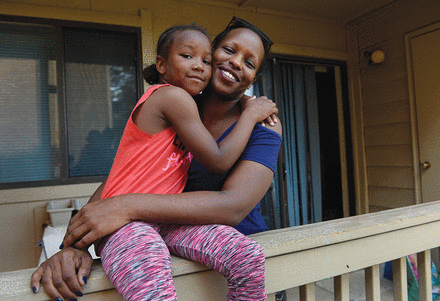 Housing first is based on the premise that housing is necessary for health, security and wellness, and that people need not meet a long list of prerequisites to access permanent housing. While some programs require people to enter treatment programs for addiction or mental health or be employed before they are housed, housing first posits that with the right services and support, such issues can be better addressed after housing is secured.
"If you really want to end homelessness, you have to embrace housing first," Kathleen Sibert, MBA, president and CEO of the Arlington Street People's Assistance Network, told The Nation's Health.
Once "you get someone into housing…you can work on all the other issues, whether it's mental health, whether it's substance abuse, whether it's not being able to hold onto a job," she said.
Homelessness in the U.S. has increased for the first time in seven years, according to the 2017 Annual Homeless Assessment Report to Congress, which is produced by the U.S. Department of Housing and Urban Development. On a single night in 2017, almost 554,000 people were homeless, a 0.7 percent increase from the year before. The report also noted an uptick in the number of people who were homeless and unsheltered.
With rates of homelessness going up, the housing first model has gained momentum among public health and homelessness advocates as a solution to the crisis. Implementing a housing first system orientation and response is one of the 10 strategies established by the U.S. Interagency Council on Homelessness to end chronic homelessness and was also included in Opening Doors, the council's federal strategic plan to prevent and end homelessness that was first released in 2002.
Housing first is not a panacea for people who are homeless, but the practice can lead to improved health outcomes. As a social determinant of health, housing allows people to achieve stability in various aspects of their lives.
"The solution to homelessness is essentially housing," Nan Roman, MA, president and CEO of the National Alliance to End Homelessness, told The Nation's Health. "It's not that (people who are homeless) don't have other needs, but if they're housed, they're not
homeless."
Being housed does alleviate many problems that are exacerbated by homelessness, Roman said. Exposure to environmental elements can lead to adverse health effects, as demonstrated by the hepatitis A outbreak in San Diego County last year. The outbreak, which resulted in 20 deaths, mostly affected people in the county who were homeless as well as people who were using illicit drugs. The local public health emergency spurred city officials to find more temporary housing for people who were homeless to control the outbreak and underscored the need to provide housing to people most susceptible to illness. Common health issues affecting people who are homeless include mental health problems, substance misuse problems, bronchitis and pneumonia, complications from outdoor exposure and wound and skin problems, according to the National Institutes of Health.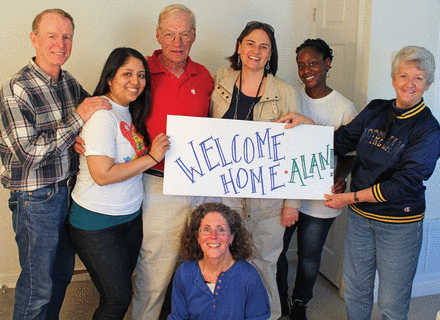 At APHA's 2017 Annual Meeting and Expo in Atlanta, the Association adopted a new policy statement on homelessness that endorses the housing first model and low-barrier housing.
APHA's first policy statement on homelessness in two decades encapsulates a growing body of evidence that providing housing to people, regardless of their employment status, mental health or sobriety, is effective. The statement calls on federal agencies and state and local service providers to prioritize low-barrier housing access for people who are homeless, with an emphasis on harm reduction strategies.
Housing "allows health care to do its job," said Ben King, MPH, co-author of the policy statement and past chair of APHA's Caucus on Homelessness. Comprehensive health care is not possible without housing, he said, a point reflected in the motto of the Caucus on Homelessness: "Housing is health care and health care is a human right."
Pathways to Housing was one of the first U.S. organizations to implement the housing first model in 1992 in New York City. The organization has spread to cities throughout the U.S., including Washington, D.C. Christy Respress, MSW, executive director of Pathways to Housing DC, is blunt when speaking about the importance of the housing first. Without immediate, low-barrier access to permanent housing, "people would be dying on the street," she said.
People who are struggling to stay alive are less apt to take charge of their health than people who do not have to worry about housing, she said. Comorbidities are common among the people who come to Pathways to Housing DC, and many people have illnesses such as hypertension, chronic obstructive pulmonary disease, diabetes and HIV.
The problem is not a dearth of health care providers, but rather, the inability for people who are homeless to access care, according to Respress. There are many health conditions that housing can make more manageable.
For example, people with diabetes often need to refrigerate their insulin, which can be impossible for someone without a home.
Such barriers to simple health management are one reason why people who are homeless often turn to emergency services, lacking other options for care.
"How do people get to the clinic?" Respress told The Nation's Health. "How do you manage your medication when you're staying on the street?"
Homelessness is not just detrimental to the health and wellness of individuals, but also to communities as a whole that must invest significant time, money and resources into keeping its most vulnerable residents safe. As officials in Everett, Washington, have learned, it is in the best interest of communities to involve multiple stakeholders in eradicating homelessness.
Washington, particularly Seattle and its surrounding areas, is experiencing a population boom in tandem with soaring housing prices.
In Snohomish County, an opioid epidemic, job shortages and a lack of treatment options for mental health problems have coincided to intensify homelessness in the region, according to Hil Kaman, JD, MS, public health and safety director for the City of Everett. Many people who are homeless in Everett have also become entangled in the criminal justice system, an issue that city
officials are working to remedy.
"Across all of our public safety programs there has been a concerted push to say these are public health issues, these are social issues…these are housing issues that cannot and should not be addressed through the criminal justice system," Kaman told The Nation's Health.
The belief that homelessness should not be criminalized is also part of the three-prong model under Everett's Safe Streets Plan, which focuses on outreach and enforcement, diversion and housing.
The city is developing a low-barrier, supportive housing facility that will house 65 people, many of whom have addiction problems and mental illness. Because the project is based on housing first principles, residents of the supportive housing facility will receive the on-site treatment and case management they need to take charge of their health.
A housing first approach, along with principles of harm reduction, can reduce homelessness with far-reaching impacts for the public, Kaman said. But that is only possible when all community stakeholders are on board.
"We need public health, health care, housing, social services to come together to help us confront this problem," he said.
The cooperation of various sectors in Everett to reduce homelessness reinforces the need to break down silos in public health. Housing agencies, health care systems, criminal justice systems and other entities that regularly encounter homelessness could identify opportunities for potential cost savings and other community benefits if they worked together, according to King.
"If you have people in the room who really want to move the needle on population health, then they'll be open to that conversation," he said.
Despite the potential for cost savings across community sectors, public health and homelessness advocates stress that there is a much greater human benefit to giving people housing and the wraparound services that keep them stable.
Housing first is a matter of values, said Jen Elder, MSc, policy chair for the Caucus on Homelessness and co-author of APHA's new policy statement. Taxpayer money already goes toward
emergency services,
incarceration and other consequences of homelessness that could be mitigated with housing first policies. It makes sense to invest in interventions "that truly increase positive health outcomes of people and treat them with dignity and respect," she said.
For more information on the housing first model, visit the National Alliance to End Homelessness website at www.endhomelessness.org.
Copyright The Nation's Health, American Public Health Association