Underfunding hurts US health agencies
Underfunding continues to compromise the effectiveness of U.S. public health systems at the state, local and federal level.
That is why the House Energy and Commerce Committee's introduction of H.R. 2741, the Leading Infrastructure for Tomorrow's America Act, is important, APHA wrote in a May 21 letter thanking the committee chair, Rep. Frank Pallone, D-N.J.
The act would authorize $3.75 billion over five years to support infrastructure improvements and initiatives at all governmental levels of public health. The funds would be used for employee salaries and training, upgrading health information systems and other functions, according to APHA. The legislation would also authorize $500 million over five years to upgrade information technology and data systems.
"A strong public health infrastructure and workforce at all levels is critical to ensuring that the nation's public health system can meet the current and emerging challenges and responsibilities facing our communities," APHA Executive Director Georges Benjamin, MD, wrote.
Bill takes on vaccine hesitancy problem
In the wake of the ongoing U.S. measles outbreak, it is time to take solid action on vaccine hesitancy, APHA and other advocates told members of Congress in June.
As of mid-June, nearly 1,050 measles cases had been confirmed in 28 states, according to the Centers for Disease Control and Prevention. Most of the people who contracted measles were unvaccinated.
In a June 7 letter to key leaders in the House of Representatives, APHA and other organizations showed support for H.R. 2862, the Vaccine Awareness Campaign to Champion Immunization Nationally and Enhance Safety Act of 2019.
Introduced in May, the legislation would support research to better understand why some people are hesitant about vaccines, and build efforts to spread public awareness about the effectiveness and importance of inoculation. Heightening public awareness might include grants to state, local and tribal health departments in areas with below average vaccination rates, the letter said. Development of a national vaccination rate surveillance system is also part of the bill.
The act "is a critical step in combating vaccine hesitancy and misinformation and ensuring that there is a continued public awareness of the importance of vaccines," the advocates said.
Equality now for LGBTQ community
All people, regardless of sex, sexual orientation and gender identity, should be treated equally.
On May 17, the House of Representatives passed H.R. 5, the Equality Act, which prohibits discrimination of LGBTQ people in education, housing, employment, bank loans, jury service and more. In a May 15 letter to the House, APHA endorsed the legislation.
The Equality Act would update laws to protect LGBTQ people in the U.S. from being discriminated against, which especially affects the lives of youth, the seniors, veterans and military service members, APHA said. Thirty states do not fully protect LGBTQ people from discrimination.
Relatedly, the U.S. Department of Health and Human Services in May proposed regulatory reform to section 1557 of the Affordable Care Act, which critics say would weaken the section's nondiscrimination protections, including toward LGBTQ people.
The reform could cause discrimination in health care access and in obtaining insurance. In a May 24 letter to HHS, APHA and other health advocates weighed in by opposing the change.
The advocates urged HHS to reconsider revising Section 1557 and encourage the agency to work toward improving health service access to the LGBTQ community.
Time for EPA to ban paint remover toxin
Methylene chloride is a deadly chemical used in paint remover and should be banned from use, APHA told the U.S. Environmental Protection Agency in a May letter.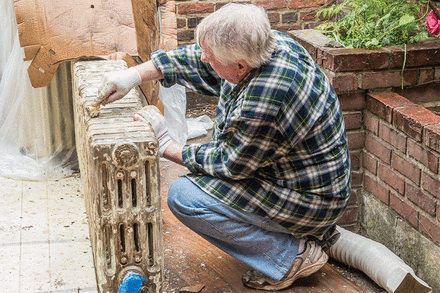 EPA considers the chemical "imminently hazardous," but has not banned it completely from commercial use. Instead, the agency has supported warning labels and worker training, as well as protective measures such as gloves, coveralls and breathing devices.
Yet according to a 2017 EPA study, methylene chloride has killed 49 people since 1976, and other reports attribute more deaths to the toxin. In the May 24 letter to the agency, APHA called for EPA to eliminate the hazard from all use.
APHA has been monitoring EPA's efforts on the issue for several years. In a 2017 letter to the agency, APHA pointed out that many workers assigned to use the toxin-laden paint remover are low-wage, low-skill workers and typically minorities, including workers in the U.S. without legal permission. Employers hire vulnerable workers in part because they are less likely than other workers to raise safety concerns with an employer, APHA noted.
Workers have reported that EPA's rules about training and protective gear are rarely followed by employers.
"APHA strongly urges EPA to apply the science and data it already possesses to eliminate the use of methylene chloride altogether," APHA said in the May letter.
Total asbestos ban urgently needed
Asbestos is a dangerous toxin that can cause chronic ailments, including cancers, and needs to be completely banned from use.
For over 10 years, APHA has called for a total ban on asbestos and asbestos-containing products, such as plastics, sealants and paints.
On May 8, APHA members Celeste Monforton, DrPH, MPH; Linda Reinstein, co-founder of the Asbestos Disease Awareness Organization; and Rebecca Reindel, MS, MPH, testified before legislators on behalf of APHA about asbestos dangers.
They supported H.R. 1603, the Alan Reinstein Ban Asbestos Now Act of 2019, introduced to Congress March 7.
Evidence connecting asbestos exposure and cancer goes back to the 1960s, Monforton told legislators. Today, many peer-reviewed studies show an overwhelming association between them. Monforton reiterated that there is no safe level of exposure to the toxin.
"APHA supports strong and comprehensive legislation to remove asbestos expeditiously from commerce in the U.S., assure the public is informed about sources of exposure to asbestos and address the serious and poorly managed threat from legacy asbestos," Monforton told legislators. "H.R. 1603 accomplishes these goals and we wholeheartedly support it."
To take action on public health, visit www.apha.org/advocacy.
Copyright The Nation's Health, American Public Health Association