Every year, about 5,000 abstracts are selected for APHA's Annual Meeting. Once the excitement of being accepted sinks in, many presenters have the same question: What's the best way to share my work?
Fortunately, APHA leaders and staff have put together a wealth of information to guide presenters and ensure that their time in the Annual Meeting spotlight is a success. APHA's website offers detailed information for both oral and poster presenters, including practical tips. For example, poster presenters are advised to bring plenty of business cards to share with visitors who may have follow-up questions.
Making posters large enough that people can appreciate the information is critical, said APHA member Maureen Kennedy, DrPH, an assistant professor and director of the Epidemiology Division in the Department of Public Health at New York Medical College. Kennedy was an advisor on a poster on cardiovascular trends and multimorbidity presented at APHA 2018 in San Diego.
"It's also beneficial if presenters share some of their ideas as to how their study results can be a foundation for future studies," Kennedy told The Nation's Health. "This is a great way to keep research moving forward and create and enhance collaborations."
APHA member Melinda Ramhit, MPH, an author of the cardiovascular trends poster, recommended that presenters create a single-page handout with key takeaways from their poster and network with their fellow presenters.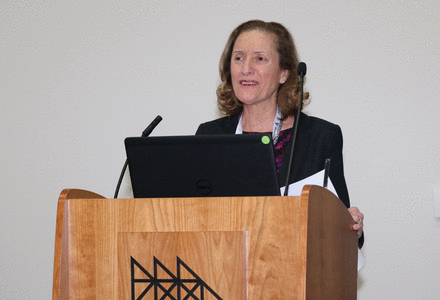 "Engage anyone and everyone in conversation about your research during the session," Ramhit, a senior analyst for survey and outcomes research at the Greater New York Hospital Association, told The Nation's Health.
Before getting too deep into creating presentations, Donna Wright, APHA's manager of scientific session development, advises checking out the meeting's accessibility guidelines for presenters. Developed with APHA's Disability Section, the guidelines share tips to ensure that both oral and poster presentations can be accessed by all attendees.
For example, for poster presentations, the guidelines spell out recommended font sizes, type-faces and colors, as well as line spacing and graphic tips. During their poster sessions, presenters are encouraged to offer to describe their posters for attendees with low vision.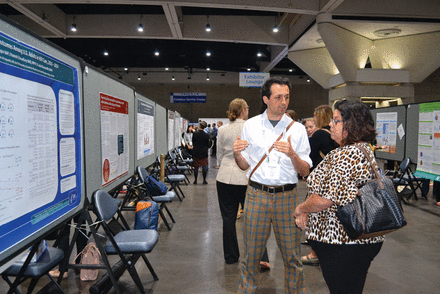 For oral sessions, the guidelines suggest that presenters include no more than six lines of text on each slide and that any video shown be captioned. Handouts should be at a minimum 18-point font and slides that have graphics should be described during the presentation.
A common mistake that oral presenters make is that they forget to use the microphone at all times, including during the Q&A portion of sessions, according to Mackenzie Jones, MPH, CHES, a member of the Disability Section's Executive Committee. Repeating questions from audience members is also helpful, she said.
"If you believe your research, your work or your public health impact is important for the community, then make it accessible," she told The Nation's Health.
Oral session presenters are advised to visit the online Annual Meeting Speaker's Corner, where they can load their PowerPoint slides and handouts and add or change presenter information.
APHA guidelines are also available for oral and roundtable scientific session moderators. For more presenter resources, visit www.apha.org/annualmeeting and select "For Presenters."
To register for APHA's 2019 Annual Meeting and Expo, which will be held Nov. 2-6 in Philadelphia, visit www.apha.org/annualmeeting.
Copyright The Nation's Health, American Public Health Association