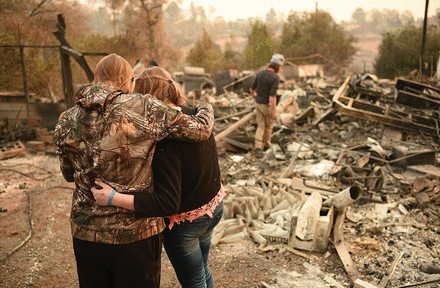 More than two-thirds of U.S. adults say they have some anxiety about climate change, while nearly half of young adults say stress about the global phenomenon impacts their daily lives.
The polling statistics — released by the American Psychological Association in early February — are among the latest to highlight the mental health effects of a changing climate. The numbers build on previous work showing several pathways through which climate change impacts mental well-being, from the mental health consequences of more severe and frequent natural disasters to research finding that people already living with mental illness face greater health risks due to extreme heat. Like so many other climate impacts, mental health stressors will likely hit disadvantaged communities the hardest.
"Communities with fewer resources also have a harder time dealing with events like floods and fires," said Lynn Bufka, PhD, senior director for practice research and policy at the American Psychological Association. "If a community doesn't have the resources it needs to recover from climate-related problems, that's an added layer of stress."
Climate-related mental health impacts include increases in the incidence of stress, anxiety and depression, as well as increases in more severe mental health problems such as post-traumatic stress disorder. Women, children and older adults tend to be particularly vulnerable to such impacts, especially those related to stress and anxiety. First responders, such as firefighters and health workers, also face an increased risk of climate-related mental health consequences, including short- and long-term substance use.
In 2016, the U.S. Global Change Research Program described the threat of climate change as a "key psychological and emotional stressor," with people impacted by both direct experiences with climate-related events and via exposure to climate change information and news.
"We're certainly seeing a lot of anxiety around climate change," Bufka told The Nation's Health. "Especially among (young people), there's lots of fear about what the future holds."
While progress is being made to consider mental health needs in climate planning, Bufka noted that the country's mental health workforce is already struggling to meet everyday needs. In the meantime, there are ways to cope, such as taking personal actions to mitigate climate change, Bufka said.
"You can't stamp out hope for change," she said. "If people feel hopeless, it'll be very hard to make the changes that are needed."
For more on climate and mental health, visit www.apa.org.
Copyright The Nation's Health, American Public Health Association