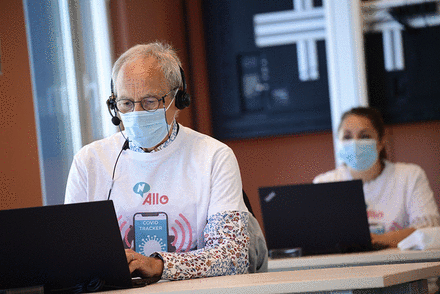 When residents of a San Francisco household tested positive in March for COVID-19, they were isolated in a hotel. People who lived in the home who tested negative were asked to self-quarantine to prevent spread of the disease.
Handling the case was Susie Welty, MPH, one of tens of thousands of newly minted contact tracers in America. They work the phones to locate contacts of people who test positive for COVID-19 in hopes of identifying additional possible cases. As deaths decline in some areas and hospitals free up beds, local and state officials are emphasizing tracing as the next step in containing the disease.
"There is no silver bullet, but contact tracing is the most tried and true public health intervention we have for infectious diseases: Find the contacts of the sick people and keep them from spreading it," said Welty, part of the city of San Francisco's tracing task force. "That is about all we have without a vaccine or a treatment."
With no national tracing program in place, local and state governments have taken the lead in hiring people to do the laborious work. About 100,000 additional tracers are needed nationwide, at a cost of $3.8 billion, to meet the COVID-19 demand, according to the Association of State and Territorial Health Officials. Before the pandemic, 2,200 tracers worked in the country.
Contact tracing is an important tool in U.S. public health, used to contain communicable diseases such as tuberculosis, syphilis, HIV and, in 2019, measles. The eradication of smallpox in 1949 was aided by the practice.
"This is the opportunity for public health to take the lead in getting us out of this situation," ASTHO Chief Medical Officer Marcus Plescia, MD, MPH, an APHA member, told The Nation's Health. "And this is the opportunity for our society to get one step ahead of COVID, rather than one step behind, which is how it feels like we've been up until now."
But the work is a challenge. U.S. governmental public health has been underfunded and understaffed for years. And even though the Coronavirus Aid, Relief and Economic Security Act, passed in March, supplied additional funds for public health, scaling up tracing to such an unprecedented level is difficult. In densely populated areas, 30 tracers are needed per 100,000 people, ASTHO calculates. As of mid-May, only a handful of local and state governments had developed the necessary public health infrastructure to support widespread tracing.
Indiana health departments are receiving help from a call center company called Maximus, Indiana Gov. Eric Holcomb announced April 29. To learn the job, 500 Maximus phone bank workers took an online course on contact tracing developed by ASTHO. State medical and public health students are also part of tracing efforts.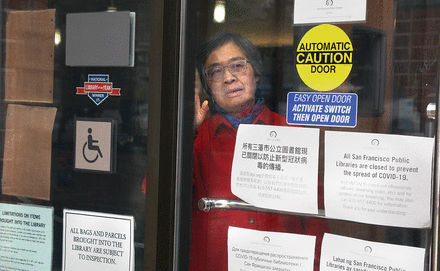 The Florida Department of Health hired over 1,000 contact tracers in spring, with the goal of tracing "every positive case of COVID-19 in Florida," department spokesperson Alberto Moscoso told The Nation's Health.
University public health schools have supplied much of the staff. Janice Zgibor, PhD, associate dean of academic affairs at the University of South Florida College of Public Health, recruited 64 students and nine faculty. Zgibor, an APHA member, told The Nation's Health she expects the program to expand to include students from South Florida's nursing and social work schools.
Digital tracing may also help fight the pandemic. Both Apple and Google are working on tools that notify users if they have been near someone with a self-reported COVID-19 diagnosis. China, South Korea, Taiwan and Singapore have used similar notification apps. In South Korea, cellphone GPS records and credit card transaction records helped track people with COVID-19.
But some health experts are skeptical that digital tracing systems will have success in America. Google and Apple say they will not share location data with public health agencies, which means infectious spread cannot be widely tracked and contained, said Welty, a senior program manager at the University of California-San Francisco's Institute for Global Health Sciences. Also, users may not be the people most at risk.
"Most people being infected by COVID are the vulnerable populations — the homeless, the migrant populations living in high-density housing, people with underlying conditions, minorities," Welty told The Nation's Health. "The technology solutions are also going to miss (a lot of) people."
And though it helped in South Korea, mobile surveillance is a tough sell in America, said Crystal Watson, DrPh, MPH, senior scholar at the Center for Health Security at Johns Hopkins University, which launched a free online contact tracing course via Coursera in May.
"There is a difference in the privacy violations that we are willing to accept here in the United States, and that needs to be navigated carefully," Watson said.
Because tracing works best with ample disease testing, the fact that less than 3% of Americans had been tested for COVID-19 as of May presents a barrier. But Watson has a workaround: Assume that people who have symptoms or have been exposed are positive.
"Have them be traced for their contacts before even receiving a positive test result," Watson told The Nation's Health.
San Francisco was one of the cities to get an early start against COVID-19. The city joined Bay Area counties by locking down as early as March 16, and as of mid-May, the city had fewer than 30 deaths related to the disease.
In partnership with the local health department and the University of California-San Francisco, the city trained 250 contact tracers, with 150 starting in spring. The task force will expand and contract based on need, Welty said.
A successful tracing program creates public trust and provides ample wraparound services, she said. Housing, food and cleaning supplies need to be available to people isolating or quarantining for two weeks. Kindness and respect are also essential, she noted. Otherwise, people will not cooperate, and enforcing compliance is not a viable strategy.
"People in San Francisco are generally feeling supported by the city health authorities and not villainized," Welty said. "They are not worried about being scammed or having immigration status checked."
As for the coronavirus case at the San Francisco home that Welty worked on in March, multiple city employees worked long hours to meet the needs of the residents, a low-income Hispanic extended family in the disadvantaged Mission District.
One of the residents was a meatpacking worker who had tested negative and whom Welty had asked to self-quarantine, even though he had no sick leave benefits and had an extended family to support.
"I was skeptical if he was not going to go to work," Welty said. "But I was also concerned because working at a food-packing place with 200 people has potential to be a powder keg."
After several weeks, she called him to find out: He had stayed home.
To learn more about contact tracing, visit https://astho.org and the Centers for Disease Control and Prevention at bit.ly/CDCcontacttracing.
Copyright The Nation's Health, American Public Health Association