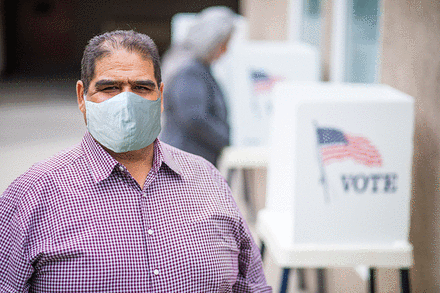 Voting is an important right, and concerns about COVID-19 should not deter people from casting their ballots, according to APHA. To help Americans vote safely in local, state and national elections, the Association and its partners have developed easy-to-share guides.
Released in May, the new Healthy Voting Guides share best practices for voting in person or by mail. The free guides advise voters to cast mail ballots when available and to practice physical distancing, mask wearing and hand-washing for in-person voting or dropping off a ballot.
The guides were drafted by APHA, the National Association of County and City Health Officials, Center for Tech and Civic Life and Center for Civic Design and released by We Can Vote, a nonpartisan coalition.
"This pandemic has tested our country in so many ways, but we cannot allow it to interfere with eligible Americans' right to vote," said Jessica Barba Brown, senior advisor of We Can Vote, in a news release. "These Healthy Voting guides are informed by leading public health and civic engagement experts, and they will help voters in every state and territory understand how they can cast their ballot safely and successfully this year."
The new Healthy Voting Guides, which are aimed at the general public, can be shared by leaders in their states and communities. The guides complement guidance from Centers for Disease Control and Prevention on how to keep election workers and communities safe from COVID-19 during voting, such as encouraging social distancing and regularly disinfecting surfaces without harming voting equipment.
"Voting is not only a social determinant of health, it has a tremendous impact on public health," Susan Polan, PhD, APHA's associate executive director for public affairs and advocacy, told The Nation's Health. "Voters must be able to vote in the healthiest ways possible and know how to keep themselves and their communities safe while doing so."
The state-by-state guides also include polling place hours, early voting information and deadlines to register or vote by mail.
"No matter how states adapt their processes amidst this pandemic — be it a conversion to 100% vote-by-mail or increasing existing absentee programs — ensuring safe access to the ballot is critical," said Kim Wyman, Washington secretary of state, in a news release. "This partnership between the elections community and the public health sector is critical to the success of this fall's election, as well as the continued health of our democracy."
Copies of the voting guides can be downloaded, printed and shared at www.healthyvoting.org.
Copyright The Nation's Health, American Public Health Association
View Preview