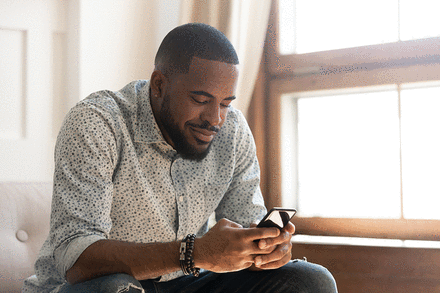 Virginia releases coronavirus app
Virginia became the first state to debut an official app that notifies users if they have been exposed to someone with COVID-19.
The COVIDWise app, created by the Virginia Department of Health in partnership with Google and Apple, will notify users if they have been exposed to another app user who has shared a positive COVID-19 test result. The app works by using random Bluetooth keys that change throughout the day. Phones with COVIDWise installed will anonymously share the random keys if they are within close proximity. Positive COVID-19 results submitted by app users are then checked against the list of random key encounters to notify people of possible exposures.
As of mid-August, more than 300,000 Virginians had downloaded the app, according to news reports.
"Knowing your exposure history allows you to self-quarantine effectively, seek timely medical attention, and reduce potential exposure risk," said APHA member M. Norman Oliver, MD, MA, state health commissioner, in a news release.
For more information, visit www.vdh.virginia.gov/covidwise.
COVID-19 data not monitored, reported
Across much of the country, essential data critical to containing COVID-19 is not being monitored or publicly reported, according to a new report from public health leaders.
The report, released in July by the global public health initiative Resolve to Save Lives, provides a review of state-level COVID-19 data dashboards for every state, Washington, D.C., and Puerto Rico. It also offers 15 essential indicators that can help U.S. residents assess their risk and stay aware of their state's and county's progress in containing the virus. Among the indicators are confirmed and probable cases, percentage of positive tests, test turnaround times and health care worker infections.
Across all 50 states, only 40% of essential data points are being monitored and reported publicly, the report found, and more than half of essential information is not reported at all.
"Controlling the COVID-19 pandemic requires a uniform science-based and data-driven approach to disease tracking and reporting that is lacking to date," said APHA Executive Director Georges Benjamin, MD, in a news release on the report.
For more information on "Tracking COVID-19 in the United States: From Information Catastrophe to Empowered Communities," visit www.resolvetosavelives.org.
Funding, workforce down in public health
Workforce and funding are down at the nation's local health departments — and that was before COVID-19 hit.
In August, the National Association of County and City Health Officials released its "2019 National Profile of Local Health Departments" report, a comprehensive survey of nearly 2,500 local public health agencies. According to the findings, local health departments lost 21% of their workforce capacity over the last decade, going from 5.2 full-time staff per 10,000 people in 2008 to 4.1 in 2019.
Fifteen percent of local health departments reported lower budgets in 2019, and more than half reported flat funding. More than 80% of agencies reported decreased or flat preparedness funding, compared to the previous fiscal year.
For more information, visit www.naccho.org.
Copyright The Nation's Health, American Public Health Association
View Preview