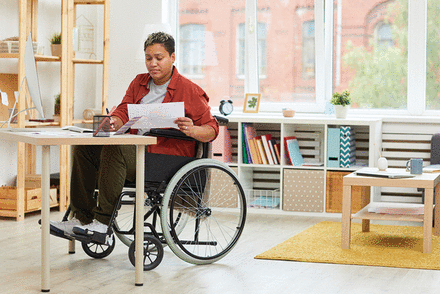 APHA's Disability Section has worked for decades to improve access for people with disabilities, influence the wider public health field and grow the next cohort of leaders in the civil rights movement.
This year, the Section is marking the 30-year anniversary of the Americans with Disabilities Act, which became law on July 26, 1990.
The historic law bans discrimination on the basis of disability in schools, jobs, transportation, and public and private places used by the general public. The law has removed barriers for millions of Americans, both physical and otherwise: Curb cuts, wheelchair ramps, pedestrian signals and even web accessibility have been influenced by the ADA.
But despite those successes, there is still work to be done. Legal challenges to the law are a regular occurrence, including those from people who want more protections for people with disabilities. On top of rule changes, Disability Section members want to see cultural changes, said Meg Traci, PhD, chair of the Disability Section.
"There are so many things that have to be done by prompting — or even shouting — but we want the idea of inclusion and access to be done in a way that is automatic," Traci told The Nation's Health. "Employment opportunities, accessibility, housing all need to radically change so that they're equitable by default."
The three decades of progress under the ADA overlap with the history of the APHA Disability Section, which was created 32 years ago. During its years of work, the group has created an awards program to recognize leaders in disability and health, collaborated to develop the Disability and Health Journal, authored APHA policy statements on disability issues and more.
One of the Section's key roles is to help ensure access for people with disabilities at APHA's Annual Meeting. The Section advises APHA's conventions team, providing recommendations and feedback.
Last year, the Section worked to develop accessibility guidelines for Annual Meeting presenters. The guidelines, which are available on the APHA website, share tips to ensure that both oral and poster presentations can be accessed by all attendees. For example, during oral presentations, slides that have graphics should be described by speakers, the guidelines note.
"Whether it's the Annual Meeting or an office space, we want people to remember to ask, 'How can we include you?'" Section member Mackenzie Jones, MPH, CHES, told The Nation's Health. "If you approach these things with the mindset of welcoming everyone, that needs to involve planning for access and accommodations."
Jones is one of the Section members who works with APHA to support accessibility at the Annual Meeting, including this year's event, which will be held Oct. 24-28. As the meeting will be completely online, there are both opportunities and new challenges, she said.
While the virtual conference will remove barriers for many members with mobility disabilities, work is underway to make sure that members with sensory disabilities are able to participate. Some steps include standardizing slideshow presentations so they are easier for text-to-speech readers to recognize and working with presenters to accommodate spoken presentations that will need to be translated by an ASL interpreter.
"We have to strike the balance of making things accessible and what is possible," said Jones, who is the Section's accessibility liaison. "There have not been many virtual meetings that have existed on this scale, so there is a lot of uncertainty."
Over the three decades that the ADA and the APHA Section have been in existence, many issues have changed. One that has come to the forefront due to COVID-19 is the ability to telework, and people with disabilities may need accommodations to do so.
"Everyone is learning how to navigate this new reality, and we can learn these things together so that we can do everything better," Traci said. "We have a real opportunity to integrate access into everything we do."
For more information on the Section, visit bit.ly/disabilitysection.
Copyright The Nation's Health, American Public Health Association
View Preview