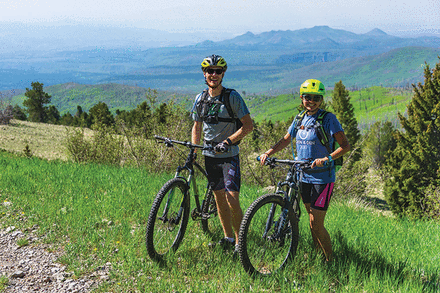 Several times a year, Morris Pongratz steps out on his porch at night to watch a meteor shower. It is one of the many perks he enjoys living in Los Alamos County, New Mexico, which, with its clean air and elevation of 7,500 feet above sea level, brings high definition to the white streaks racing across a black sky.
On Sept. 22, U.S. News & World Report named Los Alamos County the healthiest county in America. The announcement was part of its third annual Healthiest Communities project, which ranks nearly 3,000 communities nationwide on metrics such as equity, nutrition, public safety and environment. The project is a way to inform residents, community health leaders and elected officials about policies and best practices to create healthy communities.
Coming in just behind Los Alamos County in the rankings were Douglas County, Colorado, and Falls Church, Virginia, which were the top-ranked communities in 2019 and 2018. Rounding out the top five are Broomfield and Routt counties, both in Colorado. In fact, seven of the comunities that ranked in the top 10 were in Colorado. All of the top counties scored above the national average in at least eight of 10 categories.
"Most health does not occur in the doctor's office, but in the community. Most of these communities are invested in issues outside the hospital."

— Garth Graham
For Pongratz, PhD, a retired scientist at Los Alamos National Laboratory who has served on the Los Alamos County Council, life is good in a place he has called home since 1973. Along with healthy air, low crime, top medical care, an engaged community and access to parks and recreation, the county has one of the lowest COVID-19 infection rates in the U.S.
"We respect the guidance from the governor," Pongratz told The Nation's Health. "We wear our masks, we social distance and we avoid indoor crowds."
The rankings, created in partnership with the University of Missouri Center for Applied Research and Engagement Systems, were based on data collected prior to the COVID-19 pandemic.
To tie into the pandemic, U.S. News & World Report offers tools on its Healthiest Communities site for tracking COVID-19 case numbers, death rates, hospitalizations and unemployment in U.S. counties. Updates are made almost daily, allowing users to track progress or pinpoint problems. Health factors that create higher risk for COVID-19 complications, such as obesity and diabetes, are also closely tracked. Associations are made between community health and pandemic response.
First launched in 2018, Healthiest Communities is underwritten by the Aetna Foundation, the philanthropic arm of CVS Health. The initiative is part of a $100 million commitment by CVS Health and its affiliates to making community health and wellness a priority. Funding primarily goes to improve infrastructure, access to hospitals and mental health facilities, food security, public safety and other issues that impact social determinants of health.
"All of these things are linked," Garth Graham, MD, MPH, vice president of community health and chief community health officer at CVS Health, told The Nation's Health. "Most health does not occur in the doctor's office, but in the community. Most of these communities are invested in issues outside the hospital."
Population health is an important consideration in the Healthiest Communities rankings, and Los Alamos County scored high there too, with life expectancy at 83.5 years. The national average is 78.7 years. In addition, health insurance coverage rates are high.
"We try to make the community the best it can be, and always improving," Sara Scott, PhD, chair of the Los Alamos County Council, told The Nation's Health.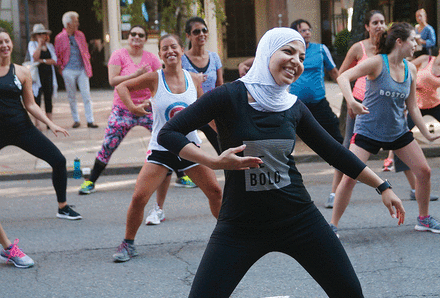 That has meant improving housing availability and affordability. A 2019 housing study for the county showed a shortfall of 1,600 apartments and houses for the population of 19,000, Scott said. Currently, 600 units are under construction, and another project is aimed at senior affordable housing.
Housing is also an issue of concern in Pitkin County, Colorado, which was ranked No. 7 in the Healthiest Communities rankings. Situated in the Rocky Mountains, the county, which includes Aspen, has ample recreational opportunities and a healthy population. A 2014 study in the Journal of the American Medical Association found that average life expectancy in Pitkin was 86.5 years, the second highest in the country at the time.
Its health care services have also performed well during the COVID-19 outbreak. The Pitkin County Public Health Department added additional staff and in May enforced a strict mask ordinance, said Karen Koenenmann, MS, the county public health director.
But as with Los Alamos County, Pitkin does not have a lot of affordable housing. Assessments are being conducted to create better affordability, and programs for rental and mortgage assistance are in place, which has helped people who lost jobs during the pandemic.
"There is a lot of desire to help others and to really provide the financial means necessary," Koenenmann told The Nation's Health.
While Pitkin County is over 90% white, Loudoun County, Virginia, which ranked No. 6, is 67% white with growing Hispanic and Asian populations.
Supporting those groups has been a priority for the county, such as by making culturally appropriate healthy foods more available and affordable, said David Goodyear, MD, MPH, director of the Loudoun County Health Department.
"It is always an ongoing challenge to best meet the need for nutritious, low-cost options for all of our different populations, particularly for our Latinx population, where supermarkets may be a little farther away and where public transportation is not as comprehensive," Goodyear told The Nation's Health.
Sixteen percent of Loudoun County is Hispanic, but the population makes up 46% of COVID-19 hospitalizations, Goodyear said. Reaching the population for mitigation education has been a priority of the health department. Forming partnerships with local health and Hispanic organizations has helped.
Addressing public health issues due to changing circumstances and demographics has been important in Loudoun County's overall success, Goodyear said.
"Because we are a county that is quickly growing and diversifying, it has been important to be flexible to accommodate (the growing population) in a way that allows folks to continue to do those steps to keep themselves healthy, but also changing our focus as the needs change," he said.
For more on the Healthiest Communities program, visit www.usnews.com/healthiestcommunities.
Rankings spotlight healthiest US places
Top 10 healthiest communities overall
Los Alamos County, New Mexico
Douglas County, Colorado
Falls Church, Virginia
Broomfield County, Colorado
Routt County, Colorado
Loudoun County, Virginia
Pitkin County, Colorado
Carver County, Minnesota
Summit County, Colorado
San Miguel County, Colorado
Top communities for good health outcomes
San Juan County, Washington
Marin County, California
Carver County, Minnesota
Cedar County, Nebraska
Winneshiek County, Iowa
Top communities for access to health care
Olmstead County, Minnesota
Suffolk County, Massachusetts
Johnson County, Iowa
Perry County, Kentucky
Washington, D.C.
Top communities for mental health
Honolulu County, Hawaii
Tripp County, South Dakota
Pembina County, North Dakota
Sutton County, Texas
Hartley County, Texas
Copyright The Nation's Health, American Public Health Association