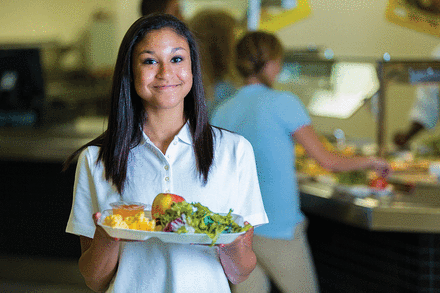 Food insecurity can linger in adulthood
Adolescents who grow up without reliable access to enough affordable, nutritious food are more likely to be food insecure as young adults, a study in the September issue of APHA's American Journal of Public Health finds.
Researchers examined data from a 2010 survey of over 1,550 middle and high school students in the Minneapolis-St. Paul region, many from marginalized groups. Over 28% were from a low-income household, many of which were food insecure.
In 2018, a follow-up was done with 65% of the students. As young adults, nearly one-quarter of them were food insecure, researchers said. Food insecurity was associated with a diet of unhealthy food, such as from fast-food outlets and lacking in fruits and vegetables; binge eating and drinking; and substance use, such as smoking cigarettes and marijuana.
The rate of insecurity varied. In 2018, American Indian and Alaska Native young adults accounted for 29% of people reporting food insecurity, while Blacks accounted for 28%, researchers said. Those with no high school degree accounted for 45% of food-insecure people, and almost 31% of respondents were unemployed.
"Given that adolescents who experience food insecurity are at high risk for being food insecure in emerging adulthood, it may be valuable for health professionals to work with young people to prepare them and their families for the transition from having access to school meal programs to the need for accessing other forms of nutrition assistance," researchers said.
Disease risk high for Hispanic immigrants
Hispanic immigrants in the U.S. who are not American citizens have significantly higher risk for chronic health ailments than those who have become citizens, a study in September's AJPH finds.
Researchers examined data from the 2014-2017 Hispanic Community Health Study/Study of Latinos, focusing on over 8,000 people living in several major American cities who had been diagnosed with high cholesterol, hypertension or diabetes.
Compared to those who were citizens, noncitizen Hispanic immigrants — regardless of whether they were living in the U.S. with legal permission — were more likely to have a chronic ailment. The greatest disparity was for high cholesterol, diagnosed in 38% of noncitizens and just 14% of citizens.
Researchers suggested that Hispanic noncitizens may have less access to health care and to have insurance coverage than naturalized Hispanic citizens.
Violence high among transgender partners
People who identify as transgender are twice as likely to experience intimate partner violence, according to a study in AJPH's September issue.
Researchers examined 85 studies through July 2019 that explored intimate partner violence among people who are transgender. When compared to people who were not transgender, they were 1.7 times more likely to experience intimate partner violence, 2.2 times more likely to experience physical intimate partner violence and 2.5 times more likely to experience sexual intimate personal violence.
The higher rates might be due to social isolation that many people who are transgender experience, such as from family rejection, researchers said.
People on probation have poorer health
People in the U.S. who are on probation are more likely than the general population to experience mental illness, use illicit drugs and have chronic health ailments, a study in September's AJPH finds.
Researchers analyzed data from the 2015-2018 National Survey of Drug Use and Health. Health records of over 3,500 people ages 18 to 49 who were on probation over the previous 12 months were examined. In 2018, more than 3.5 million people were on probation, which allows a person convicted of a crime to remain in the community with supervision instead of being imprisoned.
Besides having a prevalence of experiencing a mental illness or substance use problem, people on probation reported chronic ailments at a higher rate, such as asthma, diabetes, hypertension and kidney disease. The stress and anxiety of being in the criminal justice system may cause or contribute to the conditions, researchers said.
For studies and podcasts from AJPH, visit www.ajph.org.
Copyright The Nation's Health, American Public Health Association