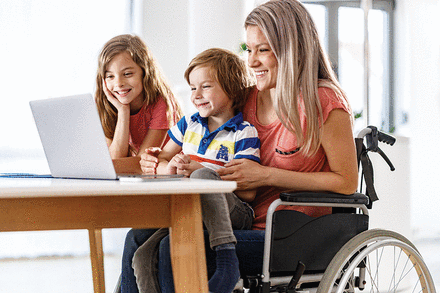 People with disabilities often get lost in the conversation on health equity. A recent federal study helps fill in the gap by sharing important data on their mental health.
An estimated 17.4 million U.S. adults with disabilities — or 33% — experience mental distress four to five times more often than the rest of the U.S. population, according to a Sept. 11 study in the Centers for Disease Control and Prevention's Morbidity and Mortality Weekly Report. Over half of adults with cognitive and mobility disabilities reported mental distress, which often is undiagnosed.
"Health care providers caring for adults with disabilities might focus on the primary disability as the cause for a behavior or mental health symptom, rather than considering the possibility that that person may have an undiagnosed co-occurring mental disorder," Robyn Cree, PhD, an epidemiologist with CDC's National Center on Birth Defects and Developmental Disabilities and lead author of the study, told The Nation's Health.
Around 40% of people with disabilities in New Hampshire, Maine and South Carolina reported mental distress, the highest percentages among states. Alaska, Hawaii and Illinois were lowest, at around 26%. The differences might be partially due to mental health-related polices and access to mental health services in the respective states, Cree said.
"Without referrals or access to (mental health) services... isolation and hopelessness can occur, creating a deeper challenge and leading to mental illness."

— Mackenzie Jones
CDC researchers analyzed 2018 Behavioral Risk Factor Surveillance System data on over 400,000 adults both with and without disabilities. Frequent mental distress was defined as having 14 or more mentally unhealthy days in the past month.
Adults with disabilities often report mental distress because they are unable to afford the health care they need, the study researchers said. Mental distress was also linked to adverse health behaviors and conditions, such as smoking or insomnia.
To help improve the mental health of people with disabilities, health providers should promote healthy behaviors, such as exercise, maintaining a healthy weight, and avoiding tobacco and alcohol, study researchers suggested.
But many times, health care workers do not recommend healthy habits to people with disabilities, according to Mackenzie Jones, MPH, an education specialist at the Montana Department of Public Health and Resources, who was not part of the study. That oversight can increase risk of chronic health conditions and contribute to mental distress.
"Without referrals or access to (mental health) services, let alone services that are culturally sensitive to people with disability, isolation and hopelessness can occur, creating a deeper challenge and leading to mental illness," Jones, an APHA member, told The Nation's Health.
Cree said public health professionals should include people with disabilities in their evidence-based programs to address mental health disparities.
"Programs that increase social cohesion, encourage community participation, improve access to quality mental health screening and care, and promote healthy lifestyle recommendations can help reduce mental distress among people with disabilities," she said.
Ivan Molton, PhD, an associate professor of psychology and rehabilitation medicine at the University of Washington, told The Nation's Health that wraparound approaches in which patients receive individualized health coaching, socialization planning and psychological aid have been shown to work.
But Molton cautioned not to accept the myth that people with disabilities are generally lonely, socially isolated or depressed.
"This can become an unhelpful caricature," said Molton, who was not part of the CDC study. "One-third of people with disability report frequent mental distress, but two-thirds do not, which is not to dismiss the need for better mental health supports, but rather to emphasize the resilience of this population."
For the CDC study, visit www.cdc.gov/mmwr.
Copyright The Nation's Health, American Public Health Association